Big Hammer Swimbait Tails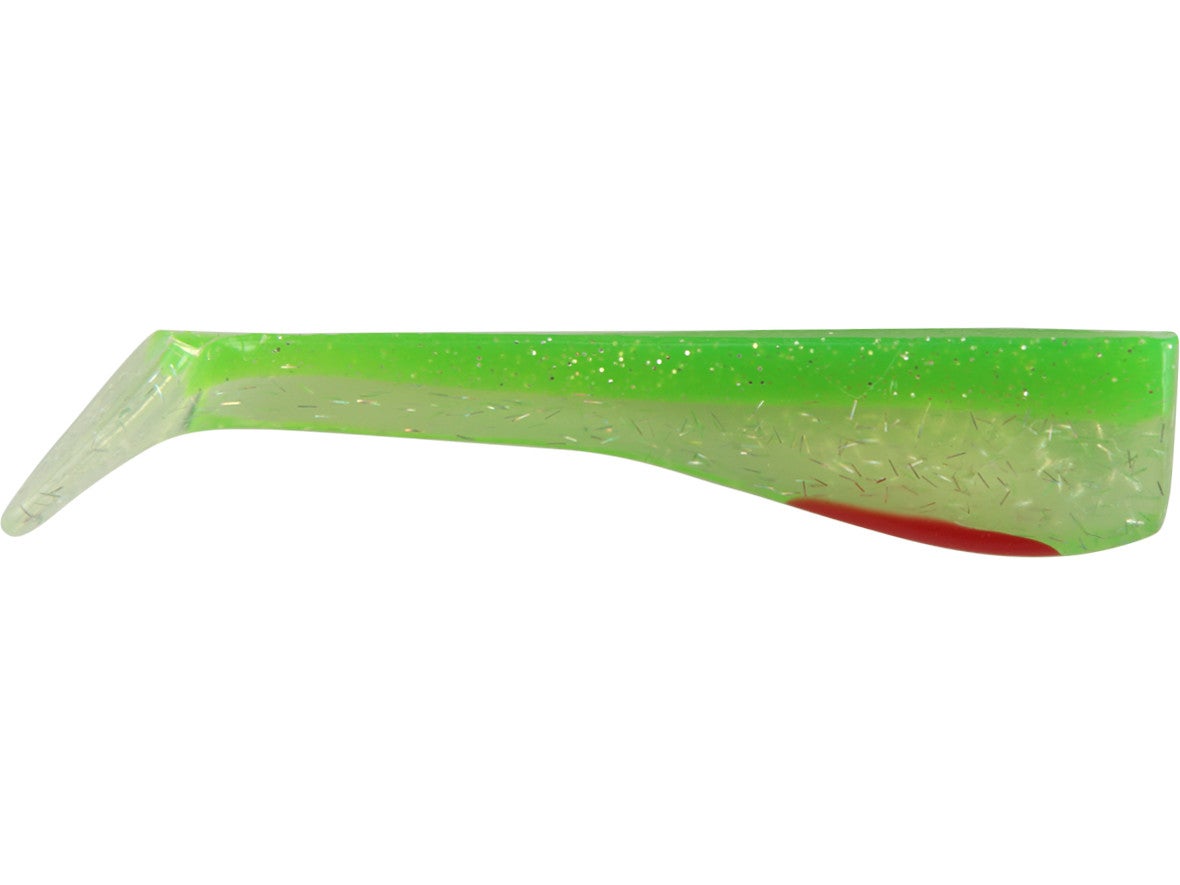 Big Hammer Swimbait Tails are top quality plastic swimbaits that incorporate clear colors, tough plastic, and the exclusive Big Hammer square tail that really kicks in the water. These great colors are proven fish catchers all over the world and can be counted on to catch fish in your favorite bass pond. Use different weight heads to swim the bait deep or shallow and different sized hooks in the heads will allow use in various body sizes. If you've heard of Big Hammer, you know their reputation for toughness. They are able to stand up to big, hard fighting fish, and their unique action attracts fish and keeps them coming all the way to the hookup. Use with Hammer Head Jig Heads
| | |
| --- | --- |
| Length | Quantity |
| 3" | 6 |
| 4" | 4 |
| 5" | 4 |
| 5.5" | 4 |
| 6.5" | 4 |
42 Colors
More From Big Hammer Swimbaits
Customer Reviews
Comments: One of the best! I have always liked the KGM swimmers but they run low sometimes so I ended up ordering some hammers. Love them. I pair it with a revenge head and it's money every time. Great actions and runs true. Even if the tail gets bent sitting on the deck or in a tackle box, it comes right back straight in the water. Nice slow rolling action. Fast or slow. Durable and dense but soft at the same time. I'll run a 5" with a half oz revenge head, 20lb flouro. Creep it along the bottom. Smash!
From: Steven - Spokane, WA 1/8/17

Comments: The 5" Big Hammer is the only paddle tail swimbait I use. Great action & I pair them up with either 1/2 or 3/4oz heads I pour myself with 4/0 hooks. Tail moves a lot & they hold up pretty well. Black widow is by far my preferred color.
From: BK: NE 5/29/16

Comments: Big Hammers haven't changed in the past 10+ years I've been using them for numerous species, including largemouth bass & they don't need to. Unlike many of the newer flavor of the month paddle tail swimbaits on the market that cost 50% more money & only catch 1-2 fish before they are ruined, Big Hammer regularly catch 5+ fish, while still having excellent action.
4/18/16

Comments: We've been fishing the warmer, open waters of the Lake Erie inlets & harbors during winter. The monster walleyes come cruising for bait at night. The larger profile & hard thumping action make this bait easy to find in the dark. The threadfin or shad colors mimic almost any bait in the lake. The 4" size offers a larger meal to separate the 15 pound walleyes from the 10 pound walleyes! Pair it up with the Big Hammer jighead, or for the really big hoggs I use the Picasso 3X wire swimbait head on 30 lb braid.
From: Big J: NY 12/18/15

Comments: These things are killer as trailers. I absolutely slay the bass with these things. Saras Shad as a trailer for a chartreuse-black-white lures amazing. the tails on these have fantastic action and the body is very soft and pliable but does not tear easily when fish hit. Great bait.
From: Josh: CA 6/6/15

Comments: I bought these on a whim, not really expecting anything other than monthly tackle order fix. Used the 4 inch bleeding trout, really just for the red belly. Caught a 23"(weight n/a) and a bunch of one's and two's. Trailer on a 1/2oz strike king tour grade swim jig with rattles.
From: Dustin: Richmond, VA 8/14/14

Comments: Great swimbait. I've caught many, many fish on this bait so far this year. I've been throwing the 3" Big Hammer with the Big Hammer swim heads and I've caught crappie, smallmouth bass, spotted bass, largemouth bass and striper. This is just a good overall bait with great action.
From: AJ: KY 5/22/14

Comments: My friend pours swimbaits for me and i was running out one day and went to get a bag full of these doubting I wasn't gonna catch anything with them I got the spottie special and creeping death( the picture is wrong the whole clear part is brown making it a killer color) . I caught so many spotted bay bass on it from 2-4 pounders and also caught halibut all around pilling and I between 1 pier and a other small one , this is my second choice if I ever run out again( wich probably won't happen)
From: Lake Murray Lunker: CA
Comments: I love big hammer! I use these swimbait tails rigged on the slayer heads and slayer swimjigs from Warbaits and I slay calicos, sand bass, bonita, even barracuda. I also use them in the lakes for largemouth. They work so well and have great action. I only wish that big hammer could make a jighead for them with a brushguard like the Slayer heads.
From: Andreu: Santa Monica, Ca
Comments:
3" bait=crappie to 2lbs, many walleye and sauger of all sizes, bay bass in CA, fish eat this bait.
4-6.5 killer for calicos in salt plus large and smallmouth in fresh.
6.5" is Northern Pike Candy. When in ND, pike ate these over everything else everywhere I threw them.
5.5" is striper candy with the longer skinnier profile they often prefer.
If you can't catch fish on Big Hammers, I recommend trying a different sport.
From: Brian: AZ

Comments: I ordered the 5", 6.5" and 9" and yea if you stretch it and use yer imagination it'd be 5" etc. For my fellow anglers, measured across the top, the 5" is really about 4", the 6.5" is about 6", and the sledgehammer is about 8" long. This gives you a better sense of the overall size of this trailer. Its a great soft flexible trailer and enticing for sure.. I'm tempted to bite it myself at times.. without the hook in .. of course!
From: Ric: NJ, USA

Comments: They have good tail action but spotties, halibut and calico rip them up to quick. Ill stick to MC swimbaits and pearlswimbaits.

From: Kyle: SD, CA

Comments: one of the best swimbaits on the market i use these for calico bass and they chew this bait pretty good to even the halibut love them to you got to get some of these for your self thanks tackle warehouse and big hammer for a great product
From: Kris: bakersfield ca

Comments: best swimbaits period i use these for calico and halibut they chew it pretty good and with the shape of the tail gives it a action that i have never seen before thanks big hammer and tw

From: Kris: bakersfield ca

Comments: These by far are the best swimbaits on the market. If you're going fishing for bass (large or small) you can't beat this bait. The plastic is insane soft and it gives it nice action along with the square tail. Want a proven fish catcher? Pick these up quickly.
From: Keenan: Coatesville, IN, USA

Comments: warbaits jig head (1/4 ounce in the color sexidine) with a 5 inch big hammer swimbait in sea wolf or speckled trout will litterally kill the bass throughout southern california plus inshore ocean fish.
From: Bryce

Comments: These are the best swimbaits ive ever used. After the head gets beat up from the big hammer head bite it off and put it on the back of a swim jig

From: Jake: NJ

Comments: Incerdible is all i have to say first cast through the weeds i catch 8.2 pound monster largemouth and several more over 3 pounds this bait is amazing.
Comments: Hold on Alex, I will do that for you, send them to me ;)
From: David: Murrieta

Comments: The best place to throw this bait is in your trash... they suck

From: Alex: SD

Comments: Action unlike any other swimbait tail on the market. Very unique colors too. Rig these on the Owner Inshore Jig Head for a perfect match - the only umbrella rig setup you need.

From: Daniel: Spokane, WA

Comments: killer swimbait
From: godzilla: CA Delta

Comments: Put one of these on a War Bait head and you are ready for business. These baits catch everything freshwater & saltwater. Definitely recommend!
From: Mark: CA

Comments: Ridiculously good action, works for every species of fish. I use them here to catch all types of bass fresh and saltwater. Very durable, Big Hammer is my go to plastic.
From: Gio: San Diego

Comments: My Favorite swimbait! Normally other paddle tail swimbaits come in bad packaging that results in many bent tails and much time wasted trying to straighten them. Big Hammers come in good packaging and with their square tails, you can lie them on their sides without worrrying about bent tails.

From: Zen The Man: Los Angeles, CA

Comments: One bad swimbait! I wasn't a true believer until a recent trip where I tore them up on it! By far my favorite exposed hook/leadhead swimbait!
From: Brad: Louisville, KY

Comments: This is my favorite lead headed swim bait body. It has more vibration and kick than any other swimbait on the market. I have caught big smallmouth, walleye, and stripers on the same 6 inch bait. I prefer the threadfin shad, white zombie, and green hitch is a good copy of a chub, or sucker minnow back East.
From: Michael: Allentown, PA

Comments: Im surprised no one has said anything on how well they work for calico and sandbass. These with a War Bait head is deadly.
From: TadyMan: SoCal

Comments: Best sizes, best colors, best plastic, best action. If you run a swim jig, this is your new favorite trailer.
From: Joe: Mass

Comments: Big Hammer swim baits are the ONLY trailers we use on my Scout swim jigs. The square tail causes the whole jig to wobble back and forth............drives smallies crazy. In my opinion, one of the best soft plastic baits on the market today.

From: John: Minonk, IL

Comments: This bate has changed my fishing completely,Fish it for schooling bass,or in the hot summer drop it in a brush pile and shake it, Wow what a great bate.
From: Jeff: Rogers, AR

Comments: These flat out catch fish! If it swims it will eat a big hammer!! Great on schooling fish too
Comments: These are excellent jig trailers. I use them for chatterbaits and swim jigs. They do not have the most action, but for the price and the myriad of color choices that Big Hammer offers, you just can't go wrong. They are durable to boot. I have caught 17 LMB(Yes, I counted) using the same trailer for all of them. I can't say that for any other that I have used.
From: Carter: Texas, USA