Gamakatsu EWG Treble Short Shank 2X Magic Eye 6pk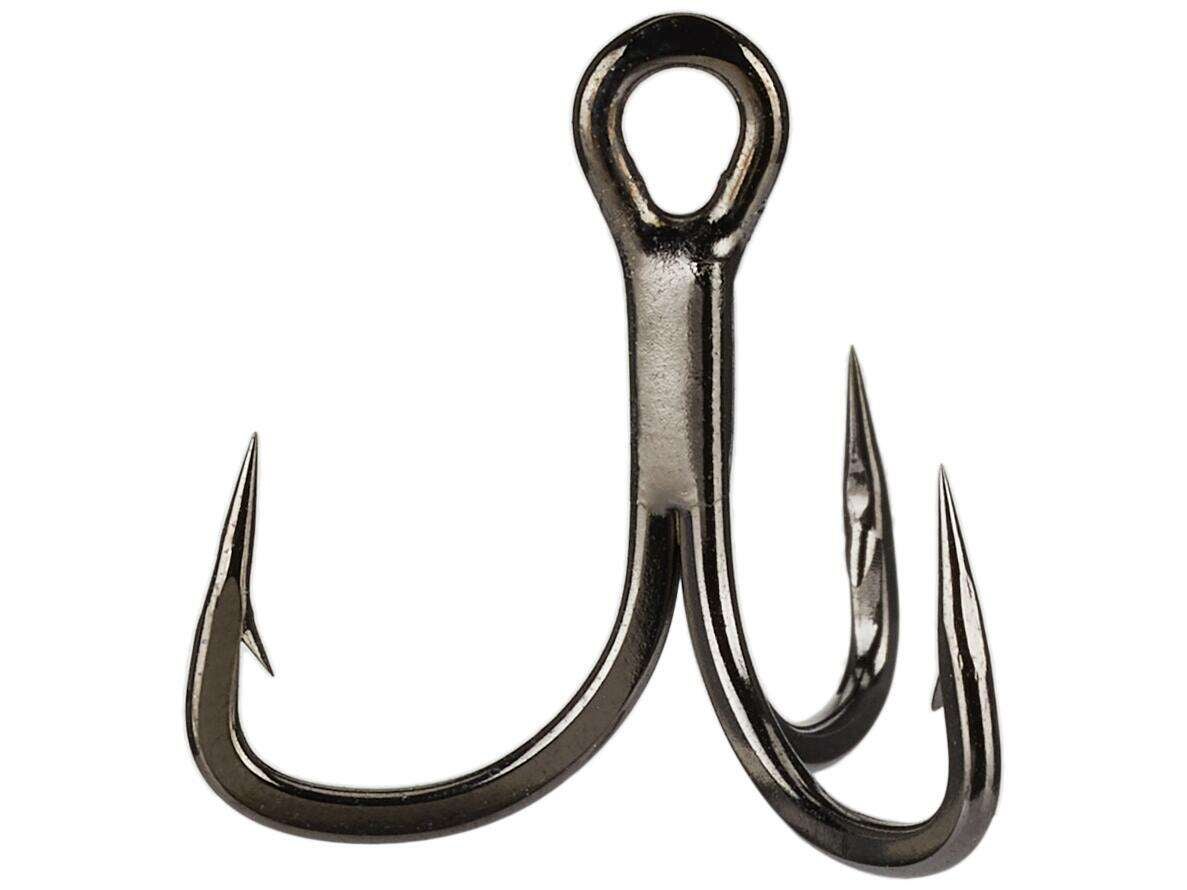 An outstanding choice for replacing the stock hooks on your hardbaits, the Gamakatsu EWG Treble Short Shank 2X Magic Eye Hook is compact, sticky sharp, and incredibly strong. Gamakatsu's Magic Eye design makes substituting older hooks for newer ones a breeze. Simply insert the tapered hook-eye into the split ring and slide your new Gamakatsu EWG Treble Short Shank 2X Magic Eye Hook in place of your previous hook, and voila! You're finished. No split ring pliers, no irritated fingernails, and no frustrating time spent fidgeting with opening the split ring. The Extra Wide Gap extends the hook deeper into the fish's mouth, allowing for a solid penetration and an increased hold. Perfect for fishing thick cover, the short shank keeps the hook close to the body of the bait to decrease snagging and fouling, while the 2X strength permits the force necessary to pull big bass out of the heaviest thicket. Great for any hardbait applications, the Gamakatsu EWG Treble Short Shank 2X Magic Eye Hook is an innovative leap forward.
Place Your Order
More From Gamakatsu Treble Hooks
Customer Reviews
Comments: I use these hooks to switch out stock hooks on crankbaits I fish for fall great lakes king salmon. Let's just say that these hooks usually last much longer than the crankbaits I put them on. Awesome hooks.
From: MikeyD: Chicago, IL 9/17/15

Comments: These hooks are some bad dudes! I replaced all the hooks on my Jawjacker Square Bills with them. the EWG design comes through cover easier that the round bend does, and the hook seems to "lock" into the jaw on a bass. It almost seems to wrap around the jawbone and the barb holds it in place very well. I'm sold!

From: Joe: SE PA

Comments: Good to see some new innovation in short-shank trebles. I'm sure I'll wait to get a look until they go on sale to keep from paying a buck+ a hook though. The Magic Eye deal holds very little to no extra value for me, though I change out trebles all the time. I sometimes use the M.E. round bends and I still wind up using my Texas Tackle split ring pliers since it isn't substantially easier to get on the ring than any other hook, for me at least. Not bad, just a neutral feature for me. An observation drawn from the M.E. Round bend short-shank's is the 2X steel makes the hook a good bit more physically heavy than say a kvd triple grip (that is 1X steel). While this thick steel may help in extreme conditions, as mentioned in the description, it makes it tough to upgrade to a #2 with many lures. I love the new bend design, but I already see where brand X could probably 'one-up' this hook. Just make a 1X steel 2X short #3 size hook - the wire would be proportionately thicker (than a #4) being a bigger hook (plenty strong for bass). It would probably weigh no more than this 2X M.E. Hook in a #4 size. More bite would interest me more than an extra strong small hook - for LM Bass fishing anyway. If they made this same bend design in a 1X #3 wouldn't you be licking your chops?

From: MidwestBassGuy: Gardener, KS