Gamakatsu Heavy Cover Flippin' Hook 4pk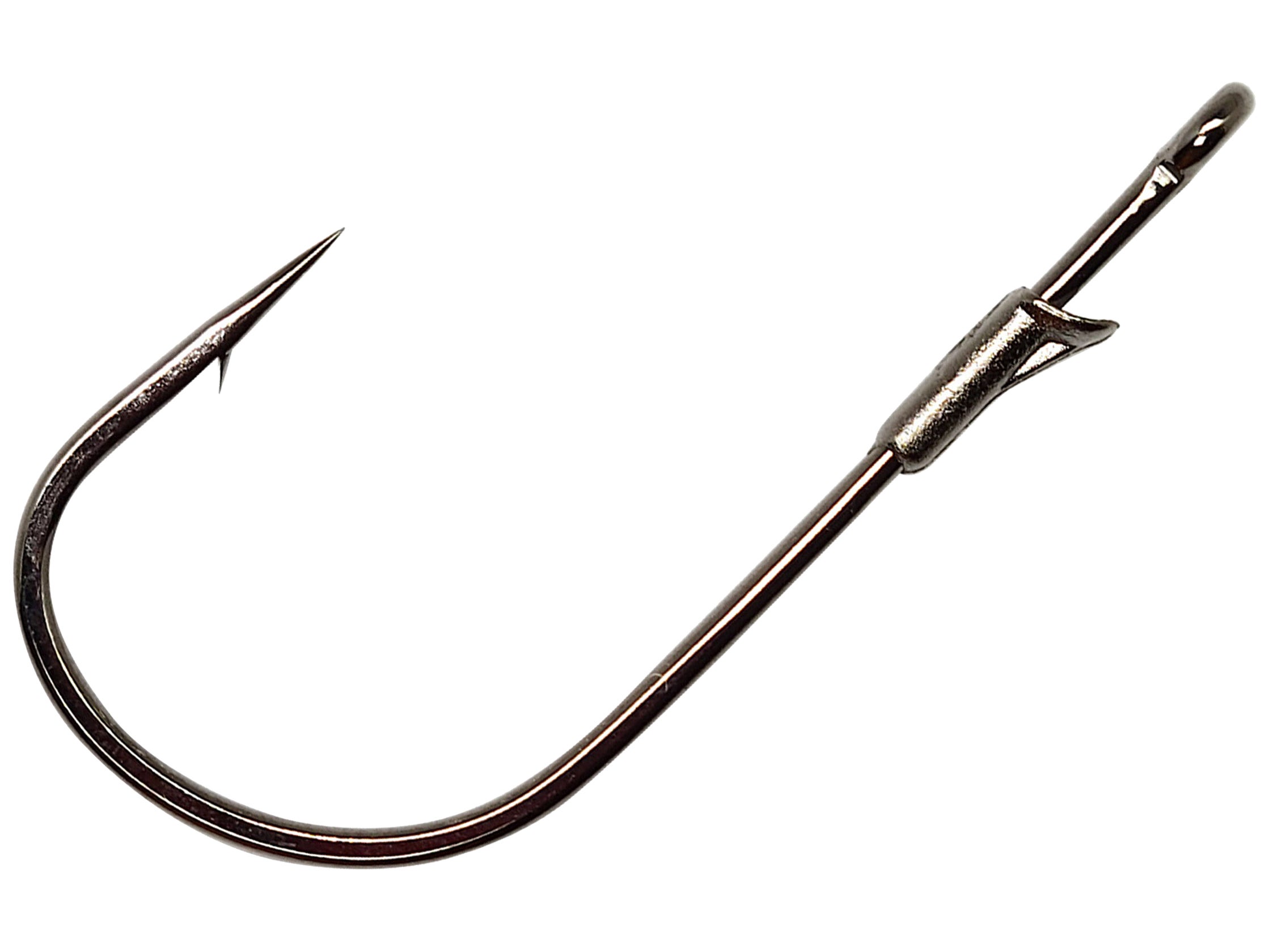 Designed and built to fight the biggest fish in the heaviest cover, the Gamakatsu Heavy Cover Flipping Hooks raise the bar in flipping hook performance. Gamakatsu worked with top pros, Aaron Marten and John Crews to design the perfect bait keeper that provides consistently straight rigging and superior holding power - solving an age old problem with flipping heavy cover. The Gamakatsu Heavy Cover Flipping Hooks are also super sharp, like all Gamakatsu hooks, and forged to be extra strong - so they won't bend out. Each hook is also equipped with a solid, welded line-eye - ideal for tying Snell knots with braided lines. Available in multiple sizes, the Gamakatsu Heavy Cover Flipping Hooks are the answer to landing more fish in heavy cover.
Don't forget to pick up the rest of your Punching & Flipping Gear. TW has it all - punch skirts, braided line, rods, reels, and much more.
Place Your Order
More From Gamakatsu Worm Hooks
Customer Reviews
Comments: I bought a ton of these when they first came out, before I realized how bad the keeper was. Still a great hook. problem can be resolved by adding heat shrink tube over top of existing keeper. Better yet, buy the Strike King Hack Attack flippin hook. Made by Gamakatsu, but with a heavier wire and perfect keeper. The way Gamakatsu should have done it in the first place.
From: Big J: Western NY 1/13/17
Comments: The first thing I did when I bought these hooks was drop some super glue down the gap between the keeper & the hook. I've had no problems with it sliding down. I've tried other brands & this is my choice for flipping.
From: Trip-Doh: Greenville, SC 7/8/16

Comments: I tried craig from Illinois trick of last loop of snell knot behind & it works like a charm! thanks, these are excellent hooks.
4/26/16

Comments: Everyone hates the keeper. This type of hook was made to use with a SNELL knot. The way to fix it is to allow your last loop of your SNELL knot to tighten up BEHIND the keeper. Problem solved. It's had no adverse affect on my knot strength. Great hook, great hooksets, very few lost fish, very sharp, very strong, good keeper with a snell knot. Best hook I've used, period. Hook point is stronger than Trokar hooks for less money.
From: Craig: IL 9/21/15

Comments: The keeper slides down and breaks after the first fish on almost every hook. The hook is very sharp and strong, but the keeper does not hold at all. Very disappointed in Gamakatsu on this one. Buy a different flippin' hook.
From: Ron: Okeechobee, FL 10/13/14

Comments: The hook itself is good, its the barb that sucks. It breaks and slips down the shank. I'm sticking to my TK130's
From: Steve: Scandinavia, WI 10/1/14

Comments: Awesome filippin hook. Very impressed. Best i've used so far....I have had some of the hook keepers slide down the hook shank. Kind of annoying, but like others have said, crazy glue.

From: Mike: New Milfod,Ct

Comments: Terrible flippin hook stick with any other proven hook for flippin Afterone fish baitkeeper slides. Heard of super glue but shouldnt have to use it.

From: Brian: Dallas

Comments: Love gamakatsu hooks, just not these. Stinking baitkeeper slides down the shank way too easily. Looking for a different brand now.

From: David: Raymore,MO

Comments: hook is best out there but keeper needs work. i use heat shrink on them on the new hooksbefore i ever tie them on

From: Jason: TX

Comments: Ever heard of super glue

Comments: no issues with the barb sliding down the shank. i have had 50+ fish on this hook and it is still in perfect shape. maybe gamakatsu fixed it, idk but they work for me.

Comments: I talked to the Gamma rep. at the 2012 ICAST show in Orlando this year, and told him they needed to weld the bait keeper to the hook! I will not buy another one of these hooks until they do! Keep using the KVD/ Mustad they are better.

From: Chops: N. Florida

Comments: Had the same problem today! Set the hook on a tiny smallie and the shrink wrap and keeper slid down past the bend close to the barb. Wow, might have to consider other brands unless Gamakatsu fixes this!

From: Cher: Central WI

Comments: C'mon Gamakatsu!!! We were told you would "improve" the barb sliding down the shank problem after it reared it's ugly head last year. Best I can tell you did nothing but add a few wraps of worthless thread, that do nothing to help the issue. Love the hook, the welded ring if key, but I went back to Trokar flipping hooks, which have a better keepr, but no welded eye, and iffy hook points, after the "improved" keepers seemed to be no better than the first batch.

From: Brad: NY

Comments: Hook Keeper is worthless, the actual hook is what you would expect from Gamakatsu. Trokar flippin hooks is the way to go for me.

From: Sal: Palmyra, VA

Comments: Yep, hook keeper is garbage. Spins after landing a few fish, some do it right out of the package. Sticking with Trokar.

From: Kyle: St. Paul, MN

Comments: very nice and sharp hook but the shrink wrapped keeper will come off after a few hooksets and then it's just a plain hook after that. There are other flipping hooks that are much better for the money out there. Would not buy again.

From: Fang: MN

Comments: Sorry, the hook itself is really strong and sharp, but the bait keeper is terrible, slides down after just a few hooksets!

From: Dave: Elburn, IL

Comments: Definitely the best punching and flipping hook out there. I have only had the bait keeper slide down on one hook, but it's very easy to fix. I'll either wrap the keeper back on with electrical tape, very tightly, or wrap it with some spare braid I keep on the boat. 20lb Powerpro works well. Wrap it similar to how you would wrap a guide on a rod. Then, put a couple dabs of super glue on the wraps and you're good to go! Wish they make a 2/0 size though, for when the fish are lockjawed and I step down to flipping 3" baits.

From: Zach: Blacksburg, VA

Comments: these things open up and the keeper slides down dont waste your money!
Comments: these hooks are great, never had one open up or anything. the keeper is frustrating but yea the super glue trick works. i just cut the keeper off and made a barb with shrink tubing. i see guys sayin the pay check punch hook is better or they prefer it over this hook buuut dudes, gamakatsu makes the pay check punch hook so in reality, your pretty much fishin with the same hook lol

From: Matt: Fresno

Comments: Not sure why a lot of people are complaining about the barb sliding up and down. I did have that problem as well but a drop of Super Glue in each end solved the problem 100%. This is by far one of the best hooks I've used. I don't know how some guys are bending these hooks. I've caught 10+lb LM on it with no problem. I actually used a 5/0 to go shark fishing. Ended up catching a 100+ lb bat ray and the hook never failed. 2 thumbs up for this hook!

From: Jose: Torrance, CA

Comments: Living between the California Delta and Clear Lake, I have 6 Punch Rods always rigged-up. I tried this hook in Summer of 2011 for the first time. It's a decent hook and all but I really don't like the thin guage diameter steel here. For instance, I punched a 4.5 pounder at Clear Lake in very heavy vegetation. I did get the fish out but this Gamakasu hook opened-up dramatically. From this, I will not change or give up my Paycheck Baits very strong, stout and non-opening Punch Hooks. I recommend Paycheck's Punchin' Hook over Gammy any day.

From: Jack: Rio Vista, CA

Comments: I was hesitant to use these at first due to all the comments about the plastic keeper falling off, but i got some went out punching and landed one of my biggest bass of the year, so the hook itself is awesome, however i did find that after on fish or so the plastic keeper will slide up and down the hook. So the hook is fine but the keeper isnt

From: Bassmaster: MN

Comments: these hooks are by far the best hooks i've used for flippin and punching. Used these bad boys out at the Cal Delta all the time and i can say with the little custom touch i put to it the keeper hold damn well for punching.

From: Big Boy: Sacramento, CA

Comments: Very nice hooks SHARP. But not as tuff as the Paycheck punching hooks

From: Sonny: East Wareham, MA

Comments: the keeper would be better if there were the barbs on the shaft of the hook like the worm hooks, without those the keeper just slips

From: Max: WI

Comments: I don't care for this Hook the Keeper Stinks, and they don't seem to be as heavy as the Punch Hook. If they had a barb to keep the shrink tube up it would be a better hook.

From: Jason: Grant, MI

Comments: Awesome hook picked up 3 packs to give a try because i was unsatisfied with the trokars. first time out with them put up a top ten and a 5.87lb kicker. I did notice the keeper came down but it lasted 4-5 fish i can't open these hooks as easy.I love punching the thickest stuff i can find with a Biffle tour edition 7'6heavy and a smoke 100.this hook so far holds up great.Good job Gammy

From: Corey: ONT, Canada

Comments: Awesome hook.....Keeper blows, but if you sneel it and don't let the last loop come past the keeper it will hold it up...its to bad that gamakatsu cant put the same keeper that trokar does...

From: Evan
Comments: I'm a Gamakatsku fan however these are complete junk. The hook keeper on it is useless. After one or two fish it slides down even after a couple of hooksets it will start to slide down. I found out the hard way this weekend with a big fish when I set the hook the hook keeper slide down and instead of the hook being set into the fish which cost me a nice fish to weight in. I bought some heat shrink to fix them and you can't even do that because Gama didn't put the little barbs on the hook shank to hold it on so they were a completed waste of money. I will be switching back to Trokar for my flipping hooks.

From: Jim: Newark, DE

Comments: Great hook,strong ,sharp but it ends there! You shouldn't have to try and fix something you just buy. This is by far the worst bait keeper. Set the hook a few times, even on those free swings, and the keeper is useless. In turn becomes a useless flippen hook! I use Gammys on every thing. Not any more. swithed to trocar! sorry gammakatsu you lost on this one!

From: Buddy: Rome, NY

Comments: Sorry Gammy but you guys need to do something about the keeper not good when putting it in the nasty stuff but hook is real sharp I'll give you that.

From: Steve: La Verne, Ca

Comments: great hook it slipped some. but i got a lighter and melted the rubber back on and it is like brand new love em. go get u some and start catching the biggins

From: Jeremy: Glenpool, OK

Comments: It's a shame the bait keeper slides down after a fish. The hook itself is sharp and strong with a wide bite. I like the hook so well I will Super glue the keeper but I shouldn't have to.

From: Doug: Longview, WA

Comments: Nice sharp hook but the keeper slips to the bend of the hook after a couple of fish. Gets kind of old trying to slide the keeper back up after every fish.

From: Whitey: IL

Comments: The hook is good the keeper is awful. The keeper slides which is the purpose of it being there. The Mihatchi hooks are a much better value.

From: Ed: Grayslake, IL

Comments: Great hook,but the keeper needs to be welded to the hook. It slides down after a couple of fish and then I had to glue it in place. Would be perfect if not for the keeper problem but still a great hook for flipping.

From: Jeremy: AL

Comments: Gamakatsu heavy cover hook are awesome , I really like them the 5/0 and 3/0 I have and the 4/0 is going to be brought later but the 3/0 helped me caught a 3lb bass with using a punch skirt and a 3/8oz weight by just swimming it , the color of the skirt was black red striped and the bait was a 4" chigger craw in black red flake , I notic the barb did slip down but on the hook . I used but I think it was just becuz I did a very good hook set but that doesn't mean I not going to buy them no more , I just going to use gamakatsu hook alot more , I honestly going to say I love these hook but one tip use a snell knot and you will caught all of them .

From: Erik: IL

Comments: The keeper is too close to the hook eye. I like to have the barb on the outside of the plastic. When it this close it just doesn't trap enough plastic to hold the bait. I haven't had problems with the barb sliding. Maybe I should try just pushing the barb down the shank... Gamu, you guys can't braze the wire keeper on the shank? Instead of hand-tying string, glue, and shrink-tubing?

Comments: Gamakatsu has a new Heavy Cover wire keeper on the way. The new design will utilize a precise small diameter string hand tied over the wire keeper. In addition the wrap and keeper will be glued to ensure everything is bonded and rock solid. A low profile shrink tube will be fitted over the keeper for added durability and a clean finished look. The new design has been torture tested and held up to the most rigorous punching and flipping situations.

From: Gamakatsu Staff

Comments: These hooks would've have been good except for the fact that the keeper slides off after a couple of hook-sets, not fish, but hook-sets. They should've have left the barb on the shank to keep the shrink tubing in place.

From: Mike: Brentwood, CA

Comments: Love the bait keeper, perfect punchin' hook!

From: Dave: Grand Haven, MI

Comments: These are the best straight shank flipping hooks I have tried. I have tried the Gamblers, Reaction Innov. BMF's and the Trokars. These have by far the best keeper I have seen Far superior to the heat shrink wrapping, which we all know comes off after a dozen fish or so. I have had no problems with the keeper sliding down the hook. Using a Lamiglass 7'3"broom handle--hooks are standing up to the abuse very well.Very strong, the 4/0 is perfect for a std size beaver. Snell her up, and get to work!!

From: Brad: New Braunfels, TX
Comments: After a few fish the barb slides down the shank of the hook.

From: Matt: Houma, LA