Gamakatsu Offset EWG Worm Hooks Black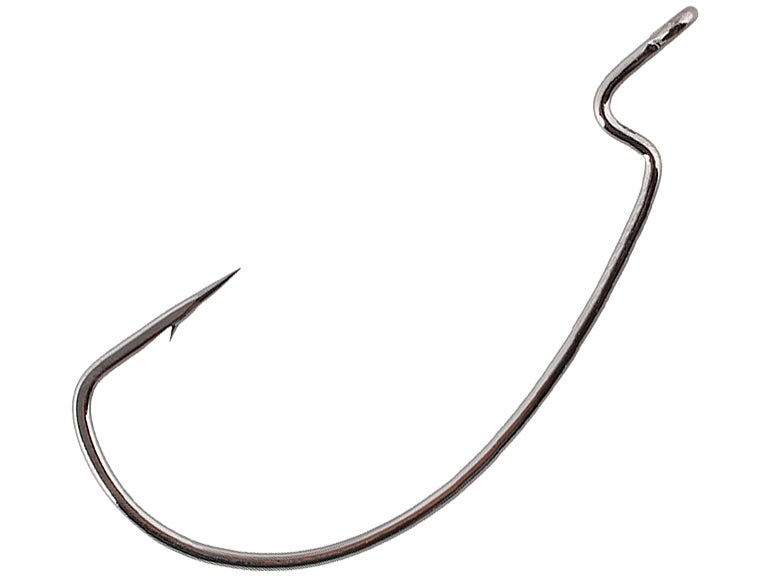 Sometimes the plastic baits we use are just too thick and heavy to rig on a standard worm hook, so Gamakatsu created their Extra Wide Gap hooks. With a regular Texas-rig, the point of the hook is pushed through the entire cross section of the bait and when a bass bites the lure, the plastic bait is pushed down exposing the point. If the plastic is too thick, not enough of the hook pushes through and the point cannot connect deep in the fish's mouth and you will either miss the fish completely or not hook it deeply and lose it on the first good run. If you find this happening to you when you fish big plastics, try the Extra Wide Gap hooks from Gamakatsu. Try them with big creature baits, big Senkos, and those over sized worms with thick bodies. Gamakatsu makes these hooks with the point in line with the eye of the hook so when you set the hook, all the force goes to the point to drive it through your plastic bait and into a hard, bony mouth. These are probably the best selling bass worm hooks in the known world!
We also offer these hooks in the economical 25 and 100 packs
Place Your Order
More From Gamakatsu Worm Hooks
Customer Reviews
Comments: Im just here to buy in bulk because this is the only hook I use from horny toads to Ugly otters to flukes ect...
From: John: Massachusetts 2/10/17
Comments: LOVE these hooks!! Very sharp, Only hook I use when it comes to Texas Rigging.
From: Chris: Houston, Texas 1/17/17
Comments: This is the only worm hook you will need! I use the 4/0 for 5 and 6 inch Yamamoto senkos, Yamamoto d shads, and fat ikas. Great with 6 inch roboworms.
From: Keith: Oxford, AL 5/16/15

Comments: These hooks work for lots of finesse such as Senkos drop shot soft plastic worms and much more.

From: Trenton: WI

Comments: if you never used these hooks or you have and you dont like them thats just sad cause these hooks are incredible. only hooks i use

From: Cal
Comments: Best Hook EVAHH! TRY AND YOU'll LOVE IT!

From: Alexander: Makati, NCR, Philippines

Comments: best hooks ever! soo sharp and don't rust

From: Young: San Diego, CA

Comments: Best hooks Hands down. These hooks stay sharp bass after bass.

From: Bubba
Comments: This is the hook to use if you want to set the cold steel.Get it ,you will love it!

From: Keith: Madison, GA

Comments: Love these hooks! Super sharp, reliable and gets the hook set in deep when ya really need it!

From: Shark: Where Blue Angels Fly!

Comments: very good hooks never had any problems with them and they are very sharp

From: Robbie: Pensacola, FL

Comments:Best hooks ever!
From:Brandon: Hollidaysburgh, PA