Gamakatsu SuperLine Offset EWG Hooks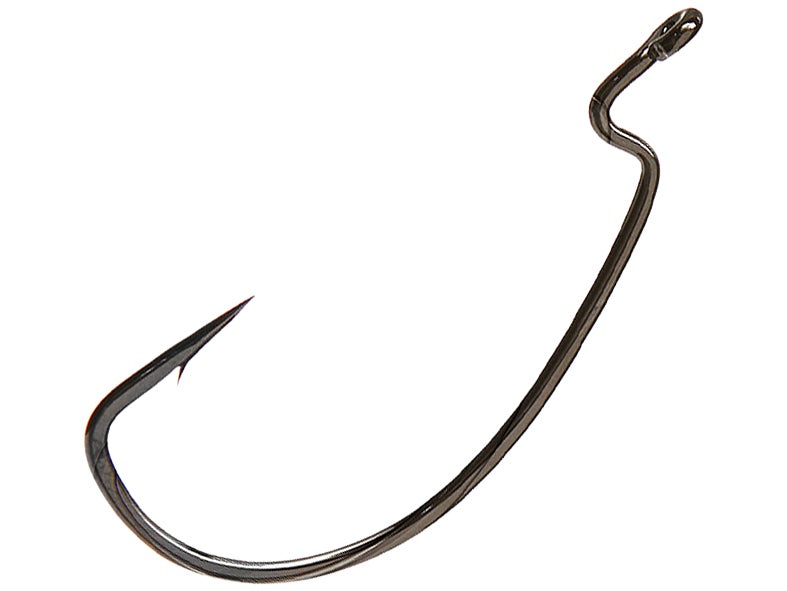 The advent and growing popularity of the braided super lines had created problems for some anglers with the tackle they were using. Guides on their rods would cut, rods would break, and hooks would straighten out, losing fish and ultimately losing tournaments. Rod manufacturers stepped up to the plate and started using components that would withstand the harsh realities of super-lines and Gamakatsu has given us the Superline Extra Wide Gap Hook. This hook uses heavier gauge steel wire that will not straighten out under load but with enough flex that it is not brittle and will not break when stressed. Made for big baits and applications such as flipping where hard, quick hooksets are common, so this hook will perform perfectly for you. In addition, you have the Gamakatsu signature ultra-sharp point that will penetrate and hold so you will hook more fish and lose less.
Place Your Order
More From Gamakatsu Worm Hooks
Customer Reviews
Comments: This SUPERLINE EWG is Stout. Point has not rolled on me like VMC and Mustad. Hands down the strongest and most stout worm hook on the market. Gamakatsu Superline is the way to go especially if you like to use braid.
From: Heavy Cover Fishen: USA 1/14/15

Comments: These hooks are the best ive used, point blank. BUT, they will bend outward. I have hooked a few which caused the hook to bend, BUT that was with 80 pound braid, and absolutely no drag pull! So with that being said, they will hold up to just about anything. Better than any others ive used
From: Jake: DE 12/26/14

Comments: I tried the 3/0 superline hook using 20 lb. braid in light weeds. I ended up with several bent points. In the past, I have had good luck with Gamakatsu hooks. I hope they are not going down hill. I might have to try some mustads after I use up the gama 25 pack.
From: JD: MA 10/2/14

Comments: I use braid on my texas rigs and love this hook. Strongest and sharpest made. They have no point roll and they don't bend. Clearly the best.

From: Mike

Comments: These are great hooks. I use the Super line mostly just because they are thicker and don't bend like the thinner gadget hooks. They have never let me down.

From: Cole: Ohio

Comments: Say what you will, Seth, but I am not the problem. Maybe I got a bad pack? All I know is I am plenty happy with my Mustads.
Comments: I used to like these, until one day I was using a brand new one of these hooks and I had the worst hook up ratio in my life. Out of about 20 fish, I caught almost 5. I started using some Mustads and never looked back. My hook up ratios dramatically. I landed more fish than with my Gamakatsus. I can't really recommend these to you, but I can suggest you check out some Mustads, though.

From: LivewellHero: GA

Comments: I caught my first and personal best bass with this hook. Gotta love Gamakatsu!

From: Elijah: Mystic, CT

Comments: The point rolls on these hooks way too much. I have to tie a new one one all the time because the point is bent. I mostly flip heavy cover!

From: Plant City, FL

Comments: Hey Bubba, try this hook in 4/0 instead of that Trokar nonsense for rigging your snelled punch plastics. Reliable strength even to the points which won't roll and reliable sharpness for all day yankin'. Oh, and they come in "Red" also and that truly adds a blood look to your trick. I like to use them with heavy braid and 20 to 25 lb. test floro-carbon lines and the price keeps me happy.

From: L.J.: Sacramento, CA

Comments: Yah ill deffinatly agree 4/O and 5/O are my favorites too! This hook is so reliable with any bait and it drives into fish so well because its so strong and beefy! cant find a soft plastics hook better than this. buy some!!!

From: Mat: OH

Comments: best hooks I every used. I bought the whole set of sizes but favorite two size i like are the 4/0 and 5/0 hook in the black finish . They are very durable and sharp . As well as sharp if I every miss a fish I know I almost had the fish on because sometimes I'll have a piece of scale on the end on the hook point . So this is my go to hooks in the market .

From: Erik: IL

Comments: Very durable and sharp