Gamakatsu Super Heavy Cover Flippin' Hook 4pk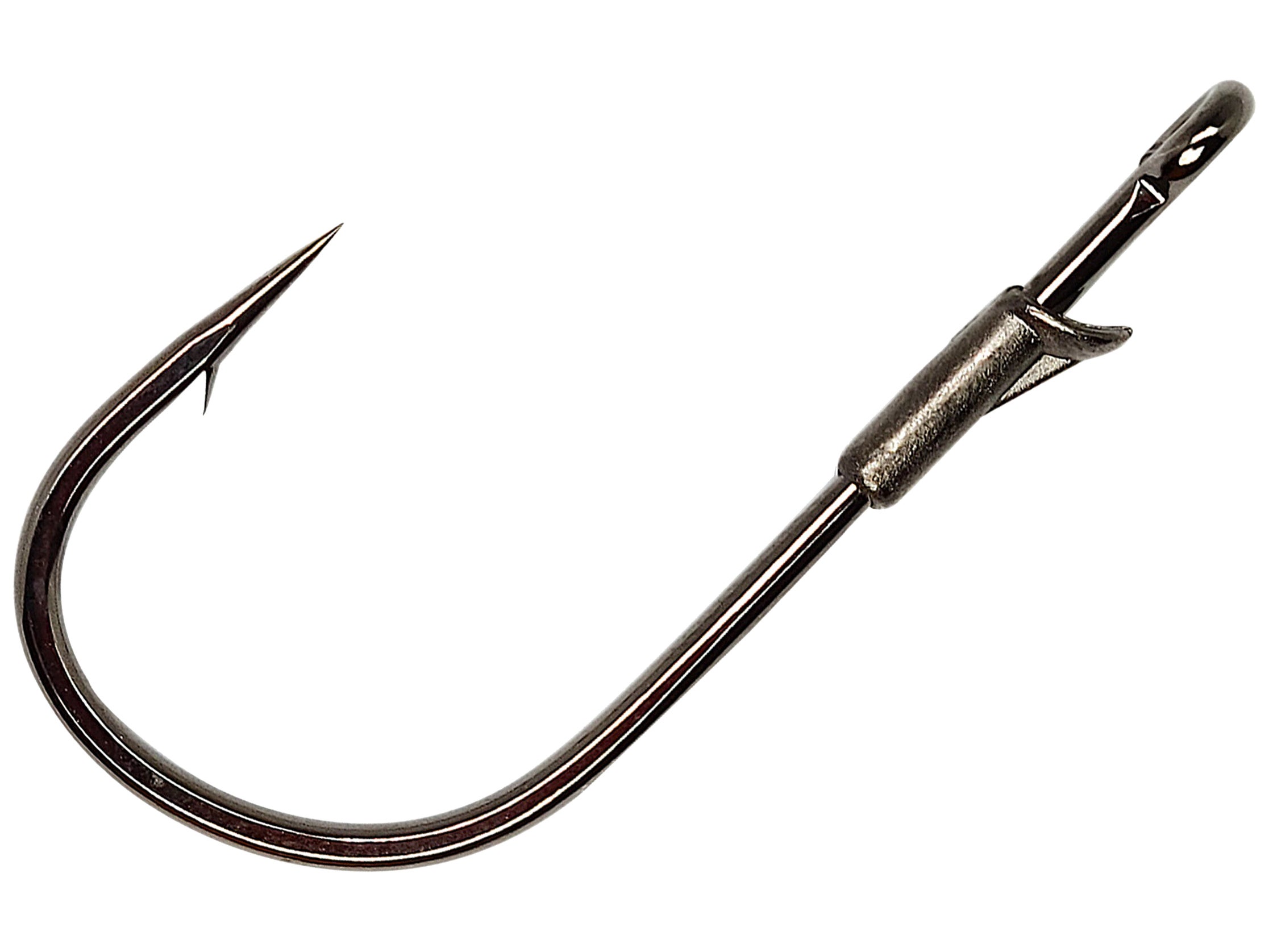 The Gamakatsu Super Heavy Cover Flippin' Hook is one of the toughest hooks Gamakatsu has ever created. Forged from a much thicker Monster wire, this hook is up to the challenge of yanking big fish out of deep cover with up to 80 to 100lb braid - and not straightening out. Perfect for flipping and pitching, it also features a bigger barb, and comes equipped with a perfect bait keeper, which provides consistently straight rigging and superior holding power. A welded line eye also makes it ideal for tying snell knots with braided line. Available in multiple sizes, beef up your flipping game with the Gamakatsu Super Heavy Cover Flippin' Hook.
Click on the ICAST 2011 icon below the main image to check out video of Bassmaster Elite Series veteran, Aaron Martens, discussing the Gamakatsu Super Heavy Cover Flippin' Hook at the 2011 ICAST Show in Las Vegas.
Place Your Order
More From Gamakatsu Worm Hooks
Customer Reviews
Comments: I fished all day with these and jacked some good fish. Never bent! So far they are on the same level as the hackneys for me. The hook keeper does suck but I can deal with that As long as tho hook itself doesn't fail!
From: Steve: FL 2/28/16

Comments: Last ditch effort to find a decent flipping hook, I've tried them all the owner jungle, hack attack, Trokar. I decided to give the gammys a try on the advice from a friend, glad I did. Finally a truly welded eye, added a little bit of super glue to the bait keeper & was good to go. I stuck every fish I swung at, I love this hook
From: Jared: TX 1/22/16

Comments: went punching today and caught 6 today on this hook. of the 6 two were four pounders and one 9(my personal best). was using the 3/0 and and all were pegged extremely well. the hook keeper works great. this is the best punching hook i have ever used
From: Flattown Basser: LA 3/8/15

Comments: Best flipping hook ever. Does the keeper suck? Absolutely! Mix up a little epoxy, put it at the base, and you're set. Sometimes you got to do a little prep work guys. Not too hard.
From: Richard: Atlanta, GA 1/8/15

Comments: I fished with this this summer and went through two packs in one day of fishing. The bait keeper is terrible. Called Gamakatsu and they said that they are going to begin welding the bait keeper down. Until this happens, I would go flip with VMC or Trokar TK 130 .
From: Jake: USA 1/8/15

Comments: I agreed with most of the reviews here. The bait keeper is horrible. After 1 or 2 fish, the it will start to move down or the string comes out loose completely. I won't buy these again. VMC flipping hook are waaaaaay better and cheaper as well.
From: Brian: CA 6/30/14

Comments: I used to use these hooks for all my flippin applications. They're sharp and strong hooks and I had no issues with the hooks themselves, however the keepers on these are terrible! Just as others have stated, I had major issues with the first generation of them so I wrote to Gamakatsu with my findings. I was informed that second generations were coming out soon and supposed to completely eliminate this problem so I bought a pack of new and supposedly improved ones, and what do you know, I had the same exact problem. I tried heating the shrink wrap tubing hoping to tighten it up more, but my attempts were futile. For those that say super-gluing took care of the problem, that may be so. However, I don't feel that if I pay $1.25 per hook I should have to do anything to it to make it function properly! I've since switched to Trokars, which you can pick up for about $1 per hook and they are perfect right out of the package.

From: Michael: Northern WI

Comments: Save your money and go with something different. These hooks a garbage. Pay nearly $8 for a 4 pack at a local tackle shop and catch 2 dinks on it and then the keeper has fallen down and won't stay up. Or the metal barb that is inside the heat shrink will fall out. Plus the tips roll terribly.

From: Brad: Lakeland, FL

Comments: I don't understand all the complaints from people saying that the barb is weak. As long as you don't try to rip your snell knots off with a pair of pliers you should have no problem with these hooks. Cheap and they don't bend, even on a heavy action rod with 65lb braid. Cut your snell knots off by slipping an exacto knife under the loops and lift up. Not that hard people.

From: Cullen: Ashburn, VA

Comments: all you gotta do is super glue both end of the keeper and you will be good! i never had any problem after the glue..my 2 cent

From: godzilla: Delta

Comments: These SUCK just as much as the first ones!!! Can't believe I wasted money on like four packs of these again. Even with the "improved" bait keeper where you can tell they wrapped something around the metal piece before putting the heat shrink stuff on. It still slid all the way down on the very first fish I caught. Gamakatsu if your reading this, put some freakn' barbs on the shank of the hook already! Paycheck Baits still the best!

From: Swampy: S. FL

Comments: Great hook but the bait keeper is no better than the original. I love the Gammas but can't afford to buy a hook that is pretty much useless after catching 4-5 fish. I don't understand why Gamma will produce a hook for other companies that puts their hook to shame. It seems they could just spot weld the small wire keeper or at least put the 2 barbs on the shank of the hook so when the keeper wears out, you can put a shrink wrap barb back on it. Until they fix the problem, I will be useing the Trokars and Gambler flipping hooks.

From: Kyle: SC

Comments: I agree with previous comments. You are still getting a better keeper component wise vs others but they should of welded it like the KVD flippin hook. I resolved my issues by putting a dab of extra strength super glue on each side of the shrink wrap.

From: Dan: NJ

Comments: Still a great hook and the keeper is much improved from the old one, but it still could be better.

From: John: AL

Comments: Happens Again! Keeper slides down after 2 or 3 fish. Otherwise good hook but tired of having to slide keeper back up all of the time.

From: Ryan: AL

Comments: Same as the previous version, bait keeper slides down after catching 1 or 2 fish. The hook itself is great, sharp and will use these til I run out, then will have to find another flippin hook.

From: Bellingham, WA