Huddleston Deluxe 68 Special Weedless - $24.99
Combining the body of a 6" Huddleston Deluxe Trout with the Tail of an 8" Huddleston Deluxe Trout, the Huddleston Deluxe 68 Special Weedless delivers a hard-thumping action aimed at bass in-and-around cover. Built with a super-sharp, concealed hook, the Huddleston Deluxe 68 Special navigates through heavy vegetation and brush with little-to-no snagging. In addition, the Huddleston Deluxe 68 Special Weedless is also very collapsible, which exposes the hook easily and quickly for rock-solid hook sets.

Like the rest of the Huddleston family, the Huddleston Deluxe 68 Special Weedless is capable of fooling the wariest bass with its incredibly lifelike details and precisely weighted action. Perfect for targeting bass in asylum, the Huddleston Deluxe 68 Special Weedless explores areas of heavy cover with a big, hard-pounding tail action that is sure to put your culling system to the test.
| | | | |
| --- | --- | --- | --- |
| Huddleston | Length | Weight | ROF |
| Deluxe 68 Weedless 12 | 6" | 2-1/3oz | 12* |
| Deluxe 68 Weedless 5 | 6" | 2oz | 5* |
*ROF's (Rate Of Fall) represent the approximate depth (in feet) that the bait will fall per every 10 seconds at rest.
Comments: great bait! iv had 5 of the original top hook model before and decided to go with the weedless for small ponds and fishing reeds, and man do these fish choke them even little 2-3 pounders! if your looking for some of the biggest bass in your lake? commit to one of these cause iv been fishing a lake that people said can only produce 2-3 pounders and last night i lost a 5-6 pounder right at my feet and caught a few 4s but then i set myself up along the reeds and wam! 7lber totally chocked it and by far the biggest bass caught out of that lake iv seen. very good producing bait
From: Austin: Thousand Oak, CA 3/25/14
Comments: Better thump and vibration for stained water. Keeps up that life like swim when you slow roll them when it's super cold. Get a bunch, you will be glad you did.
From: Brandon: Ohio 3/23/14
Comments: Great bait!! The tail is awesome and extremely realistic detail. Highly recommend this bait over the original 6".
From: Adam: Bloomington, IN
***Note: If you have questions about this product or need assistance with an order please email your questions to info@tacklewarehouse.com
Color:
Black Gizzard Shad
View Large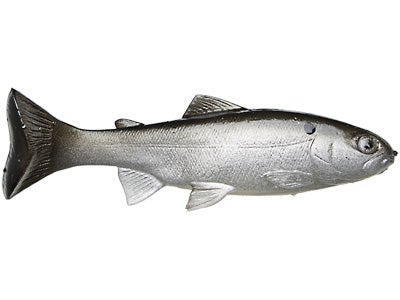 7 Available Colors
More Huddleston Swimbaits