Huddleston Deluxe 8" Trout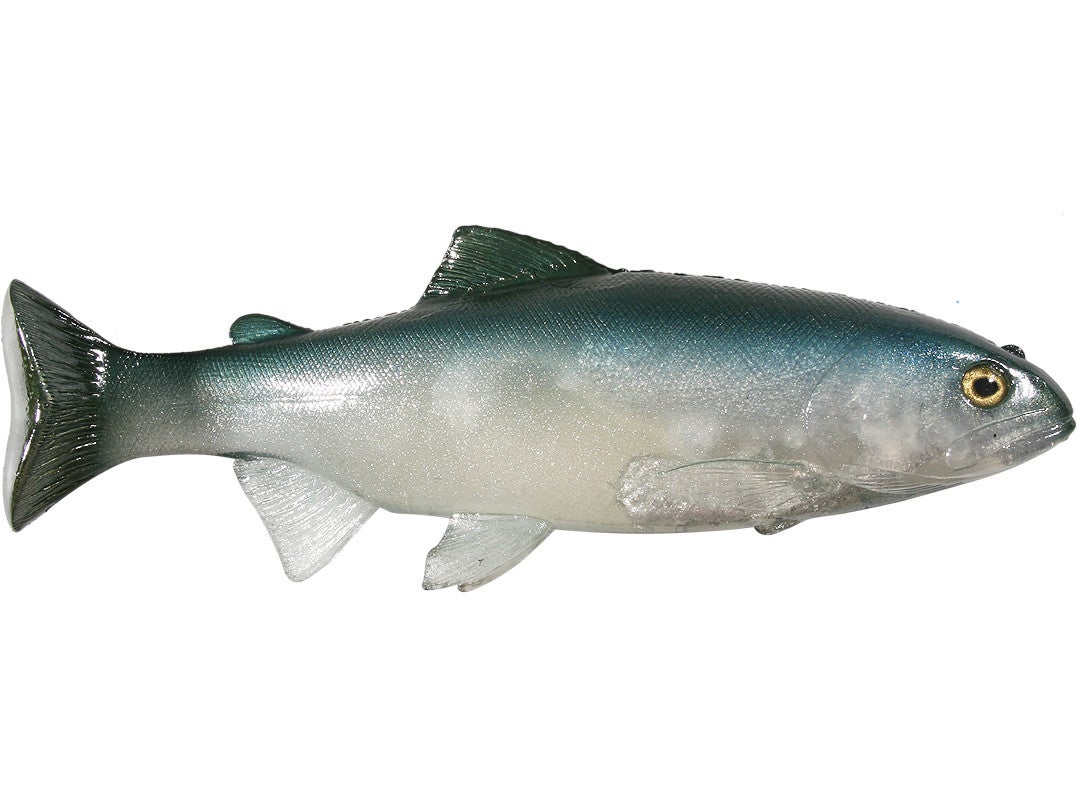 Please Note: Swimbaits are hand-painted and colors may vary slightly from those imaged.
The Huddleston Deluxe is the most realistic trout imitation swimbait on the market today. Designed by one of the premier lure designers on the West Coast, Ken Huddleston, the Huddleston Deluxe Trout is the zenith of the lure maker's art. Combining uncanny realism and a subtle swimming action with the correct movement and wobble, the Huddleston Deluxe will entice strikes from even the wariest of big bass.
The Huddleston Deluxe comes in four different rates of fall, 0, 5, 12, and 16. These numbers represent the approximate depth (in feet) the bait will run on a slow, steady retrieve.
While all four models feature a wire harness that provides the opportunity to add a belly hook, the ROF 12 and ROF 16 models come with a top hook molded into the bait. The ROF 0 and ROF 5 models do not come with a hook. Try a split ring and 2/0 premium treble hook, or a 4/0 double frog hook, secured by a piece of wire or paper clip pushed up into the belly of the bait.
The Huddleston Deluxe ROF 0 is a floating bait that remains perfectly vertical, with no rolling over, and is killer as a deadstick trout lure. The ROF 5 excels as a shallow water swimbait or any time the trout are near the surface, especially when the water is still cool in the spring. The ROF 12 and 16 will be for working deeper structure or a faster retrieve in shallower water. All four ROF's are 8 inches in length and feature the most lifelike finish you will ever find in a trout bait. Try different ROF's for different situations.
Try using the ROF 0 and ROF 5 on a slow, lazy retrieve on the surface to create a wake that will call big fish from a long way away.
The Huddleston Deluxe 8" Trout is a big, heavy bait. Twenty to thirty pound test and a long, heavy or extra heavy rod is recommended.
| | |
| --- | --- |
| Weight | Model |
| 4.0oz. | ROF 0 |
| 4.2oz. | ROF 5 |
| 4.8oz. | ROF 12 |
| 5.1oz. | ROF 16 |
15 Colors
More From Huddleston Swimbaits
Customer Reviews
Comments: This bait simply works i have caught bass from 4.6 all the way up to 12.95lbs (my PB) this bait has caught me some total giants I don't always get bit on this bait but when i do there total giants
From: Nick: Chester, VA 12/17/15

Comments: Sorry but the Savage Gear doesn't have anything on the Hudd. This bait excels when fished at a crawl, where this style of swimbait performs best. If you have toothy predator fish hanging around, they too will eat this bait. But if you aren't fishing in a gar hole or pike pond, you'll be fine. Buy a lure retriever, because if you do it right, you are going to hang a fair share of these
From: Bass Dork: Long Beach, CA 12/10/15
Comments: One of the best swimbaits ever made. When using reel in as slow as possible keeping the hudd in contact with the bottom. ROF 12s are my fav. These baits are worth every penny.
From: Michael: Fremont, CA 12/27/14

Comments: One of the best trot imitating baits out there. I rig mine "Butch Brown Style", it works. All fish I have caught have been hooked in the roof of the mouth towards the back. Have caught fish from 4 pounds all the way up to 8 1/2. I run 20lb mono but will switch over to fluorocarbon soon. No matter where you are, fish will bite it. I'm in Michigan and catch fish on it. Don't listen to the nay-sayers! Throw it!
From: Nathan: Saginaw, MI

Comments: Bought one of these to try and must say they work as I now have five of them. Fish the ROF 5 and 12 and both have produced fish. Not many bites but when you do it's a good one. So far nothing under 6lbs. Rigged with a accupoint 2x short 1x strong ewg hook in a 1/0 size fished with it out of the top connected with 65lb power pro. Even the 12, cut the top hook off. Fish have a hard time throwing the bait since they can't use it against you with the straight pull on the treble. Also hold it to the back with a clipped paper clip which you loose but it keeps you from tearing the bait up more using super glue. Also have added glass worm rattles to the tale for a little bit of added noise in dirtier water. Fish it on 40lb power pro and 25lb p line cxx. Great bait, make sure you have the tackle and rod to handle the weight so you can enjoy the pleasure of fishing instead of worrying about loosing it on undersized tackle.

From: Will: Long Beach, CA

Comments: Killer swim bait. Awesome action on a slow retrieve with a realistic look and feel. ROF 12 and 16 come with strong and pretty sharp top hook and option for belly hook. The bait will get chewed up from teeth marks but well worth it for the quality of Bass you'll catch. Throwing it on a Powell 725 MagHvy rod, Lews Tournament MG 7.1 reel with 40lb Power Pro braid with 17lb mono leader.

From: Chris: CA

Comments: There is weedless 8in huddleston version for this bait that is new, I hope TW stocks that weedless version of 8in huddleston. That looks better then 6in weedless huddleston, my huddleston is 5 years or older and still works. Love this bait.

From: Alex: KS

Comments: This thing is a big bass factory!!! Havent caught a 10 pounder in my life in SoCal until I bought one of these beauty's. these are the only thing I use for bass in the winter!! A must buy!!

From: Cody
Comments: i thought these came with the weedless imbedded hook like the 6inch model, i put a stinger hook on it so its fine now

Comments: This may be redundant but this bait catches BIG fish folks!!! It's simple, really. Get the correct gear to fish it, fish it...fish it... fish it. Keep fishing it and you'll become a believer. Patience and confidence is all you need. I will say it is best served in clear waters in my little experience with it. If you want my opinion, just keep the top hook!

From: Ryan: Seattle, WA

Comments: Butch Brown you are a genius!

From: Sam: Southern California

Comments: i ordered two of the rainbow trout colors,one is a rof 5 and the other is a rof 16. the 16 had a tear in one of of the bottom fins which glue could fix. it also had a splash of black on the bottom of the head/gill area and looks terrible! the 5 has a faded paint jop compared to the 16. i like huddleston baits alot! but for 25.00$ i wish they were more consistant in color and detail!

From: Brandon: Wooster, OH

Comments: Great for Northern Pike of all sizes. They litterally can't resist them.

From: Jon: Upstate NY

Comments: I agree, one of the best!

From: Jess: Rosemead, CA

Comments: best bait to use in california

From: Justin: Hemet, CA

Comments: this is the perfect swimbait for where i fish. i have caught so many bass on this bait i need to buy another one.

From: Matt: Orange County, CA

Comments: If you like fishing rubber trouts, this is the one you should be fishing. I like the ROF12 for just about all situations. I just prefer to fish mechanical type baits more.. even though I have hooked lots of fish on these and know lots of people who have too.
Best rubber for your $$$ if you get one that swims strait still.

From: Tacklejunkie: Southern California

Comments: cough- dont buy them they definitely dont work....wink wink

Comments: Hands down the greatest trout swimbait out there. Awesome action and extremely realistic. Only problem is with the rigging on them. Even though there is a place for a stinger hook its just to risky to put a hook on the bottom because fear of loosing it. But once you find a good enough way to put a hook on the top its killer. Just super glue weak spots every once in a while and your set.

From: Chris: Chula Vista, CA
Comments:The problems I have with this bait is that the paint comes off at the head (I ordered the rainbow trout color, so i just filled in that part with black sharpie marker). Another problem is that the dots on the bait fade away after a while (but you can easily fix that with a sharpie marker by just filling in the dots). It has a great swimming action, better than any other soft-plastic swimbait ive used!
From:Buzand: Hollywood, CA
Comments:Awesome product!
From:Bob: Oakland, CA