Huddleston Deluxe Weedless Shad Swimbait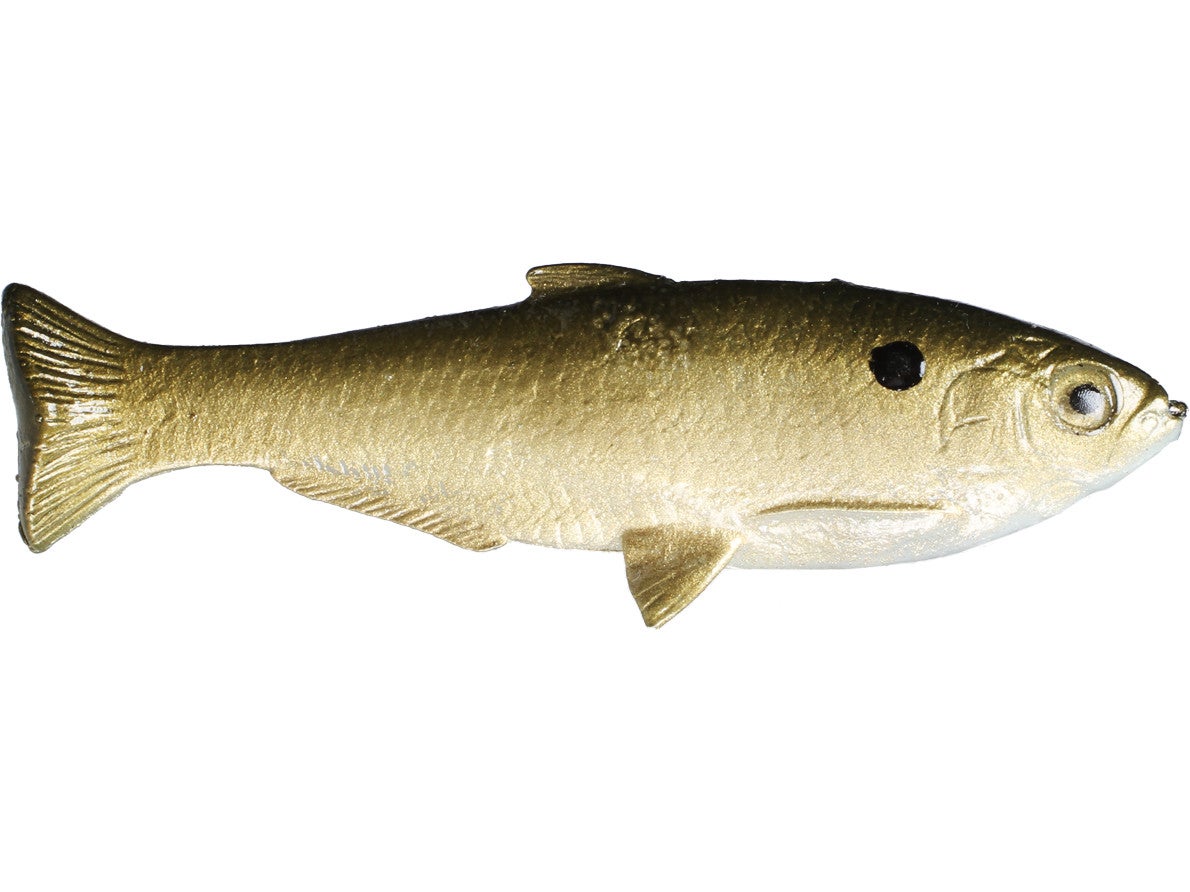 Please Note: Swimbaits are hand-painted and colors may vary slightly from those imaged.
Incredibly lifelike with an anatomically correct shad profile and realistic detailing, the Huddleston Deluxe Weedless Shad Swimbait offers some key weedless innovations. Featuring a super sharp 3/0 Mustad Black Nickel Hook completely hidden in its body, a horizontal line eye also makes the bait less susceptible to snagging and picking up loose vegetation. In addition, Huddleston's durable, soft plastic formulation not only provides the Weedless Shad with the patented Huddleston swimming action, it also collapses easily on strikes for quality hook sets.
Available in multiple colors to match the forage in your local waters, the Huddleston Deluxe Weedless Shad Swimbait is a realistic tournament-quality swimbait that has the potential to load the boat pretty much anywhere bass and shad come into contact.
| | | |
| --- | --- | --- |
| Huddleston Deluxe | Length | Weight |
| Weedless Shad | 4-1/4" | 5/8oz |
6 Colors
More From Huddleston Swimbaits
Customer Reviews
Comments: Best bait at this size, seems straight. I caught several fish on same bait (biggest 8.5 pound) & still like new! Works great, when everything shuts off.
From: Steve: Sherman Oaks, CA 5/31/16

Comments: I caught one fish, ripped the whole front of the bait exposing the poorly poured weighted hook. Won't buy another.
From: Chris: West Palm Beach, FL 5/31/15

Comments: This bait is great I fished them for the first time to cast out let it sink and slow roll every cast I was getting hit but can't really hook up I have fished regular hudds for years but new to the weedless game. I may be doing something wrong but like I said this is a great bait
From: Gary: Hollywood, CA 5/10/15

Comments: Very impressed with these swimbaits they look almost identical to a shad or herring and have a very natural action. One of the two i ordered had a slightly kinked tail and the other had a fin that was bent upwards but they still swim perfectly regardless. Definitely will be getting more
From: Paul: NJ 3/6/15

Comments: I personally think these are amazing for the price. The first time i fished with them was off the front of grass mats in guntersville. I caught a 5'6 and a 4'8. My partner also caught a 7'9. These baits are the deal! Now hooked on swim baits and hooked on hudds! Tight lines!
From: Bill Nye: Rogersville, AL 1/21/15

Comments: Pricy, not durable, but catches BIG FISH! LOL. Takes some getting used to for the hook set and feeling the bite. Only complaint is if you get a good sized fish, it's going to rip the lure apart and make it useless. Upside is, it's likely to be a BIG FISH! I'll probably have at least 1 at all times.
From: X: Twin Citites, MN 8/19/14

Comments: These baits are great, some of the best swimbaits I ever used, huddleston has such a good name and these are just another fine product in there line, I caught a 5.6 pounder on my first trip and a 8.9 a couple trips later, I would highly recommend this bait to anyone just like I would all the other hudd products.
From: Anthony: Okeechobee, FL 7/10/14

Comments: First fish i ever caught on this bait was a 6-4, great action looks so real, but he ripped off the swimbait and bent the hook out a little bit, deffiently buying more. heck ill take loosing a swimbait for a 6+.
From: John: Conroe, TX 5/1/14
Comments: Wonderful bait, caught me a 8lb striper on this but sadly then lost it from another fish gonna get me a new on though love this bait!
From: Joey: Lafayette, CA 3/11/14
Comments: This bait is phenomenal! The first day on the water with it I caught three largemouth over 5lbs and an unmeasurable amount of 2-3 pounders fishing it over the top of expansive grass flats. The price is worth every penny.
From: Nige: Canada 3/6/14
Comments: If these featured better hooks(owner, gamakatsu, trokar), this would be THE ultimate soft shad bait. I really wish Ken would use better hooks. I'd happily pay extra

From: Brian
Comments: Ignore the haters or ones who say they tear up easy. These are 5 bucks for crying out loud. Unbelievable action, soft plastic, and casts perfect. theyll get some bristle marks sure, but if youre like me, i take it as a trophy!

Comments: This bait flat catches fish. I bought two of them, fished them one day for about three hours, and they are so torn I cant even throw one of them anymore. Like some others said, slow rolling them has been the best retrieve thus far. Someone also mentioned that the hooks suck, which is not true at all. Every bass I caught was hooked great. The weedless design works well until you slam 7 fish on it and it starts to come up out of the bait just a little bit. Other than that, once again another amazing Huddleston bait.

From: Chris: USA

Comments: These lures are sick! i like to throw it in weed pockets and just twitch it lightly while reeling. Hold on cause bass will come out and swallow it!! caught 3 3-4lb largemouth by doing this.

From: Por: CA

Comments: These Hudds do catch fish and run true, but they tear up pretty easily. I would not expect to catch more than a handful of bass on each one without glue surgery. My best retrieve has been a slow roll like a blade bait in water with at least 3 ft. visibility. The largies will swallow them, but most smallies just pop them once without sucking them down on the stream that I often fish. Did not get to use these yet around spawning time, but they should be dandy. Other than the tear factor and loud splashdown, a real winner.

From: Nick: Chesterfield, MO

Comments: What some people dont realize about this and the weedless grass minnow, is the're some of the best inshore baitfish imitations out there, throw both sightcasting for redfish/seatrout and works just as well if not better than live bait, plus saves me the trouble of cast-netting/dealing with live bait

From: Inshore Slayer: Florida's famous spacecoast

Comments: He is real review for the hudd weedless shad best little swim bait out there. I have caught 30 on one bait and then the tail broke off and the other one I have is so messed up bought some glue to glue it back together but for $6 I will take it. I use it slow rolling and burring on the top with 20lb braid with a 20lb fluro leader and it slams them. Try it you will like it and dont be afraid to throw with braid and when they hit keep reeling and then sweep your rod and it always hooks them havent lost a fish doing that. Hooks are just fine MH rod works for me. Good luck guys catch em.

From: Robert: Republic of Texas

Comments: awesome bait but the hooks suck. After losing multiple quality fish because of those mustad hooks i cant bring myself to fish them anymore.
If they had Owner or Gamakatsu hooks I'd happily pay a few bucks more. Might even pay $10.

From: Big Country: GA

Comments: This bait is incredible. Caught many quality fish with it. Even works awesome bed fishing. Takes a little while to get down the right hook set, but when you do hold on! The action is so subtle and natural the bass can't resist. Definitely getting more.

From: Jacob: Apache Junction, AZ

Comments: The best small swimbait you can buy, it just plain catches em. I fish it through the same places you would fish a frog. if you cast into some light weed, be ready, they will eat it.

From: Kyle: Madison, WI

Comments: One of the best baits I have used for fall fishing. When the weather turns nice, I would head out in my chest waders and throw the golden shad in clear water. Smashed several 1-2 pound bass, perch, and even a few nice pike on this thing. Fish love it, and I get a bite on nearly every cast. They take some time getting used to setting the hooks, but once you do, look out! Great bait, I cant keep enough of them in the box.

From: R: PA

Comments: Ever since hurricane issac our 3 acre back yard was filled with 2 feet of water all of the fish got out of the water and died even found a ten pounded never got a bite in a couple of months threw this lure bam! 12 pounds my new record will be buying more.

From: Rambo: New Orleans

Comments: this is one of the best swimbait ive ever used. i have caught over 10 fish on one and its still swimming strong. it has a reely suddle action and realistic paint job which makes even super nonagressive bass inhale these things!

From: Cole: SD

Comments: I hooked up on my first cast with this bait, and caught one of the biggest fish i have caught all in the first time i ever fished it.

From: Adam: Atlanta, GA

Comments: I would probably buy these if they had a blue gill/ red ear pattern

From: Mike: Placentia, CA

Comments: This does have a pretty realistic swimming action, however, they do swim a little lopsided at times and they oftenly hydroplane unless you reel really slow. I think it would work better with just a bit more wiggle for enhanced action, weight (for casting and keeping it down more), and with 4-4.5" and 5" size selections. Out of the 4 that I bought, only one had the "hook popping out" problem, then the weight busted through the nose?! And it hadn't caught a single fish either. Other than that, pretty good bait, especially when shad are schooling. I'd Like to see this in a bluegill color and more of a shimmery silver for Silver and Black, with a little more black added to it too.

From: Ray: IL

Comments: These baits are absolutely spectacular!!! burn them, real slowly, jerk, whatever! they work and catch fish!! mine is torn to shreds after about 30 fish and still catches them!! won my first tournament on this bait, deadsticking it! i used silver black color and i just ordered more! i bet u wnt be dissappointed!!!

From: Chris
Comments: Really good baits!! Only drawback is the matireal is not that good, I've caught three bass in the past two days with this bait and its pretty tore up, on the second bass the hook came out and wouldn't stay in the slot. The third bass pulled the jig head out a little bit from the front of the bait. Other than that a really good bait! definetley ordering more!!

From: Raul: Del Rio, TX

Comments: I wish they would make a rainbow trout color.. But this bait is awsome.. really good bait.. i landed about a four pounder on my 5th cast.

From: Alex: USA

Comments: Hudd baits does it again! this is a awsome little bait.. good colors and swim very natural.. Silver black is a really good color. It has a pretty good hook up ratio.The only thing i do to modify it is take a razor blade a make a pretty deep cut along the gill plate and then put a little piece of red pipe cleaner and put super glue over the top to make it look wet and realistic. if you don't put the super glue over the to it will be fuzzy and the fish will pull it out easier. Overall this is a sick swimbait. the hudds are the only swimbait that i will use.. hudd baits babby!!

From: Jay: USA

Comments: I fish it in the same areas I would a frog. Because the bait swims so true, burning it, almost to the point where I am waking it, works well. 90% hookups! Make sure your using heavy line. I snapped 50lb braid setting the hook. Im buying more.

Comments: Another winner from Huddleston. Just flat out catches fish.

From: Craig: Rainbow River, FL

Comments: Hudds are Hudds and these work almost as well as the big ones.

From: Will: Alpharetta, GA

Comments: Ive Caught tons of fish on it, and got it on video, the durability could be better though, but they definatly catch fish checkout swimbaitbassing on youtube 5 vids of fish on it, its a heck of a bait, and for a good price

From: Trey: FL

Comments: Most of the swimbait talk is centered around the 6" & 8" baits which I use, but let me tell you, if you have not tried the 4" HUD, you need too. This lure will catch fish and I mean anytime of the year. Give them a shot, you won't regret it.

From: Dennis: Hiram, GA

Comments: great action, swims straight. i wish they had a fast sink version so i could fish it off the bottom.

From: Mike: Huntington Beach, CA

Comments: Caught a twelve pounder off this bait

Comments: This bait is awesome! I live in Western Pa where swimbaits are overlooked, I decided to think outside the box and do what no one else does and let me tell you these things produce quality fish and are very durable for a soft plastic. I only have one complaint THEY CATCH EVERYTHING!!! I cant keep musky or pike off of it

From: Bryan, PA

Comments: I love this bait!!! i caught a bluefin my first cast off the oceanside pier!

From: Mike
Comments: They hit this hard at Lake Fork when they started moving post-spawn! Wish it came in a little bigger version, and that TW carried the chartreuse colors.

From: Miles: OKC, OK

Comments: Perfect action, you can swim at any speed you desire, goes through anything and everything. Cons- it has a loud entry when it hits the water (big splash) thus if you are trying to be quiet it might spook the fish but other than that it is a great bait and is worth the money!

From: Mike: Virginia

Comments: This bait has changed the way i fish up here. They can go through just about anything and come out weed free.

From: Brandon: Glennwood, MN
Comments: Sweet bait been throwing it last 3 trips and they r tearing it up. Nice bait worth the money.

From: Josh: Lafayette, TN
Comments: Huddleston does it again another amazing bait.

From: Travis: Hoover, AL