Lazer Trokar Light Wire Finesse Worm Hook - $6.99
The Lazer Trokar Light Wire Finesse Worm Hooks feature Trokar's surgically sharpened hook point technology. This creates a triple-sided point that actually penetrates twice as easily as other point shapes - dramatically increasing strike to hook-up ratios. Forged using a unique tempering process, the Trokar Light Wire Finesse Worm Hooks are extremely strong with just the right amount of flex to resist breaking. Trokar's B.A.R.B., affixed to each hook's shank, also keeps your bait firmly in place, and the line eye is fully enclosed so there's no chance of your braided line slipping out. The Lazer Trokar Light Wire Finesse Worm Hook - For those who aren't just out to catch fish. But are out to win.
Comments: "light wire finesse hooks" LIGHT WIRE. These hooks were made for finesse applications not flipping. If you are flipping I would use a wide gap hook or a flipping hook. These hooks are the absolute best and would not dare to fish my tournaments with any other hook

Comments: Light-Wire Finesse Hooks are for finesse apps. 14 lbs. xps and mega hooksets might be a little much. I was pitching trickworms under docks and pontoon boats w/10lbs. test 100% flouro and did fine!

From: D: VA

Comments: these are the best hooks on earth

From: Durt: Chesterfield, VA

Comments: Overpriced Junk

From: Loaf: toorichformyblood, PA

Comments: To Brandon from Ohio, you must have gotten a bad batch or straightened the barb with pliers or something. I use this hook for all my light flipping and pitching with up to 20 pound test and haven't had a single problem yet, nor have I lost a fish. Maybe try a different angle on your hooksets or try playing the fish a little differently on the retrieve.

From: Nathan: IL

Comments: I have heard so many great things about trokar hooks so I bought a bunch of them in all different styles. I used them to practice for a tournament and didn't have any problems because I was setting the hook. When the tourney day came I was actually breaking these hooks with 14lb xps fluorocarbon line on the hookset. Other times the point would roll over and never stick them. There were some that were hooked right in the top of the mouth and they came up and threw the hook 50% of the time. It was like fishing with barbless hooks. I will never buy these again when there are Gamakatsu and Owner hooks that are better and cheaper. I guess if I lived in florida and the only hook I ever used was the heavy wire flipping hook they might be ok but I wouldn't recommend it.

From: Brandon: OH

***Note: If you have questions about this product or need assistance with an order please email your questions to info@tacklewarehouse.com
View Large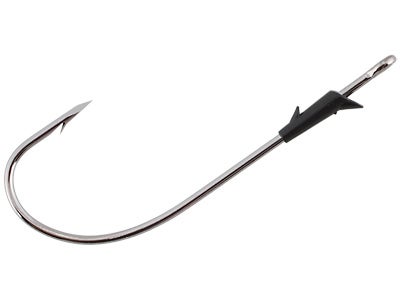 Place Your Order
More Trokar Hooks