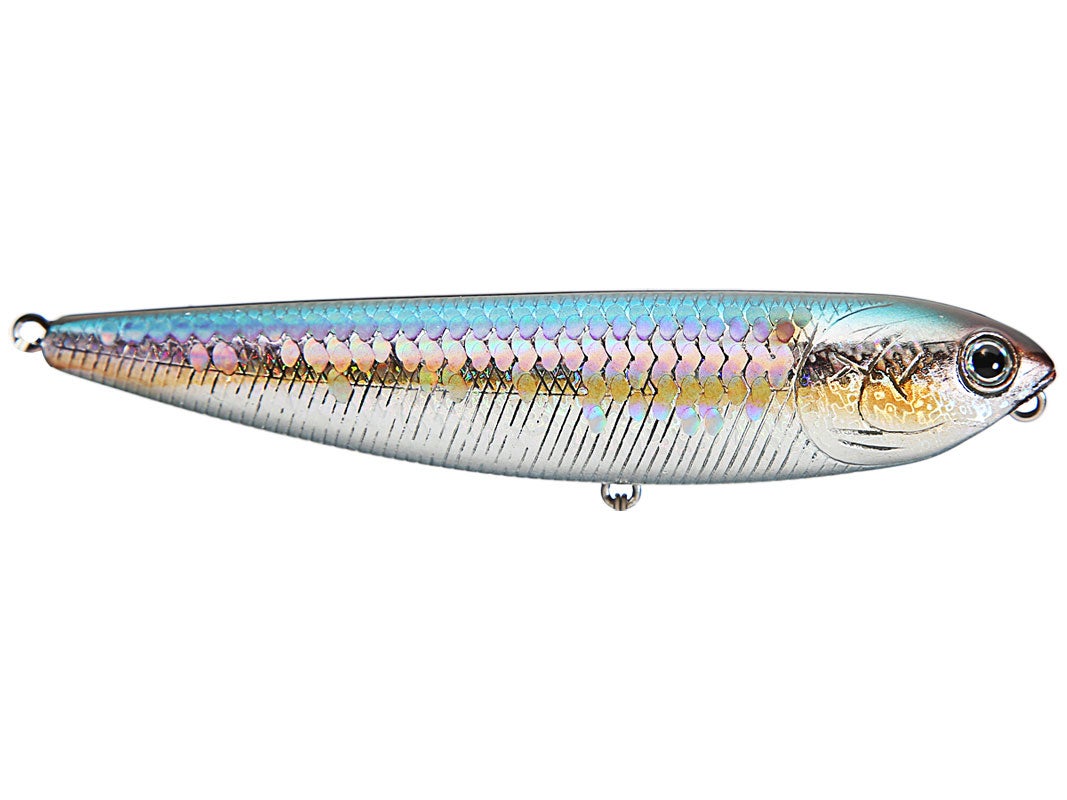 If you have ever fished topwater baits, then you know that it is probably the most exciting way on the planet to catch fish. If you have ever thrown a topwater bait with the "walk the dog" action, then you know their effectiveness. The design of the Lucky Craft Sammy makes "walking the dog" easy. The tapered body and weighted tail makes the head of this bait sit high in water, putting it in a prone postion which provides instantaneous turning and splashing with the slightest rod movement. The internal glass rattles call fish from great distances and depths. Professionals know that when it comes to drawing in fish on top, there is no better action than "walking the dog" and with the Sammy's lifelike finishes and unsurpassed action, fish don't stand a chance.
| | | | | |
| --- | --- | --- | --- | --- |
| Lucky Craft | Length | Weight | Class | Hooks |
| Sammy 85 | 3-1/4" | 1/2oz | Surface | #4 |
| Sammy 100 | 4" | 1/2oz | Surface | #4 |
| Sammy 115 | 4-1/2" | 5/8oz | Surface | #4 |
| Sammy 128 | 5" | 1oz | Surface | #4 |
26 Colors
More From Lucky Craft Topwater Baits
Customer Reviews
Comments: These baits work extremely well in the summer for bass. The paint lasts ok but it is really tough plug. I have bounced it off of plenty of rocks overcasting. No cracks & it still catches fish. Over three years of being abused by stripers bass & myself. I really recommend the lucky craft Sammy .
From: Alan: CA 6/5/16

Comments: Bought the Sammy on a tip from a fellow tournament angler. First cast, a bass blew up on it. Went on to place in the tournament. It spits, rattles, and walks the dawg! Ghost minnow and ghost blue shad are my two go to colors. Have had great success on many of the lakes in the mid-west including Table Rock.
From: Jesse: St. Robert, MO 8/10/15

Comments: This is my second season using the Ghost Minnow Sammy 100. Once the weather warms, this lure is dynamite on largemouth in both quiet river coves and lakes alike. But the most fun I've had with Sammy so far is fishing for pissed off river smallmouth in the shallow Northern section of the Connecticut River above Hartford. The smallies absolutely hammer this thing. I'm talking knocking it 2 feet out of the water on missed strikes. Fishing with my Sammy 100 is ridiculously fun!
From: Eric: CT 6/23/15

Comments: This lure is just amazing and the hooks are super sharp! My first bass with it was a solid 5lb hog and after that I caught several other nice quality fish. Also caught a pickerel on it. Well worth the investment, but the paint job could be better. Good luck and tight lines!
From: Drew: Philadelphia, PA 9/8/14

Comments: Ill never forget the first time i used this. i got it for xmas and after a slow day of 51 water temp and chasing schools 35 ft deep and not catching crap i threw it on almost as a joke and pulled up to my last stop before bringing my boat in. I pull up to a hella shallow stump and WHHHHAAAAMMY! I didnt know whether to laugh or cheer. great bait, so good it surprised me. I currently use the ghost bluegill. I recommend using it with a soft tip rod. It will literally double the action of the walking

Comments: Great bait. Caught fish right out of the box. I like the higher quality hooks as well. Worth the investment.

From: Jeremiah: Fulton, IL

Comments: Had this bait and have not caught bass off it. Needs right conditions for my lakes in midwest! God bless and good fishing forever, i use skeet color so it should catch fish. Hope you have fun fishing all day and night long! :)

From: Alex
Comments: great bait for all fishing coditiond and seasons and the only thing i can say thats bad are that the pait jobs are not very durable i only fish for smallmouth and largemouth bass and the occasinal trout and the paint jobs only last me 25 fish then its all chiped but thats not realy a problem because then they go into my night fishing box or sent to my freind to be repainted

From: Shawn: Ontario, Canada

Comments: Awesome bait use it all the time for both normal fishing and throwing at the occasional school of fish that come up. The best color I've found is the solid chrome saltwater version. My dad has one with literaly no chrome left on it. Plus if all else fails it can catch striper with the best of em. Always have one on your deck in case a school comes up, if you buy a few of these go ahead and buy a rod and reel to keep it on!!!

From: Jake: Greer, SC

Comments: One of the best "walk the dog" baits out there, got a few of the MS black for night fishing and they always produce.

From: Mrbond007: East Lansing, MI

Comments: Caught numerous white bass, largemouth and 5 to 10 pound stripers on this bait. Llure has a really nice walk to it also.

From: Alec: Highland, IL
Comments:Excellent "walk the dog" lure. Caught tons of LMB and stripers on this lure. Just dont leave on deck of boat in 100+ degree weather. Lure will swell like an asymmetrical pregnant guppy and be useless.
From: Cavina, CA
Comments: I fish for sea bass on the Island of Jersey, Channels Island, Great Britain and the Sammy's are the best lure on the market for this type of fishing. The type of bass we fish for run to 15lb's and I have had many from rock gulley marks that I wade to at low tide. The injured bait fish swimming action of the Sammy and the rattle get great hits from our hard fighting bass.
From: Nick: Channel Island, Great Britain 6/03