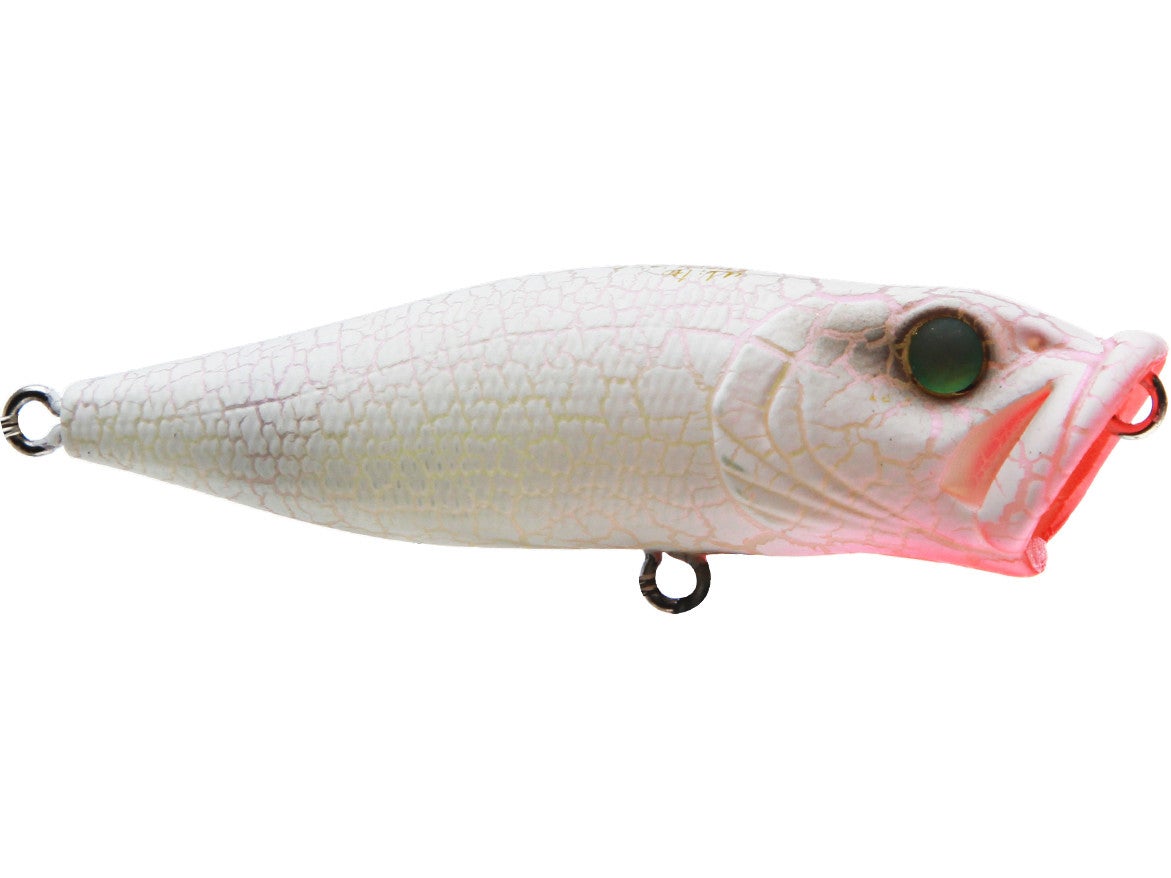 Since it's introduction to the US market in the mid nineties, Megabass has gained a very loyal following among touring pros and the rest of us. Megabass has developed a reputation as being the most active baits in their class and, more important, the most natural actions as well. Each Megabass bait was designed and the prototype hand-carved by the master Japanese lure maker, Yuki Ito. The internal structure of Megabass lures is different than anything else on the market today; the external walls are thinner but completely supported by internal supports and each class of bait utilizes unique Moving Balancers that create the erratic action bass can't resist. The finishes on Megabass lures are unique as well. To give the most life-like look Megabass gives each bait numerous coats of paint that blend to make the color perfect and don't exhibit a sharp line from one color to the next but blend and fade into each other like in real life. All these features makes Megabass the leader in lure development and one of the 'secrets' that win some big money all over the US.
| | | | |
| --- | --- | --- | --- |
| Megabass | Length | Weight | Class |
| Pop X | 2.5" | 1/4oz | Topwater |
15 Colors
More From Megabass Topwater Baits
Customer Reviews
Comments: This is the best popper made. It will spit and you can walk it. Quality feather that flashes when the lure is stopped. Always have one tied on. Only issue is that you can't just have one of these. :)
From: Jacob: ATL, GA 5/8/15

Comments: Looks good, casts well, nice hooks, but I don't like it. It pops and spits 'weird' & so far the fish don't like it. Which makes me not like it. I own 4500 Megabass baits (not really but I have a lot), but this was my first pop max. I will keep trying it, but so far, so bad.
From: Jay6: USA 11/5/14

Comments: Great bait. Hooks are sharp, finish is top notch, and this little thing will cast a MILE! True story: last time out I caught two spotted bass on the same cast- one on each treble, both keepers. On sunny days, the threadfin color just slays.
From: Dallas: GA 9/24/14

Comments: I've always heard great things about Megabass lures, but the price has always kept me away. I finally decided to bite the bullet and try these things out after hearing so much hype. I can honestly say I'm very impressed with this lure. It's not like you're buying a basic Pop-R. These things are high quality, and the detail on them is top notch. Everything about this lure is top quality, from the hooks, to the paint, to the body design and shape, and the packaging. After being so impressed with this lure, I went ahead about bought myself one of the Pop Max's, so I could get a little more casting distance with my baitbaster.
From: Seth: Pittsburgh, PA 8/15/14

Comments: Deadly popper, cast's a absolute mile on light braid. Caught lot's of largemouth and a couple smallmouth this summer on this bait. Work it slow, much preferred over the larger PopMax as you get more bites and sometimes larger fish. Hooks are not strong, will bend out after a few fish.

From: Michael: GTA, Ontario, Canada

Comments: This popper here is fine as frogs hair. Quality finishes and good action for a snack size bait. If I need to size it down for the finesse topwater bite, this dog will hunt.

From: Dustin: Sugar Land, TX

Comments: The Pop X is easily the best topwater lure I have fished with. Quick snappy action, amazing finishes, and water intake make this a real winner. I have caught fish after fish on these and its now the only popper I use except the larger Pop Max. The pop X has caught alot more fish for me than the Pop Max but it seems the Max is producing better quality. I jave caught Smallmouth, largemouth, crappie and bluegill and the Pop X so far.

From: Jimmy: knoxville TN

Comments: This was the first popper and Megabass lure for me as well. I bought this lure for fishing small ponds, lakes, etc. However, I have caught so many fish on this small popper I now use it on the river and more. Great action and a couple twitches and a pause the Bass can't resist.

From: David: Maryland, USA

Comments: This was the first Megabass lure I purchased. I had never seen a lure with the attention to detail, design and superb paint. My second cast with this lure I landed my biggest river Smallmouth ever. Since then I have purchased many more Megabass products and have caught Smallmouth, Largemouth and to my surprise a 17 pound King Salmon. I am a lifetime fan of their lures and they are worth spending the money for an excellent product.

From: Rory: Northern California

Comments: I think $18 for Pop X is a steal. C'mon, this is a top water lure - you won't lose it unless you are a shore fisherman.

From: Jade: SoCal

Comments: By far the best top water popper out.... only one close it the Rico....

From: Kris: Durango, CO

Comments: Simply the best top water popper out there...definitely worth the price.
From:K: Ohio, USA