Mustad Wide Gap Weedless Hook Red 5pk - $3.99

Designed with a wide gap and a metal wire weedguard, the Mustad Wide Gap Weedless Hook delivers snag-free performance that can accommodate a wide range of soft plastics. Made using as slimmer, chemically sharpened point, the Mustad Wide Gap Weedless Hook Red creates lighting-fast, clean hook sets.

As strong as they are sharp, the Mustad Wide Gap Weedless Hook Red is manufactured using a nor-tempering process, which makes them 30% stronger and capable of going toe-to-toe with big bass. For added attraction, the red coloring gives the illusion of bleeding prey, which triggers a feeding response and alerts fish to an easy meal. Sharp. Strong. Dependable. The Mustad Wide Gap Weedless Hook Red will make a welcomed addition to your terminal tackle.
View Large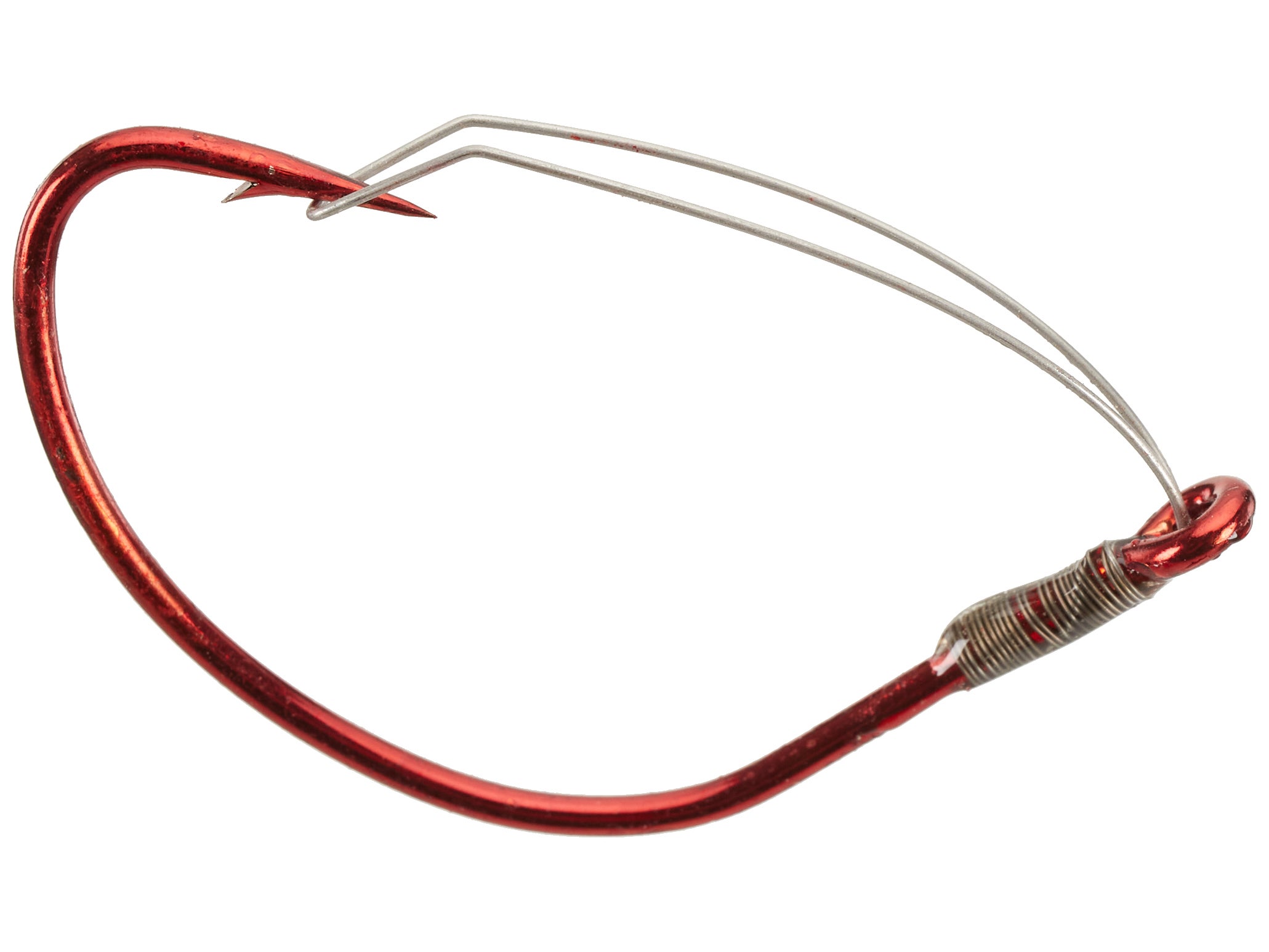 More Mustad Worm Hooks
Comments: These are the absolute best hooks for wacky rigging senkos, and I've tried them all. Weedless with an amazing hookup ratio. In New Jersey lakes, if you're not using a weedless hook like this you're not able to fish the best spots without getting your hook covered in weeds. I like the 1/0 for 4, 5, and 6 inch senkos. The 3/0 works well for 6 and 7 inch senkos. A quick snap is all you need for a rock solid hookset, but honestly the fish pretty much hook themselves even if you're not paying attention. Fantastic hooks.
From: Dominic: NJ 6/2/15

Comments: This thing is great... I live in Wisconsin and I started the day off with a 2 pounder I dropped and I landed one 2 pounder. I caught a little pike (20") and then I was taking my last cast and I thought I snagged a rock that could swim, after a long battle I caught a 6 pounder. Keep in mind this is Wisconsin not Florida so the bass don't get the size of sturgeon here. Over all I am extremely happy and look forward to catching some more monsters on it.
From: Chris: Antioch, CA 9/3/14

***Note: If you have questions about this product or need assistance with an order please email your questions to info@tacklewarehouse.com