Owner Stinger Treble Hook 2X Black ST-41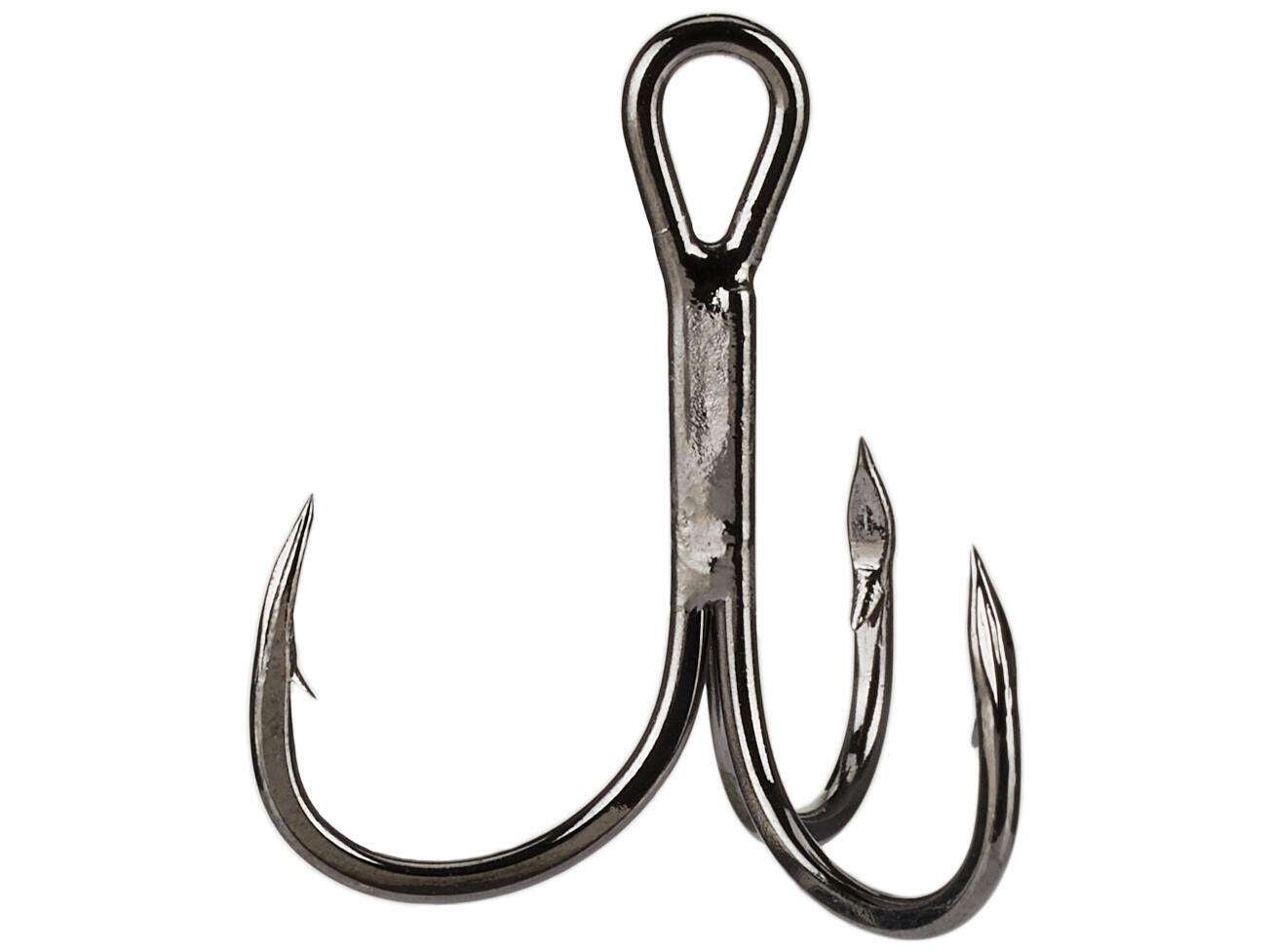 Just when you thought hook technology had reached its pinnacle, along comes a real innovation from Owner America Corporation. The Stinger Treble Hook features wide-gap round bend hooks that bite deep and hold hard, allowing you to get more fish that you hook into the boat. The innovative feature in the Owner 2x Stinger Hook is the way the eye is attached to the three hooks. Other treble hooks are constructed in two pieces, one wire bent to create the eye and two hooks as one piece and the third hook soldered on as the second piece. The Owner 2x Stinger Treble Hooks are painstakingly engineered from four separate pieces, three hooks soldered in a perfect trilateral configuration and the eye attached directly on top of the center of the hooks for a balanced treble hook that will hang perfectly and help your lure run straight and true. These hooks are being used by some of the top lure manufacturers because they know they will help their baits track straight and true. The Owner 2x Stinger Treble Hooks feature ultra-sharp cutting points that will stick to whatever touches them, which means you will get better hooksets on any bass that bites. If you are looking for replacement treble hooks, try these premium hooks from Owner. This hook has the corrosion resistant black chrome finish that will help keep the points sharp and the hook strong even after repeated use.
These 2x hooks feature heavier wire than the standard Stinger Hooks which means they are the right choice when you're fishing super braid lines and going for big bass. Many anglers that are fishing the big swimbaits are switching to the Owner 2x Stinger Trebles.
Place Your Order
More From Owner Treble Hooks
Customer Reviews
Comments: Best treble hook on the market period.

From: Brady: Corning ,NY ,USA

Comments: put these on my slammer and nailed every fish that touched it! very sharp hooks!

From: Jake
Comments: These are definitely on all of my squarebills now and you can use one size smaller which keeps it from snagging brush but doesn't hurt when you need to hook up on a fish. lovem!

From: Danny: Milan, IN

Comments: stop missing crankbait fish and swap out your hooks to Owner. these hooks stick 'em and leave 'em stuck

From: Jeroo: Rippin' Lips

Comments: The name Stinger says it all. Everyone knows that Owner makes quality hooks. The Stinger-41 is no exception. It has some great features that are hard to find on other treble hooks, such as Owner's Cutting Point, the Black Chrome finish, 2X Strong and my favorite one is the straight eye on the middle hook which helps keep lures balanced and running true. Not too many treble hooks offer that straight eye, just go look at your lures and you'll see what I mean. My only complaint is that I wish they made a short-shank version of the ST-41's.

From: Pete: City of Lakes

Comments: Best replacement treble, Period!

From: Rusty: TX, where else?

Comments: I just got some Owner Stinger ST-41's and holy crap...they are the sharpest damn hooks I've ever had. They are sharper than the Daiichi Death Traps I have and Gammys. My KVD's are on backorder from TW so I can't compare to them but I would find it hard to get a hook any sharper. You touch the hook point and it immediately starts penetrating your skin with MINIMAL pressure. I mean just touching the point as finely as you can. Worth a look for sure. I know I am sold on them.

From: Brett: MO

Comments: Don't lose a big fish due to weak hooks. I upgrade all my crankbaits and most of other plugs to these. I've seen huge bass lost at Lake El Salto because the stock treble hooks got bent out - either from catching large numbers of fish and using pliers to twist the hooks free over and over, or worse yet, a big bass can bend the hooks straight. It won't happen with these. While you're at it, put some Owner size 5 hyperwire split rings on your crankbait too and you will instantly be losing less fish to twisting off or bending hooks.

From: Scott: New Mexico

Comments: After being refered to these after having a huge bass straighten out my hooks I put these on and they are awesome since then i have bought strickly Owners in everything even my worm hooks.

From: Lance: Livingston, TX

Comments: these are some mean sons of B's get yourself some and slay some pigs.....

From: Colby: Oregon, USA
Comments: Why no reviews for this item yet??? I will be the first to say this is the perfect hooks. Super strong, super sharp, just a swipe from a fish will nail him. I have replaced all my pointers hooks with these, and could not be happier.

From: David: Murrieta, CA