Owner Stinger Treble Hook Black Chrome ST-36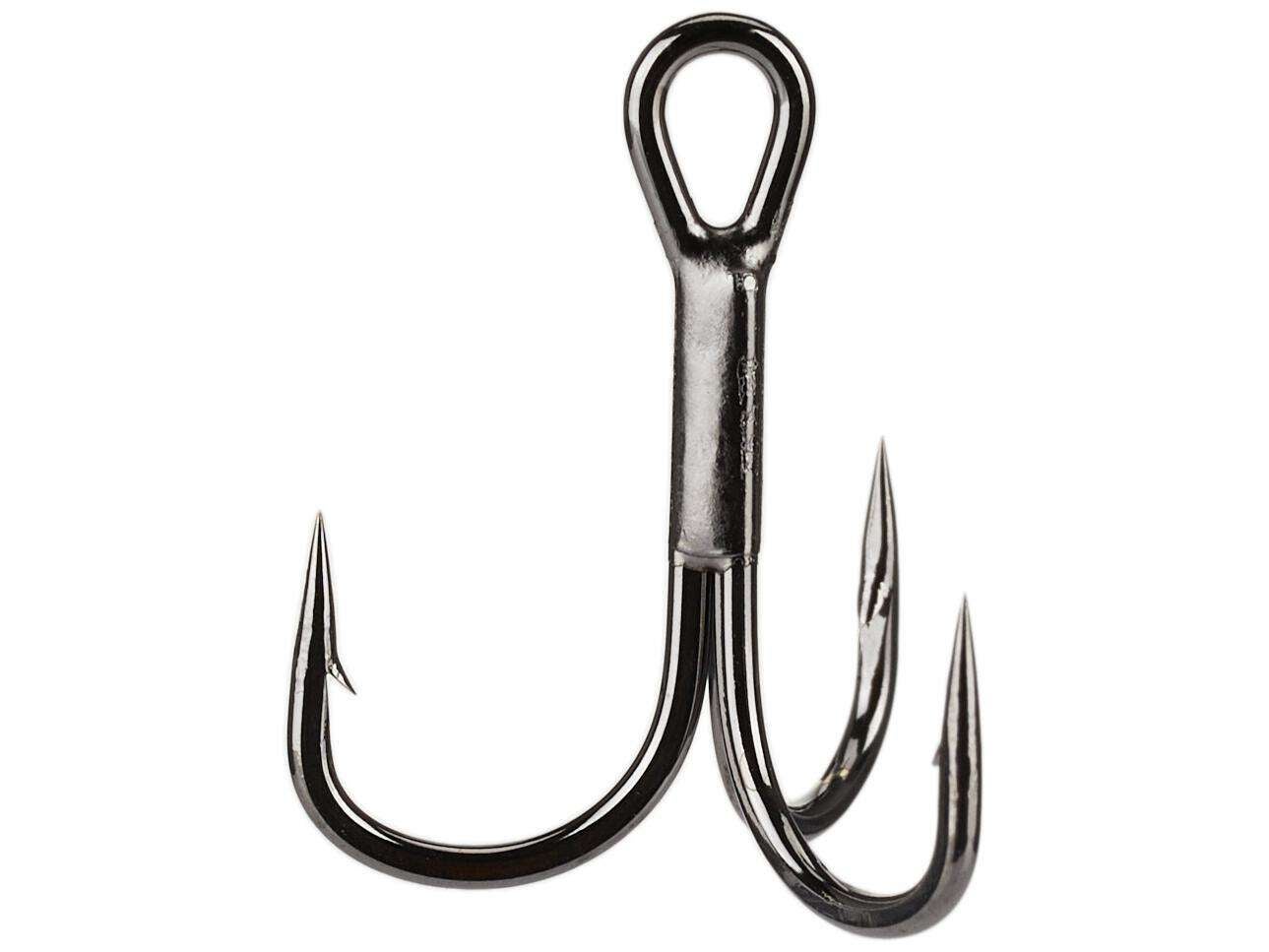 Just when you thought hook technology had reached its pinnacle, along comes a real innovation from Owner America Corporation. The Stinger Treble Hook features wide-gap round bend hooks that bite deep and hold hard, allowing you to get more fish that you hook in the boat. The innovative feature is the way the eye is attached to the three hooks. Other treble hooks are constructed in two pieces, one wire bent to create the eye and two hooks as one piece and the third hook soldered on as the second. The Owner Stinger Treble Hooks are painstakingly engineered from four separate pieces, three hooks soldered in a perfect trilateral configuration and the eye attached directly on top of the center of the hooks for a balanced treble hook that will hang perfectly and help your lure run straight and true.
These hooks are being used by some of the top lure manufacturers because they know they will help their baits track straight and true. The Owner Stinger Treble Hooks feature ultra-sharp conical points that will stick to whatever touches them, which means you will get better hooksets on any bass that bites. If you are looking for replacement treble hooks, try these premium hooks from Owner. This hook has the corrosion resistant black chrome finish that will help keep the points sharp and the hook strong even after repeated use.
Place Your Order
More From Owner Treble Hooks
Customer Reviews
Comments: These are on my Ima Skimmer & they are amazing. Feel super strong & have not missed a bite yet. Even with a poor hookset they just set themselves and bass can't shake the out.
From: Phil: Fort Collins, CO 5/16/16

Comments: I have these and the KVD Mustads & I think think these are sharper than the KVD Mustads these things are crazy the way they stick to your fingers & you have to be careful handling them. I also don't care for how the Mustad tips lean in so much but I have been buying them because they are 2x short. Well after going to Owners website I see they have a ST-35 treble that is the same as the ST-36 but it is 2x short, bingo just what I wanted. So I will be purchasing some of those and hope TW also adds them to the site as they will be cheaper and I'm sure a big hit. I also want to try the Gammy EWG 2x short.
From: Txhawghunter: TX 10/11/15

Comments: Dont try to butch brown rig with these hooks, theyre way too hard, instead of bending, they break. The hook is a great hook, its just not for that application.
From: Jeremy: PA 4/26/14
Comments: These hooks are ridiculously sharp and very strong. They proved themselves to me while I was fishing for bluegill. My setup was a 7' UL Diawa Presso rod, Shimano Sienna 500 spooled with 8# Power Pro and a 3/4" nano crank on the end that sports just a single #16 Owner treble. The bluegill weren't biting but I had a 16" largemouth hit hard. Needless to say on my rig it took a while to land the bass and when I finally did I was surprised the hook had lasted the entire time without straightening out. Two of the tines had dug deep into the hard part of the upper lip. When I unhooked the fish I was doubly surprised to see the hook was still sharp and unbent. The same hook is still on that same crank. After the performance of that little #16 the higher price didn't stop me from happily ordering up some larger sizes that are now on all my favorite bass cranks.

From: David: Glendale, AZ

Comments: I run the 3/0 on 10" and 13" swimbaits and they are great. They will bite into anything they contact and I've learned to be very careful handling the swimbaits. Other fisherman using similar swimbaits to mine with different hooks complain about short strikes probably meaning they get hit without a hook-up. Since I switched to these I hook everything that hits them and it they fight hard the second set usually has them hooed in another part of their body as well. Great hooks, great performance

From: Ken: Las Vegas

Comments: The hook in the pic is not a regular ST-36 the ST-36 is supposed to have a straight needle point this pic is not accurate.

From: Justin
Comments: Yes, these are expensive hooks, for a reason. These hooks are sticky sharp. If youre questioning the price, dont. Fish do not have to get a treble in the mouth with these hooks. I was skeptical at fist with the price, but after trying them out, fish after fish that slapped at baits with these trebles got hooked in the side of the face, the body, the tail, the top of the head... fish do not have to eat your bait with these hooks, and they are super strong. After getting used to them, i would have just as much confidence landing a fish with one hook in the body as i would with a mouth full of trebles, and that was throwing a 2 oz swim bait. These hooks just stick to anything. If youre throwing crankbaits over structure, i wouldnt recommend these because you will get hung, but open water for topwater or swimbaits, these cant be beat. The heavier the bait, go with the st 56 or 66 they just get stronger as they go.

From: Justin: GA

Comments: These are high-quality hooks, and they ride on a good number of my crankbaits. However, while they are very sharp, they don't quite achieve the Gamakatsu level of sharpness. I'm not sure how much importance to credit Owner for their "balanced" construction approach. Underwater videos of crankbaits show that any O-ring mounted treble hook will naturally find its center during the retrieve, and the belly hook will hug the body as well. With respect to price, come on, do the math. These hooks while very good, are some of the most expensive on the market. For comparison, a Gamakatsu Treble or EWG Treble in size No. 2 is typically sold in a 9-pack for $5.99, which calculates to $0.67 per hook. KVD Elites in size No. 2 cost $0.73 per hook. The Owner ST-36 in size No. 2 sells in a 6-pack for $5.99, which works out to $1.00 per hook (50% higher than Gamakatsu). There are many reasons to buy these, but price isn't one of them.

From: Steven: Santa Maria, CA

Comments: These are what are ridin on my hard baits...after many wasted $$$'s on other brands, I settled on down in Owner town. I have had Gammys get dull and tips break...not with these mugs.

From: Meatwad: ordering more

Comments: The best treble period. I know my stuff.

From: G: Detroit, MI / Phoenix, AZ

Comments: Keep on buyin' those KVD Mustads....I'm content with these, being SUPER SHARP, NICELY BALANCED, and SUPER TOUGH! These are as sharp as Gammys, trust me.

From: Rusty
Comments: These Treble hooks are sharp as anything! I bought these thinking sure, why not try them out since they are one of the lower priced treble options. Anyway, after buying them I now use them for all my treble lures. Almost as sharp as Gamakatsu hooks and sharper than just about anything else. Highly recommend for all your treble lures from spooks to crankbaits.

From: Brent: San Diego, CA