P-Line CXX Fluorescent Green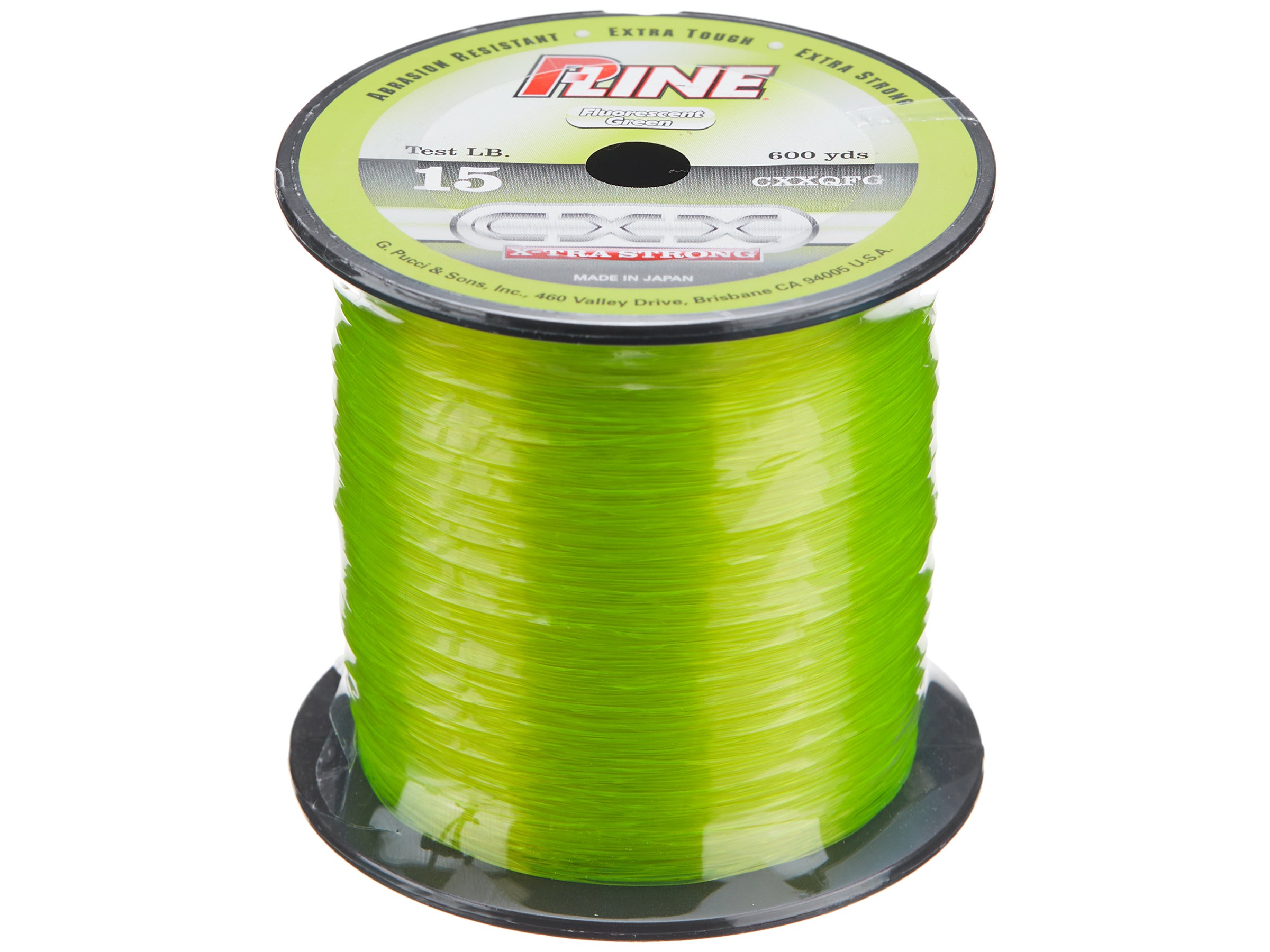 P Line started out on the West Coast and was quickly adopted as the best co-polymer line on the market by a wide variety of anglers. Bass anglers liked the natural green color for stained water or the crystal clear for the clear water lakes, and the abrasion resistance when fishing around structure is incredible. Saltwater anglers soon learned about the great knot strength and low stretch of P Line and fell in love with the immense strength of all the line classes. Trout anglers noted the strength per line diameter and realized they could step down in line diameters and still have incredibly strong line. When a big trout got them around a stick or a rock they knew the line would hold and the fish would be landed. This is the co-polymer line that can do it all from dropshotting and finesse fishing to flippingheavy jigs in thick cover to dragging spider jigs on deep structure. Try a small spool to fill a couple of reels if you haven't tried it already or buy the economical 600 or 3000 yard spools if you already know how good P Line really is.
| | | | | | | | | |
| --- | --- | --- | --- | --- | --- | --- | --- | --- |
| Line Dia. | 6lb | 8lb | 10lb | 12lb | 15lb | 17lb | 20lb | 2lb |
| Inches | .0092 | .012 | .014 | .0148 | .016 | .0165 | .018 | .020 |
| Millimeters | .23 | .30 | .35 | .37 | .40 | .41 | .45 | .50 |
Place Your Order
More From P-Line Fishing Line
Customer Reviews
Comments: Mo I have had no memory problems at all with 15lb. I use it for my jigs and has almost no memory at all. Maybe you got a bad spool. I use P-line copoly for almost everything.
From: Dustin 1/19/17
Comments: Yesterday I catch & release Catfish(Silurus glanis) 6'4"/110lbs on this P-Line in 20lb test and absolutely with no problem. Line still look good. So I think, it's probably pretty good line! :-)
From: Petr: Czech Republic 10/21/14

Comments: Yeah, this line is strong but the memory is pretty bad. I have the 15lb (moss green) spooled on a baitcaster and it's like fishing with a slinky instead of line. Personally, I don't want to fish a line that needs conditioner or anything. I prefer to spool up and go fish without wasting extra time. Mostly, I fish jigs, swimbaits, and jerkbaits that weigh less than an ounce and require some slack at times. This line doesn't meet my requirements for feel. I've used plenty of other lines that have less memory. But, I'm sure this line is great for those tossing heavier lures and using weights or trolling. However, I'll be going back to pure fluorocarbon.

From: Mo: Palmdale, CA, USA

Comments: I have used this line for the past few years. I use it for the visibility and it is reasonably priced. I have used 6lb. test up to 25lb. test. Have caught many large stripers with the heavier test. I would recommend this brand as a good line to all fisherman.

From: Steve: Southaven, Ms. USA