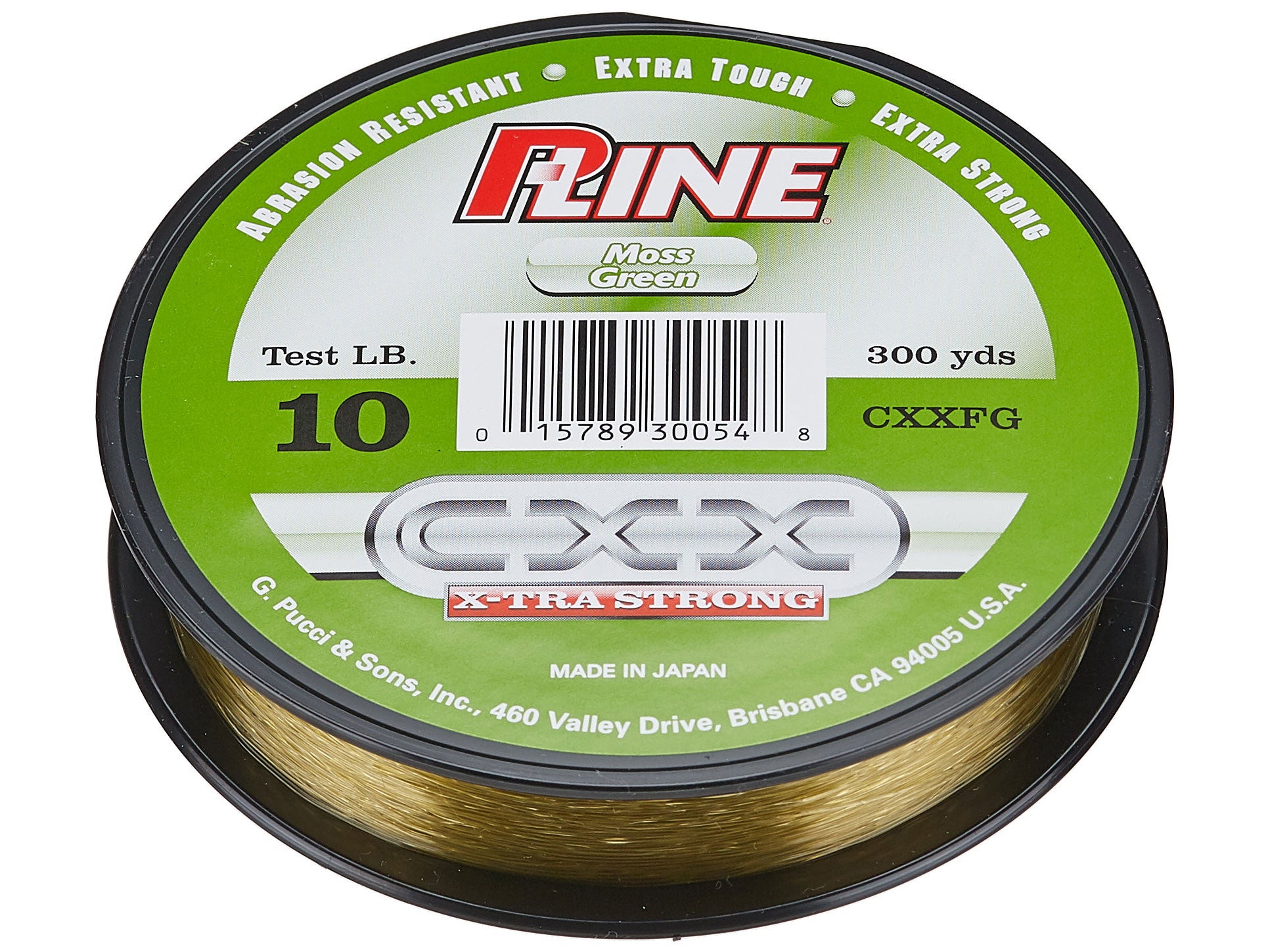 P Line started out on the West Coast and was quickly adopted as the best co-polymer line on the market by a wide variety of anglers. Bass fishermen liked the natural green color for stained water or the crystal clear for the clear water lakes, and the abrasion resistance when fishing around structure is incredible. Saltwater anglers soon learned about the great knot strength and low stretch of P Line and fell in love with the immense strength of all the line classes. Trout anglers noted the strength per line diameter and realized they could step down in line diameters and still have incredibly strong line. When a big trout got them around a stick or a rock they knew the line would hold and the fish would be landed. This is the co-polymer line that can do it all from
dropshotting
and finesse fishing to
flipping
heavy jigs in thick cover to dragging spider jigs on deep structure. Try a small spool to fill a couple of reels if you haven't tried it already or buy the economical 600 or 3000 yard spools if you already know how good P Line really is.
| | | | | | | | |
| --- | --- | --- | --- | --- | --- | --- | --- |
| Line Dia. | 6lb | 8lb | 10lb | 12lb | 15lb | 17lb | 20lb |
| Inches | .0092 | .012 | .014 | .0148 | .016 | .0165 | .018 |
| Millimeters | .23 | .30 | .35 | .37 | .40 | .41 | .45 |
Place Your Order
More From P-Line Fishing Line
Customer Reviews
Comments: I LOVE CXX. Drop shot, wacky, Texas-rig, jigs, cranks, spinner-baits it'll do it ALL. Put 6lb on a wacky rod/spinning & its beautiful. Put 15lb on a jig rod & I dare you to brake it! Use 10lb on a crankbait rod & its magic. Sure its stiff, but when you can fish worry free & handle anything fish throw your way & its very inexpensive to boot, what more can you ask for. For all you guys who complain about knot strength, in ANY line, leave a 1/2" of tag sticking out of your knot & your problems are over.
From: Jamie: USA 9/3/16

Comments: Was a long time braid fan. My father recommended I try this line. I know use the 10, 12, 15 & 20 lb. I ABSOLUTELY love this line! Out of 12 rods I know only have 1 with braid for flipping in really nasty stuff. I have run this line through anything & everything I can find just to see how it holds up & to say I am impressed is an understatement. I HIGHLY recommend this line to everyone & anyone.
From: Jeremy: McHenry, MD 7/14/16

Comments: Got a lot of recommendation for this cxx & floroclear line, finally bought some spools in 4, 6, 8 & 12lbs. I use it all as main line & leaders. I tested it hard for two years & not giving up on it. Its not bad in strength but extremely horrible in memories. I even soak it in kvd line conditioner, makes no difference. It's curling up getting tangled in the guides & on my tip of the rod. If you look at the line fresh off the spool it's not smooth, looks like bunch of creases all over the line. My buddy is also experience the same thing. Good thing we have a fishing line recycling bin near my house, going to give these lines a new
From: B: USA 5/9/16

Comments: this line is some of the strongest and best knot line but thick diameter & bad casting but i was fishing the mississippi and had a vmc hook and got snagged on a rock and the line or not didnt snap the hook snaped and i han 12 pound cxx on but overall good line
From: Mike: Redwing, MN 2/1/16

Comments: Their should be a warning on the box for those that want to put this line on a spinning reel the memory is the worst I've ever seen. I used it on my baitcaster & its tuff line very strong cast fine the knot strength is awesome I don't recommend this line to much memory and the diameter is a thick you lose casting distance I believe. I'm going to stick with cx premium its the best line out their if it ain't broke don't fix it!
From: Erb: CA 11/7/15
Comments: I have submitted reviews of this mono in the past. I still think this is one of the best mono's available for fishing heavy cover. I did switch to fluorocarbon for cranking a few years back, but for spinnerbaits, this line is ideal. Low stretch/abrasion & super strong for thick, heavy cover. Great value!
From: John: Knoxville, TN 11/3/15
Comments: There is no other line that compares to CXX in abrasion resistance, knot strength & breaking strength & numerous non-biased tests prove this year after year. I highly suggest 10lb for crankin' lipless & topwater, as well as spinnerbaits 1/2oz & under. 17lb can handle the bigger stuff in cover without issue. Only downside is when you get hung up, this stuff won't break off. you have to wrap in around a net handle & put the TM on speed 5 to break it.
From: Bryan: Herndon, 10/28/15
Comments: I use this line in 20lb for swimbaits and it handles them perfectly. Just bagged a 5.7 on a 9" MS Slammer and the low stretch on cxx had the fish pinned with the hookset. Also casts baits for me a little better than big game

From: Jordan: RI 9/23/15

Comments: This line is pretty much the toughest line (other than braid) and it is very good for top waters and spinnerbaits in 12lb test, my only complaint on this line is the ugly color and should have ordered the crystal clear color.
From: Daniel: Atwater, CA 9/3/15

Comments: This is the first co-polymer line I have used. I have no complaints. I used 12lb test and used it around lots of submerged timber and cover, and pulled several largemouth over 6lbs to my boat through that muck. I inspected my line and find the abrasion resistance to be acceptable for my applications.
From: Hunter: TX 2/3/15

Comments: I just returned from 3 days of fishing for Flounder and Redfish in Galveston Bay- an unforgiving aquatic environment. I used inshore baitcast rigs with 15# P-Line CXX. I was impressed! As others say, yes it is a bit stiff, but wow at the advantages. The 15# was so strong and abrasion resistant that I had to wrap it on a boga grip to get enough pull to break it off when that became necessary. Numerous times I was sure it would break off when doing this - but it held strong and pulled free!
From: Walton: Houston, TX 12/15/14

Comments: I have never used it as a main line, but I use it as a leader for virtually every set up I have. Crankbaits, swimbaits, swim jigs, football jigs, jerkbaits, topwater, you name it--connect this to the appropriate strength of Sunline SX1 braid (about a seven-foot leader) and you're good to go. Excellent stretch, strength, and abrasion resistance.
From: John: Lodi, CA 12/9/14

Comments: This line has too much memory. It just wants to leap off the spool and go straight when the tag end is free. It also behaves strangely when it is on your baitcasting reel and you are casting. It slows down the speed in which your line goes through the level wind. You end up losing 20 to 30 feet distance during your cast. Otherwise, this line has great knot strength,great abrassion resistence,and low stretch.
From: Tuna Can: Hemet 4/23/14
Comments: I've used this line in the past with good results but recently I've had nothing but problems. Memory is passable but not great, but every nick causes a break. I fish around a lot of trees and stumps and I've had several lures snap off during the cast, not at the knot but several feet from the lure. I've had line snaps just from pulling line to clear a backlash. I tried a second spool thinking it may have just been a fluke but it did the same thing. I don't know if their manufacturing changed or what but it has gotten me to look elsewhere.
From: James: CO 3/27/14
Comments: first off, i prefer flipping trees and thick brush with mono instead instead of fluoro and braid, dont get me wrong, i fish all three when the application calls for it, but i just feel mono slides through and in-n-out better than the other two. which means breaks off less. This is the best mono, 20lb test pulls 5-8lb spotted bass out of the the San Joaquin river trees. Dont laugh when you hear 5lb spotted bass, those suckers in the river fights harder than a 10lb large anyday, all in all, this line has handle some of the toughest fish in the thickest stuff out there for me, great line!, sponsor me now.......haha

From: Fresno, CA

Comments: Superb line very very strong. Yes memory but every one who is saying its useless just needs to chill and learn how to use it. Line conditioner proper spooling etc a little reel magic on it and you have no memory i use 12lb

From: Joe: IN

Comments: This line is great it does have some memory but it is very strong. Just the other day got my bait hung in a tree the knot broke before the line did i love p line

From: Garrett: Marietta, GA

Comments: I have no problems with this line on baitcasting equipment. I use the 10lb for crankbaits, and the 12lb for spinnerbaits. This line will last for 2-3 years if you use tangle free to keep it fresh. However, on spinning equpment; it is useless. The twist from spooling this line on spinning equipment will not come out from memory problems, and yes, I put the line on the spool correctly.

From: John: Lexington, KY

Comments: Horrible memory, i had 10lb spooled on my reel about 1 hour before fishing, it already had baddd memory, i stripped my spool after 3 casts and spooled up with 8lb izor platnum, no more problems.

From: Adam: Anaheim, CA

Comments: very strong line, however this line has way too much memory i fished it on two trips and now i am getting a different brand of line.... don't get me wrong its dead strong but at the end of the day too much memory creating unnecessary backing

From: Zman: Fresno, CA

Comments: Absolutely my favorite mono!! It's thick yeah and it's got some memory to it yeah. But those are the only cons. You got to make sure you get lower test then you usually would, when I use mono, I usually go with 17, or even 20 pound. But 12 pound in this line is more then enough, it's about the diameter of 17lb Trilene XL. And it's more then enough to pull big largemouth out of thick weeds and sticks. Very low stretch line, and very abrasion resistance. I use it for everything from top waters to jigs. Good sensitivity, and abrasion resistance, decent castability, and very smooth.

From: Sam: Shawano, WI

Comments: This line has some memory to it, but it's very strong! Don't compare line by "pound test". "Pound test" means nothing! One line with the same "pound test" as other line may be much stronger the the other! Compare lines by diameter! This line is much stronger than most lines of the same diameter. Read this article: http://www.gamefishin.com/wa/features/linetest.htm

From: Marco: Portugal
Comments: this line is huge and stiff. the 15 pound is as big as some 20 pound line i own. after one trip it was relegated to backing.

From: bassNredfish: Louisiana
Comments: There is simply not a better all around fishing line on the market today. Maximum abrasion resistance, super strong and great knots! The absolute only drawback with this line is that there is some memory to it, but that can all be solved with KVD line and lure. If you normally fish with 15 lb test, you can drop down to 12 with this line, and still have it be stronger than any other 15 lb test on the market.

From: Cam: Superior, NE