P-Line CX Premium Moss Green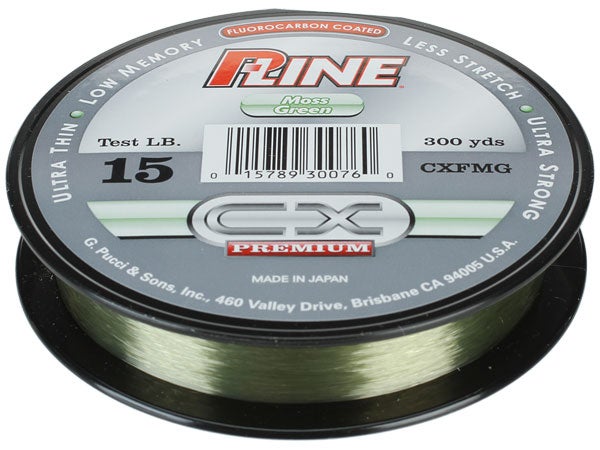 P-Line's CX Premium Fluorocarbon Coated Line is one of the most innovative lines available, combining copolymer and fluorocarbon technologies. With low memory and improved limpness, CX Premium eliminates the line nightmares of a spinning reel, and improves casting distance with a baitcasting reel. The fluorocarbon-silicone coating virtually eliminates water absorption, so cold water and weather have little effect on line performance. With as much as 30% less stretch than average lines, it has increased sensitivity to detect and react to even the most subtle strikes. This great all-purpose premium line is available in moss green.
Place Your Order
More From P-Line Fishing Line
Customer Reviews
Comments: This is hands down my favorite line that could be considered "cheap." I love this stuff & have been using it for years. I always have P-Line CX on my worm rods & my spinning outfits. I have tried other brands like Seaguar, Sunline, Vicious & Berkley Vanish (Hate that stuff!) on my other setups, but they don't cast as well and they don't have the strength that P-line does. I will say that I haven't tried that Seaguar Tatsu line but I can't bring myself to pay that much for Flurocarbon when I can get a quality product like P-Line CX Premium for less than half the price.
From: KYBassman: KY 9/19/16

Comments: I use the P-Line CX Premium 6lb & 8lb on my finesse spinning setups & it is a great line in my experience. I prefer it over pure fluorocarbon for spinning reels because of it's low memory relative to fluoro lines. I spend much less time dealing with lines problems vs. fluoro. I would also like to try the Fluoroclear to see how it compares vs the CX Premium.
4/25/16
Comments: P Line makes some very good line. I have 8lb on my spinner, can cast a mile & really strong. Very low memory & seems to hold up well. I got a lure caught in a branch under water & pulled everything out! I have tried the cxx on my spinner reels & wads up & does not cast well but the cx is really easy to work with.
4/21/16

Comments: Several years ago, a guide on a Texas big bass lake recommended this line as an alternative to expensive fluorocarbon. I've used it a lot since then & love it. I have never had any problems with line breakage that others have mentioned, although the knot will break easily if you use a Palomar or Clinch knot. I use a San Diego Jam knot & it's rock solid. This line does have some stretch, but not as much as pure monofilament. I use 15 & 20 lb, so I have no experience with the smaller diameter versions.
4/20/16

Comments: CX is the best line I have used for cold water bass fishing. No memory in 36 degree water. Throws 1/4 oz jerkbaits well. An excellent cold water line!!! (there are not many)
From: Derek: OH 10/26/15
Comments: I consider this to be the best copoly line for spinning reels. It has a Small diameter and excellent suppleness. It is fluro coated so take a little extra care when you tie you knots. I have used the 4, 6, 8, and 10 lb sizes without complaint.
From: Ham: Mounaton Home, AR 4/25/15

Comments: Great all purpose line super strong with the right knot some knots will not work with this line clinch not is bad double clinch is great
From: Aaron: OK 4/17/15

Comments: pline makes great products and this line is my favorite, if your new to bass fishing and don't know what types of line to use, use this! Its all I use and will ever use, cast smoothly with very minimal memory super strong knots super thin diameter.

From: Mojo Bass: Bakersfield, CA 4/13/15

Comments: I used the 10lb on 2 medium action baitcasting outfits for jerkbait fishing this spring and it preformed well. The memory wasn't noticeable and the strength was good. Used it in water anywhere from 36 deg F. to 45 deg F. and liked it. Caught fish up to 4.5 lbs on it. Used lighter jerkbaits as well which can be tough if the line isn't limber enough.
From: Derek: OH 7/8/14

Comments: This is my favorite line to use. I love it on my baitcasters. It is smooth, low memory, holds the knot, and casts great. I use 10lb test and and it works great!

From: Dominic: San Diego, CA

Comments: Low memory, stretch, and great sensitivity. Strongest line I've ever used. I use 15lb on my baitcast and everytime I snag, I fear for my rod and reel. The most force I have ever used to free a snag, 80% of the time I will get my lure back with bent hooks. I've probably only snapped this line 4 times in 3 years and with the extreme that I have to go to break it, the line becomes unusable. I may just go down to 12lb since it's so strong but I don't know if the smaller diameter will cope well with baitcasters.

From: Xiong: WI

Comments: I use this line in the clear fluorescent color for bass fishing at night in the summer. It shows up great with a black light. It holds up really good in the rocks while fishing jigs & spinnerbaits with the 20lb & crankbaits with the 15lb. The 20lb is the same diameter as 16lb & the 15lb is the same as 12lb. Good over all line & it holds up alot better than mono does, plus it is alot more sensitive, plus you can get away with heavier line with lower diameter. I've caught some big smallies & largemouth with this line in super clear water at night. Best night fishing line hands bown.

From: Jeremy: Indiana US

Comments: I thought I liked this line so I had all my non-braid reels spooled with it and yesterday I was fishing a local lake where I hooked into my biggest bass by far(at least 10 pounds) I fought it all the way to the shore line where the line just snapped... My drag was extremely lose and I was not horseing the fish in at all. I just spooled the reel the day before so it was not old line. DO NOT BUY THIS LINE!!!

From: Bill: FL

Comments: The CX Premium in 6,8, and 10 lb is my preferred line for spinning gear. Thin and supple. I'm very happy with it. I fish around 75 days a year and I've tried a lot of the other mono's and co-poly's. This line is the best I've found so far.

From: Ham: Mountain Home, AR

Comments: I have not had any issues with this line like a few other Review's below me.I use Cx premium on My spinning Reels at 8lb and use it for Shakey Head,Texas rig and fish it where you should not be fishing this light of line but it has never let me down.I fish a river system that is Covered in Laydown's,Timber,Rock and brush and pitch right into the cover.Granted i Retie often as you should with any line i have maybe only had it break a couple times but that was my fault for not checking the line .By far this is the best handling line i have tried for spinning applications,Very sensitive cast a mile with low memory .I recommend it highly and this coming from someone who has used Most of the well known brand's.It simply performs better in my opinion and prices well

From: Chris: Barbourville, KY

Comments: The story here...good for one, two trips tops, if you're lucky. Then it proceeds to break on every hookset. Too bad because it handles very nicely on spinning gear. But for pure fish landing ability; this is the WORST junk I've ever seen or tried. Sorry just an honest opinion from a guy who gave this line 4 or 5 different tries.

From: Sam: Auburn, KS

Comments: worse line I've ever tried in my life. Had the line break every time I set the hook. I was using the 15lb test and could break it with little effort pulling on it with my hands. Maybe I got a bad batch like the other person put still would not recommend this line for anyone

From: Ethan: Benton, LA

Comments: Love the line for good all around line. I use it throwing plastics and use their flouro for jig fishing, great line. I had one spool that came from a bad batch, called them and they had me send it back and sent me two new spools. I fish 15 - 20 tournaments a year and it is on half my rods all of the time.

From: Rob: NH

Comments: stay away from this line if you like to catch fish over 3lbs. had the 15 lb test break on two big largemouth in the same day it could have been a bad batch but not taking the chance on using it anymore

From: Tony: AL

Comments: I just bought some of this, and my immediate impression after a few quick uses is that it's just a monofilament. It doesn't have any of the handling of a flourocarbon, so if you're expecting a sort of cheap alternative to fluoro, this isn't it. It does cast well, and I imagine it has the low visability of fluoro, but that's about it.

From: David: Atkinson, NH

Comments: the only line i use i swear buy it and everybody i suggested it to love it and never looked back low memory smooth and strong i have left it on over the winter and didnt change it in the spring for my first few trips and after a couple cast it smoothes out and works great

From: Dr Topwater: Greensboro, MD

Comments: Great all around line...very strong, smooth casting and affordable with exceptional sensitivity!!

From: JB: Burke, VA
Comments:This is one of the best lines I have ever used for Walleye and Smallies.
From:Ernie: Kennewick, WA