P-Line FloroClear Mist Green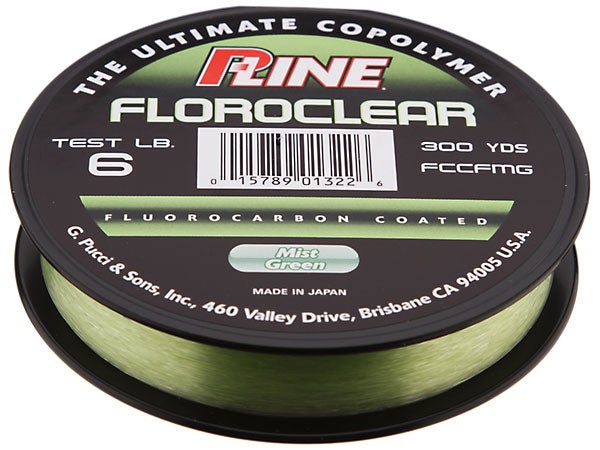 With all of the same qualities that made the original Floroclear so popular, the P-Line Floroclear Mist Green provides anglers with the advantage of a more stealthy presentation in a new variety of water conditions. It has the same fluorocarbon coating and soft copolymer construction, maximizing the advantage of fluorocarbon invisibility and the low memory and superior castability of copolymer. Whether you are tossing small finesse baits for bass or huge plugs for stripers in the surf, the P-line Floroclear Mist Green casts unbelievably, has excellent knot strength and works well with either spinning or baitcasting reels.
| | | | | | | | |
| --- | --- | --- | --- | --- | --- | --- | --- |
| Line Diameter | 6lb | 8lb | 10lb | 12lb | 15lb | 20lb | 25lb |
| Inches | .009 | .010 | .011 | .012 | .014 | .016 | .018 |
| Millimeters | .23 | .25 | .29 | .31 | .36 | .41 | .46 |
Place Your Order
More From P-Line Fishing Line
Customer Reviews
Comments: tried it once and I was sold best abrasion resisting flourocarbon I've ran into and casts great. I haven't had any problems with memory even on reels sitting over the winter. Gotta pick up the 3000 yard spools next
From: Jacob: CO 12/23/14

Comments: Every time I try a P-Line product, I am disappointed. Too much memory, even with line conditioner. These lines are probably better suited for heavier lures. I've tried floroclear mist green and cxx in 10 and 20lb test respectively. Abrasion resistance and knot strength seem good, however the floroclear develops some microabrasions when fishing around timber. Might just be the fluorocarbon coating. The color tends to glow underwater. I'll stick to Stren and Maxima.
From: B: LA 6/16/14

Comments: so much memory its a solid line otherwise but it gets tangled and becomes a mess

From: Dylan: FL

Comments: Bought this line because of the color for a recent trip to Erie PA, for steel head. The line matches the off color water nicely. After three hookups and three break offs on fish using the 6 lbs. test, I switched to another brand. I used the line as a leader and it was new out of the box. Break offs were mid leader on smaller fish. I don't trust this line anymore.

From: Walt: NH

Comments: I have found that all the P-line products excel in every area!! And for the price u cant BEAT it!! I fish in Bass tournament conditions and it has never let me down!! This may sound unbelievable, but I have yet to have a break off with P-line!! Really never!! Although I havent used the braid yet, I still prefer spiderwire ultimate!!!

From: Tom: Lakeland,FL

Comments: I have been using this line in 15LB test on a 7/8 large arbor fly reel for lifting salmon. The fish cant see it but I can. It has the perfect amount of stretch and abrasion resistance. I have not used it on a spinning reel yet but I will in 8LB test. If you are looking for a good line then this is not it. THIS IS A GREAT LINE.

From: Tom: Pulaski, NY

Comments: Got this line in 12lb for my steez baitcaster. I haven't used every line out there but this is the best line I have ever used. Very few backlashes it casts very great and I haven't snapped a line yet. Defiantly worth a try.

From: Ross: MA

Comments: Great line for the price. I tend to have better luck with this line on my spinning reels vs casting, but that's just me.

From: Adam: WI

Comments: I USED to love this line. had it on my crankbait rod all last season. It performed very well. So today I went out to do a little Pitchin with 15 lb Flouroclear. had one hit all day; set the hook on an approximate 6lber and had the line snap. I saw the Bass come to the surface; so I knew he was a decent bass. but certainly not big enough to snap the line. This was from a brand new spool. I will NEVER buy this line again.

From: Gary: PA

Comments: I am amazed at the strength of the floroclear line. No breakoffs even when I want to. I have been fishing for 40 yrs. and this is the best line ever.

From: Frank: MO

Comments: I love this line. It casts easily and the sensitivity is remarkable. I like the way it feels on the hook-set and the power it has during the fight. A correctly tied Palomar Knot is flawless or every application. I use the 15# for flippin' and pitchin' and the 12# for crankin'. I plan on getting the 8#, this spring, for one spinning rod and the 10# for the other. Thanks, P-Line for a fantastic product.

From: Kevin: Ft. Smith, AR

Comments: I love this line. It casts smoothly and the sensitivity is incredible. I also like the feel of the hook set and the strength it has during the fight.

From: Kevin: Ft. Smith, AR

Comments: I have had no problems with P-Line. I don't know what the others are doin to thier line that it breaks so easily, i haven't had a breakage yet! I even tried those expensive Flouro lines, and had fish broke off, P-Line will walways be first choice for me.

Comments: This line is very good for SPINNING REELS not baitcastingmree ls. If I knew y I would tell you. I've tried it on both and it slips on a baitcaster and backlashes a ton! On the other hand this line on a spinning reel is awesome little to no memory and doesn't snap. I use mine for senkos, flukes, and bettlespins for small bass. I have it in12 lb test and hasn't broke yet...

From: Jacob
Comments: Terrible line, way to many break offs with little or not effort! I even tested this line on a digital tester like the companies do, 15 lb line broke on average of 5 test at 8.78 lbs.

From: Jeff: Westport, TN

Comments: This line is not as breakable (in a heavier test) as some have indicated. I have used 15# around wood with soft plastics without problem. Howerer, last fall, after having used the same spool for a couple years, I did have some breakage issues in cold water, but am still using that line this summer without problem. The small diameter of the lighter weights (8#, for example) is strong enough to hold a fighting 4# Bass, but is so thin I had one break off when the line rubbed over it's teeth. Stick with heavier tests, if you try it.

From: Ed: Champaign, IL

Comments: I thought since there were more positive comments than negative about this line I would give it a shot. I broke three fish off in an hour from a "fresh" spool of line. I was just pitching into milfoil and snap. How's that for abrasion resistance? NEXT!

From: Ashley: Huntingdon, PA

Comments: I use the 10 and 12lb on my crankin rigs. The castability of this line is great! I have total confidence in this line. Haven't lost one yet due to line break.

From: Justin: Owasso, OK

Comments: This line is horrible. No shock strength, no abrasion resistance at all. I figured I'd give it a shot based on the reviews and the price, but I guess you get what you pay for. Snapped 3 medium sized fish off on the hookset yesterday with 3 different reels, with 15lb and 12lb test. Do yourself a favor and spend the extra money on seaguar or higher quality fluoro...or regret spooling up with this stuff like I do.

From: Greg: NJ

Comments: good open water line...will not hold up around heavier cover or docks though

From: JC: GA

Comments: I have enjoyed this floro so far, I use 10lb test on my spinning rig. P-line has my vote!

From: Jay: Meridian, MS

Comments: Love this line smooth and strong. Just bearly use it and in love with it just too good. Love it because it can hold up stronger and last longer for me. Love the tension of it when hook on a bass.

From: Kong: Fresno, CA
Comments: Love this line. Great in 6 lb test especially, for dropshots and wacky rigs!!!! And its hard to beat the price for Floro.

From: John: Batesville, IN
Comments: This line is killer, I have my Curado 200E7 spooled with 15lb test and I've used it early summer through early winter. I've learned that its not healthy to keep the same line on your reel for a long time but P-Line Floroclear is still holding strong. I fish tourneys and during the summer I fish at least 5 times a week. I've never had the line snap on me or break off a knot. Great stuff highly recommended.

From: Joe: Illinois, USA
Comments: Floroclear is my do all line, from panfish to 6-7lb bass, and never had a failure. I have reels spooled with this stuff from 6lbs to 20lbs. This line handles great on baitcasters as well as on spinning reels. I will never use anything except P-LINE products on my reels.

From: Brian: Bean Station, TN
Comments: I have use this line on all my casting reel and a couple of my spinning reels. The Bass have been tearing the bait up (I guess they cannot see the line). I have a shimano spinning reel with 6lb P-Line Flourclear and not a trip goes by that I do not land nice size Bass. Real tough durable line.

From: Percy: Long Beach, CA