Power Pro Spectra Braided Line Moss Green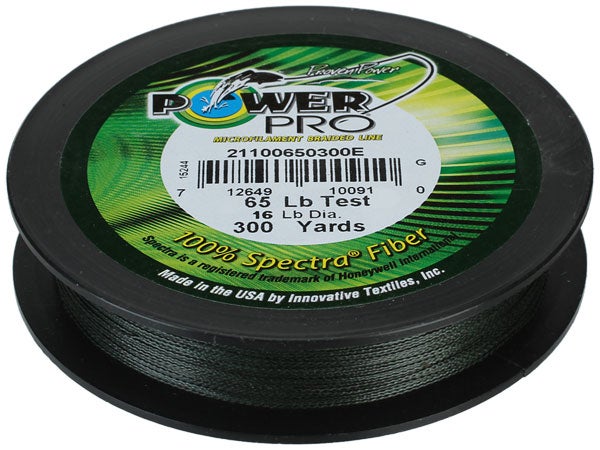 Spectra is the registered trademark of Honeywell International for a special formulation of the same space-age material that bullet-proof vests and other tough protective gear is made from. Spectra is tiny filaments of super strong material that when braided together produce extremely strong, extremely thin line that is perfect for some fishing applications. Power Pro designed this Spectra line to feel smooth to the touch, which means this line won't cut your guides, and with less friction it will cast farther. It will also enhance knot performance and will lay better on the spool, which will also help increase casting distance. The near zero stretch of Spectra lines means you will have the ultimate in sensitivity so every twitch will be transmitted to your hand. Power Pro Spectra Line offers premium line at a reasonable price.
| | | | | | | | | | |
| --- | --- | --- | --- | --- | --- | --- | --- | --- | --- |
| Line Dia. | 8lb | 10lb | 15lb | 20lb | 30lb | 40lb | 50lb | 65lb | 80lb |
| Inches | .005 | .006 | .007 | .009 | .011 | .013 | .014 | .016 | .017 |
| Millimeters | .13 | .15 | .18 | .23 | .28 | .33 | .36 | .41 | .43 |
| Equiv. Mono Diameter | 1lb | 2lb | 4lb | 6lb | 8lb | 10lb | 12lb | 16lb | 17lb |
Place Your Order
More From Power Pro Fishing Line
Customer Reviews
Comments: like the price but this braid is trash. i was using 30lb throwing a strike king popper and every time i had a tiny backlash it would snap. same when i used it for punching if i didnt reel down on the fish totally the line would snap like nothing. Find yourself some seagur smackdown this stuff belongs in the garbage. 2/10
From: Sammy: Lino Lakes, MN 2/20/17
Comments: I liked Power Pro in the past. I use the 50# on a Shimano Zodias H XF & a Shimano Chronarch Ci4+ for frogging. It seems that every time I hook into a pike that engulfs the frog the line gets straight cut when I set the hook. I don't know if this is due to the pikes teeth or fraying in the line. Never get this problem with Sunline FX2 braid. IMO FX2 is the best braid ever made. Way thinner & without a DOUBT smoother and quieter than this stuff.
From: Lex: MN 10/3/16
Comments: Used the 40lb braid with a live target frog today, tied the frog on first thing this morning & didn't have to re tie all day. One knot all day, caught 40 bass with a buddy on a local strip cut lake, never had one problem. Awesome braid, it allows me to throw that frog a mile & drive those hooks home to put big bass in the boat.
From: Tyler: IL 7/16/16

Comments: This is my favorite braid for everything. From 80lb for muskies, 65lb & 50lb for the slop, 30lb for pretty much everything & 20lb on spinning rods, it has never failed me. Nothing bad to say, even though the color does fade pretty fast but it still stays green. Do not use when flipping rocks, it just gets shredded but that's normal for braid. I would recommend this line to anyone.
From: Max: VT 5/19/16

Comments: I put this line (20 pound) on my ugly stik gx2 & it was a pretty good combination. Never lost a single fish & it handled everything that I put it through. I recommend others to try it.
From: Justin: Burlington, NC 5/18/16

Comments: A real staple here. I spooled my revo with 30 pound for swim jigs & ended up tossing a red eye shad at my cabin & caught well over 80 fish in two days. Multiple pike & only had to retie once after a 33" pike. I love this stuff for the price & it is and will be the only braid i trust.
From: Will: Jordan, MN 5/12/16

Comments: Not my go to line by any means, but when money is tight & you want to fill up a spool or two. $15 for 300 yards is absolutely no complaints. Color fades, doesn't perform the greatest In cold water, tournament time I'm using FX2 frogging & flipping line, but I've used this line for just about every topwater & flip'n pitch technique possible & besides the obvious you get what you pay for problems of getting a cheaper line this line gets the job done & won't make you think twice about retying a bunch of times. GREAT PRODUCT FOR THE PRICE JUST REMEMBER YOU GET WHAT YOU PAY FOR
4/4/16
Comments: use this braid mainly for froggin and punching/flippin. Good braid, no complaints, gets the job done, color fades rather quickly especially when it is in the upper 90s tossing the frog around all day, doesn't affect the performance, just a cosmetic issue.
From: Kyle: Tomah, WI 3/1/16

Comments: I am a die-hard Power Pro Original fan. I have been using PP braid for almost 10 years. I have tried PP Slick (complete junk), Spiderwire and Berkley Fireline. So far PP Original is the way to go. Always use a line conditioner to make any braided line last longer. I primarily use 65lb but have some 30 lb. I am looking forward to trying the PP Quatro to compre the 2. Either way, PP Original rocks, stay away from the PP Slick (in my opinion)
From: Jeff: Canada 12/26/15

Comments: First year of using power pro, I use 50 lb on my frog rod. The line is great, I have pulled many bass out of very thick cover this past summer. No breakage and very little change in color. Casts like a dream. Super line!
From: Blake: Hannibal, MO 10/4/15

Comments: Very good braid. Been using it for a few seasons now had no issues till recently when my weight was fraying the line I had 4 breaks cause of that. I determined that it was the weight not the line. This stuff for the price is unbeatable and is very easy to work with. I agree with others to use KVD line and lure makes the casting much smoother.
From: James: IN 8/3/15

Comments: not the best braid they changed something in the line it is not the same. Broke this line so many times on hook sets, breaking in the knots and then 2 too 3 feet above the knot. This happened to me on new line the first time using it
From: Jason: Bowler, WI 8/1/15

Comments: Nothing compares to this line, I have used it for years and will not use anything else, 30 lb handles it all from heavy moss beds for largemouths, walleye, big cats, pike, you name it. As with anything else wear and tear takes its toll on anything and everything. Its not indestructible. But as for color fade, big deal. No other line compares to Power Pro. If you are a hardcore you will know this. Ty Power pro for making the best line on the market.
From: Sean: Rapid City, SD 7/13/15

Comments: Very good braid. I use 40 lb for Texas rigs, jigs, and pitching under trees. Good abrasion resistance and very minimal color los after a week of heavy use. Soft right off the spool, and it casts and pitches great. Just a side note, KVD Line & Lure makes it cast better as well. I'd recommend PowerPro to anyone.
From: SH: TX 3/31/15

Comments: Decided to try it. It's not bad. Still not on par with 832, but it is a vast improvement over Power Pro lines of the past. No breakage or knot issues, casts decent enough.
From: Mac: Longview, TX 3/14/15

Comments: I've had the same line on my spool for 3 years now. Haven't had one fish break off. Yes, it looses color but it won't go completely white. I use a permanent market to color the line anyway. Great line for flippin.
From: E.K.: NJ 2/15/15

Comments: Plain and simple the line is excellent. I am not one for reading reviews and not usually writing them. There are so many options out there but the Power Pro is the best. Buy it, you will not be disappointed.
From: Justin: Canada 1/30/15

Comments: For this price, it is good. If you lose the color, get a perm marker and fix it. Easy enough...
From: Jay6: USA 1/29/14

Comments: I started fishing braid a couple years ago when a fishing buddy introduced it to me. I was impressed with the durability and cast-ability of the line so i bought an expensive spool of Suffix performance series. The color wore out pretty quickly and had an occasional Frey. I bought this power pro when i noticed that my spool seemed a little low and right off the bat i put it to the test. My 30 lb. braid is perfect for bass fishing and its out preformed everything I've used. I've worked it to the max, with deep cranks and flipping jigs and beaver tails and tube baits through heavy cover under and out of the water. Ive ran the line through rocks and all over other trees. I haven't lost a single fish that I've been able to get a hold of and I'm in love with this line! It casts great and is very dependable. I recommend this line to everyone!
From: Bassaholic: CA 12/22/14

Comments: Pretty Good Braid I've tried a few braids such as this, spider wire stealth, Stren sonic, and Suffix 832. However I have found that this braid has been the best for me the color hasn't faded much and it is strong. Yes it is a bit tougher and will make more noise but I don't mind that. Overall you cannot beat it for the price.
From: James: Rural Valley, PA 12/12/14

Comments: this used to be one of the best most dependable lines on the market. over the last 6 months this line has turned to crap I don't know what they changed but I am done with it. It fades too fast and you have to really keep a close watch b/c it frays at the rod tip when you flip with it.
From: Pat: Lumberton, TX 9/28/14

Comments: Unless I'm fishing in ultra clear water i use only moss green power pro. I'm not a professional caster so i birds nest and i have taken a knife and dug it out and still had no line breakage. I was hung up once and snapped the pole before i broke the line. Great line love it!
From: Joe: WV 7/7/14

Comments: After only 5 outings with my 15lb line it started to turn white. With the money you pay for this line it should hold its color. Not sure if it is usable in the color it changes to.
From: Vernon: San Diego, CA 3/29/14
Comments: ive used many braids before. this braided line to me is the best of them all. Ive set hooks on 8 pounder after 8 pounder and never had have it snap on hook set and is awesome for tying knots. I highly recommend.
From: Zachary: Pearson, GA
Comments: I've run the gamut and I keep coming back to this stuff. This year I will be using it exclusively. Ditching the flouro for crankbaits, mono for topwaters etc...The possible benefits of those lines (debateable) are negated by their annoyance factor IMO. It just takes the fun out of it when you start having line issues. Besides you can use a flouro leader if you really think it helps.
From: Jep: USA
Comments: Can't beat this line for the price. I used the 10lb on my finesse spin combos and it did fine. For a floro leader I would recommend seaguar.

From: Jack: CT

Comments: My buddy has fished mono all of this life. He didn't like braid because of his experiences in the old days (too much friction). One cast with 50lb. PowerPro and he was shocked at how smooth it was. This line is fantastic.

From: Cole
Comments: Best braid period! Don't pay attention to reviews like the one below. If your line is snapping on the hookset with 40lb. power pro it's user error for sure.

From: Nick: USA

Comments: Took some of this line 40# test to lake El Salto. 3 separate times the line snapped on hook sets. Not even near my knot. On of the fish was a mere 2lber that jumped and laughed at me with my bait in his mouth. I won't be using Power pro again.
From: Mike: USA

Comments: I have been a serious smallmouth fisherman for 20+ years and besides Tuf-Line XP, this is the only other braid I will spool up. I have used every different braid out there( literally everyone of them ), and nothing compares to these two braids. Casting distance is great, sensitivity is awsome, and abrasion resistance is excellent. Color fades a little but still stays a dark green.
From: Jesse: WV

Comments: i use this line for saltwater and let me say cuts through kelp and when i am fishing tight up close to the rock i am not worried about breaking a fish off im very confident in this line o and im using 65lb with a 40 lb leader thanks power pro tw
From: Kris: bakersfield ca

Comments: What a great braided line! It's the best braid I've ever used. It's tough as nails, casts amazingly, and stays usable for ages on my spool.
From: Adam: Orange County, CA

Comments: used 15lb or 20lb trolling crankbaits for walleye and worked good sometimes but lost ALOT of lures cuz the line must of freyed rubbing on rocks

From: Grant: Madison, WI

Comments: Best braid made. I have used the same spool to catch largemouth in Illinois to Blue Fish in North Carolina. Handles everything I have thrown at it. I have tried several other braids, but this is the real deal. Color fades a little over time, but not as fast as other braids.
From: Ryne: IL

Comments: i use 30 lbs test on my live bait riggs for cats and it didnt fray until my 4th mounth using it average fish 10lbs but caught a 34 pounder
From: Kee: IL, USA

Comments: Love this braid!! does everything i need it to do. super strong, slick, and smooth. i wont buy anything else!

From: Bass Assasin: OH

Comments: Best braid out there. Packs on reel nice. Cast nice and very strong. When spooling on reel, wet the line so you can pack a lot more on.

From: Daniel: Ontario

Comments: Threw frogs into vegetation with it for the first time the other day. Super strong, supreme castability, and just an all around great braid. Only complaint is that the color bled and my thumb was dyed green.
From: Scotty: VA

Comments: Best Braid known to fishermen! Unless you don't know how to tie a knot, this line will NOT break. I"ve pulled "TOADS" outta slop, weeds, and sticks with no problems. Believe me, after using Power Pro for the first time, you'll never use another type of Braid again! 65lb for the flippin stick and frog rod, 30lb - 50lb for everything else!!!!
From: Vee: Toronto, Ontario, Canada

Comments: Best braid out there. Shimano makes it so what more is there to say. Does NOT fray like Spiderwire. You won't be disappointed. 65lb for frogs and heavy cover!

From: Adam: Phila, PA

Comments: I have no idea why people would buy any other braid. Only buyer beware warning is your hands, rod, and reel will be little black from this color the first few times you use it.

From: Josh: IL

Comments: the best line I have ever used. Perfect for getting bass out of heavy cover.

From: Mike: Toronto, Ontario, Canada

Comments: Use for flippin' and frog fishing. It's all I need in a braided line. Great stuff in every way!

From: Scott: KY

Comments: great braid i use it for all flippen pitchen and froggin for those things its a must have i have tried spider wire it is horrible compared to this get a spool or two you will not be disappointed!:)
From: Louis: LA

Comments: very bad braid, extreemly stiff, its horible, would never buy this braid again!!

From: Ben: Aus

Comments: By far the best braid on the market.I caught a 130lb tarpon on 15lb power pro with ease. Great from ultra light tw low all the way to flipping in heavy cover. 10 out of 10

From: Bobby: Miami, FL

Comments: very good braid for the lower cost compared to most braids no a days..the color fades some what but no to bad..but so does other braids..strong..makes noise when casting but so what..i like the sound
From: Don: Jersey

Comments: ive been using this line its worth it to buy it at only cheap price, cast very smooth and very tough in a thin diameter
From: Fitrii: Brune, Darussalam

Comments: For the price this is the braid you want. But it loses its color fast and frays fast. But if you charge your line alot this is the line for you
From: Sonny: East Wareham, MA

Comments: i love this line especially 15lbs as due to its strength n abrasive resistance when cast at rocky outcrops. the price is reasonable too
From: Siid: Brunei Darussalam

Comments: MY first braided line. Using 15 lbs. test on my main rod which I fish mostly wacky or texas rigged plastics. I've caught two 4 lb. bass this season and line held fine.
From: Austin: St. Paul, MN

Comments: i used this line for cuda and for tuna man dose this stuff hold up to some powerful fish can't wait to test this line pn a mako yeah thats right i said it mako
From: Kris: San Diego, CA

Comments: Great line! I use it for my costom 6'6" Quatum Engry PT rod and a Shimano Curado for worms and spinnerbaits I used yellow 30 Lbs. test line great stuff it is rough but my costom rod was made for braid so bring it on!
From: Matt: Lima, OH

Comments: Power Pro Briad is the best braid out there ive fished them all before an theres no comparison ill keep usen the 40# on my casting rods an 20# for spiners an shacky heads way to go power pro

From: Bruce: Winnfield, LA