Power Pro Spectra Braided Line Moss Green - $14.99 to $149.99
Spectra is the registered trademark of Honeywell International for a special formulation of the same space-age material that bullet-proof vests and other tough protective gear is made from. Spectra is tiny filaments of super strong material that when braided together produce extremely strong, extremely thin line that is perfect for some fishing applications. Power Pro designed this Spectra line to feel smooth to the touch, which means this line won't cut your guides, and with less friction it will cast farther. It will also enhance knot performance and will lay better on the spool, which will also help increase casting distance. The near zero stretch of Spectra lines means you will have the ultimate in sensitivity so every twitch will be transmitted to your hand. Power Pro Spectra Line offers premium line at a reasonable price.
| | | | | | | | | | |
| --- | --- | --- | --- | --- | --- | --- | --- | --- | --- |
| Line Dia. | 8lb | 10lb | 15lb | 20lb | 30lb | 40lb | 50lb | 65lb | 80lb |
| Inches | .005 | .006 | .007 | .009 | .011 | .013 | .014 | .016 | .017 |
| Millimeters | .13 | .15 | .18 | .23 | .28 | .33 | .36 | .41 | .43 |
| Equiv. Mono Diameter | 1lb | 2lb | 4lb | 6lb | 8lb | 10lb | 12lb | 16lb | 17lb |
Comments: this used to be one of the best most dependable lines on the market. over the last 6 months this line has turned to crap I don't know what they changed but I am done with it. It fades too fast and you have to really keep a close watch b/c it frays at the rod tip when you flip with it.
From: Pat: Lumberton, TX 9/28/14

Comments: Unless I'm fishing in ultra clear water i use only moss green power pro. I'm not a professional caster so i birds nest and i have taken a knife and dug it out and still had no line breakage. I was hung up once and snapped the pole before i broke the line. Great line love it!
From: Joe: WV 7/7/14

Comments: After only 5 outings with my 15lb line it started to turn white. With the money you pay for this line it should hold its color. Not sure if it is usable in the color it changes to.
From: Vernon: San Diego, CA 3/29/14
Comments: ive used many braids before. this braided line to me is the best of them all. Ive set hooks on 8 pounder after 8 pounder and never had have it snap on hook set and is awesome for tying knots. I highly recommend.
From: Zachary: Pearson, GA
Comments: I've run the gamut and I keep coming back to this stuff. This year I will be using it exclusively. Ditching the flouro for crankbaits, mono for topwaters etc...The possible benefits of those lines (debateable) are negated by their annoyance factor IMO. It just takes the fun out of it when you start having line issues. Besides you can use a flouro leader if you really think it helps.
From: Jep: USA
Comments: I fish salt and freshwater, more salt than fresh and I use this stuff on all my bait cast reels because it is strong, reliable and I can cast a mile with it. I have tried all the $12-$24 dollar range braid and this stuff is the best period the only other braid I have had this long on my reels is Stren and it has been on my spinning reel for 3 years with no problems and I catch bull reds. I have never broke of this stuff I use 40lb for frogin and 50lb for punching and I use 20lb for everything else including saltwater. I do use leaders I tie a Alberto Knot and never had the braid break off the leader breaks before the braid does.I am a big dude 6'3 235 and I break jaws when I set the hook I dont see how you can break this stuff. I think most of the people that comment on here have no clue how to fish. And further more you can not compare a $14.99 braid for a $28 dollar braid because I can buy 2 spools that last me for years.
From: Robert: TX
Comments: Can't beat this line for the price. I used the 10lb on my finesse spin combos and it did fine. For a floro leader I would recommend seaguar.

From: Jack: CT

Comments: I fish both salt and freshwater and this is my braid of choice. I haven't fished many other braids but power pro doesn't give me any reason to. This braid is the most dependable out there! Sure it's not the smoothest, softest, or toughest but I have never had this braid bleed on me, it has hardly ever snapped on me (only at the knot but due to a very poorly tied knot), and it is priced very cheap so you can afford to buy multiple spools.

From: Matt: San Antonio, TX

Comments: I choose Daiwa Samurai Braided Line over this any day. Samurai braid is by far smoother than Power Pro which in turn casts farther. It's also a smaller diameter than Power pro too which means I can fish heavier line and still have a good amount on my reel. I've broke 65# Power pro casting swimbaits and I always check my knots and line just about every cast.. Since I switched to Samurai braid I've never had that problem. I highly recommend it over Power Pro.

From: Bryan: CA

Comments: I love the reviews on all different brands of braid. "I broke it once, I'll never use it again!" Braid is not unbreakable and isn't advertised as such. I've broke off plenty of times with the 30# in the 8-10 years I've used it, probably twice with 50# and never with 65#. It's like any other line, inspect it for kinks/frays and adjust accordingly. I've tried other brands and always come back to powerpro because I like it and I'm poor.

From: James: LA

Comments: My buddy has fished mono all of this life. He didn't like braid because of his experiences in the old days (too much friction). One cast with 50lb. PowerPro and he was shocked at how smooth it was. This line is fantastic.

From: Cole
Comments: Wow, really - snapped 40# on hookset 3 times? I fish El Salto frequently and use 65# PowerPro because of all the trees. Never, ever, have I broken the line during a hookset or battle. And I'm a big, strong guy and try to drive a Lazer Trokar into their skull when I set the hook. All I've ever had to do is break free or cut it if one gets so wrapped in a tree that I can't get them loose. And then, breaking it is a chore!PowerPro is the best IMHO.

From: Scott: NM

Comments: Best braid period! Don't pay attention to reviews like the one below. If your line is snapping on the hookset with 40lb. power pro it's user error for sure.

From: Nick: USA

Comments: Took some of this line 40# test to lake El Salto. 3 separate times the line snapped on hook sets. Not even near my knot. On of the fish was a mere 2lber that jumped and laughed at me with my bait in his mouth. I won't be using Power pro again.

From: Mike: USA

Comments: I have been a serious smallmouth fisherman for 20+ years and besides Tuf-Line XP, this is the only other braid I will spool up. I have used every different braid out there( literally everyone of them ), and nothing compares to these two braids. Casting distance is great, sensitivity is awsome, and abrasion resistance is excellent. Color fades a little but still stays a dark green.

From: Jesse: WV

Comments: i use this line for saltwater and let me say cuts through kelp and when i am fishing tight up close to the rock i am not worried about breaking a fish off im very confident in this line o and im using 65lb with a 40 lb leader thanks power pro tw

From: Kris: bakersfield ca

Comments: I'm surprised that people are surprised that this is good braid. It's what I and everyone else should come to expect from Shimano..trust me...that got their crap together over there. (it is really really good braid tho!)

Comments: What a great braided line! It's the best braid I've ever used. It's tough as nails, casts amazingly, and stays usable for ages on my spool.

From: Adam: Orange County, CA

Comments: used 15lb or 20lb trolling crankbaits for walleye and worked good sometimes but lost ALOT of lures cuz the line must of freyed rubbing on rocks

From: Grant: Madison, WI

Comments: Best braid made. I have used the same spool to catch largemouth in Illinois to Blue Fish in North Carolina. Handles everything I have thrown at it. I have tried several other braids, but this is the real deal. Color fades a little over time, but not as fast as other braids.

From: Ryne: IL

Comments: i use 30 lbs test on my live bait riggs for cats and it didnt fray until my 4th mounth using it average fish 10lbs but caught a 34 pounder

From: Kee: IL, USA

Comments: Been using power pro for years offshore in S.Cal mainly started with rockfish but soon found it great for everything with top shots. As for bass fishing, I use the 15-30 lines, it does everything I need. I don't see a need for anything heavier. Offshore well I've played tug a war with Amberjack and Groupers on 80 that have pushed the 100lb mark. If a 100lb AJ can't break me off on buttoned down drag, sorry mr bass, you're coming out of that cover on 20 or 30. Great product, lasts a long time. Get atleast 2 yrs out of every spool up (I reverse the line and put it back on the reel). Beats paying to refill mono every 2 trips especially fishng offshore.

From: Will: Long Beach, CA

Comments: Other than Heavy cover why should i use braided line!?

From: Joey: Gilbert, AZ

Comments: Great braid, Use a double palomar to eliminate any chance of losing fish. Only use clinch knots if you know how to tie them well, when ever i use a clinch knot with braid i always loop it at least 10 times most times 12 and cinch the knot until it cant cinch any more and then i leave a good tag end, but if you dont want to go through all that, then just use a double palomar

Comments: Love this braid!! does everything i need it to do. super strong, slick, and smooth. i wont buy anything else!

From: Bass Assasin: OH

Comments: Best braid out there. Packs on reel nice. Cast nice and very strong. When spooling on reel, wet the line so you can pack a lot more on.

From: Daniel: Ontario

Comments: Best braid on the market. Casts slick and doesnt bleed all over you. Extremely tough and sounds great when you hook a toad. Also one of the cheapest braids out there, usually you get what you pay for but Power Pro goes against that. Its the best braid for one of the lowest prices.

From: Will: AL

Comments: Wow! To think I was only buying this because it was the cheapest I could find. I needed some temporary replacement line and now Im hooked on this line. for like $15 I dont think there is anything better out there. I got the 50 lb for froggin and I see some people complaining about the sound, but I love that whistling when you're reeling in a lunker it just adds to the rush. Power Pro is my new line of choice

From: Joe: USA

Comments: Threw frogs into vegetation with it for the first time the other day. Super strong, supreme castability, and just an all around great braid. Only complaint is that the color bled and my thumb was dyed green.

From: Scotty: VA

Comments: Best Braid known to fishermen! Unless you dont know how to tie a knot, this line will NOT break. I"ve pulled "TOADS" outta slop, weeds, and sticks with no problems. Believe me, after using Power Pro for the first time, you'll never use another type of Braid again!!!!!!!!!! 65lb for the flippin stick and frog rod, 30lb - 50lb for everything else!!!!

From: Vee: Toronto, Ontario, Canada

Comments: Best braid out there. Shimano makes it so what more is there to say. Does NOT fray like Spiderwire. You won't be disappointed. 65lb for frogs and heavy cover!

From: Adam: Phila, PA

Comments: I have no idea why people would buy any other braid. Only buyer beware warning is your hands, rod, and reel will be little black from this color the first few times you use it.

From: Josh: IL

Comments: the best line I have ever used. Perfect for getting bass out of heavy cover.

From: Mike: Toronto, Ontario, Canada

Comments: Use for flippin' and frog fishing. It's all I need in a braided line. Great stuff in every way!

From: Scott: KY

Comments: great braid i use it for all flippen pitchen and froggin for those things its a must have i have tried spider wire it is horrible compared to this get a spool or two you will not be dissapointed!:)

From: Louis: LA

Comments: very bad braid, extreemly stiff, its horible, would never buy this braid again!!

From: Ben: Aus

Comments: BEST line I have ever uses much better than sufix 832

From: Jack: Hinsdale, IL

Comments: By far the best braid on the market.I caught a 130lb tarpon on 15lb power pro with ease. Great from ultra light tw low all the way to flipping in heavy cover. 10 out of 10

From: Bobby: Miami, FL

Comments: This really is some great line. Almost every muskie fisherman I know uses it loves it. If it holds up to muskie then bass should be a walk in the park. To all the line snapping problems at the the bait you cant tie a regular know with this stuff..there are special knots for these applications. I can cast a pounder bulldawg with 80lb test so I dont know how bass baits are breaking 50lb test. just my 2 cents its a very good line for the money

From: Muskie Man: WI

Comments: I've used power pro exclusively for years for all my braid. It's a great braid but I've had problems throwing an A-Rig on it. It snaps midcast and I've lost a handful of A-Rigs this way. It isn't caused by kinks or backlashing. I've talked to several others with the same problem. Great braid, just not for A-Rigs.

From: Sean: IL

Comments: I've been fishing power pro for years. I've NEVER had it snap. I've had the knot slip one time and that's because I didn't have a long enough tag end. All of you who think its a bad braid just don't know what your doing. It's braid. Leave a good amount of tag end, add a dab of super glue and don't swing on the fish so hard. You snap because it has zero stretch.. And for it losing color, buy a sharpie.

From: Zach: Nor Cal

Comments: this line is perfect for the alabama rig as long as its 65lb

From: Geren

Comments: I bought 50lb power pro thinking it would be perfect for the a-rig, WRONG. this line snaps in the mid cast, no backlash, or anything the line just breaks. Nothing is more sickening than seeing a $50.00 lure sinking to the bottom of the river channel. Power Pro has to fix this problem I know of to many people having the same problem. Go with suffix.

From: Bamaman: AL

Comments: this braid is horrible iv lost three fish in the last two days using the 30 pound straight braid and its breaking when im setting the hook not at the not either it just snaps easy. the diawa samurai never gives me problems just a little pricey but better then loosing the fish of a lifetime

From: urbanbassin
Comments: very good braid for the lower cost compared to most braids no a days..the color fades some what but no to bad..but so does other braids..strong..makes noise when casting but so what..i like the sound

From: Don: Jersey

Comments: Awesome line! I have used this to land some of my biggest bass, and tons of others too and it holds up great, never had a problem with it breaking.its very durable, it very rarely frays! I Highly recommend it to anyone looking for a great braid for a great price!

From: Cobi: MI

Comments: Takes a while to break in, and in that process backlashes are common and bad. It's thin, but what braid isn't, its not nearly as smooth as suffix 832 and spiderwire, and a whole lot noisier on cast and retrieves. Its good for what it is, but at the 14 dollar price point get spiderwire stealth braid, its much smoother, no break in time, farther casting, quieter, and it retains color much better. If you're just starting to use braid maybe use this mainly to get used to using braid then change it out to something better.

From: Ben: FL

Comments: ive been using this line its worth it to buy it at only cheap price, cast very smooth and very tough in a thin diameter

From: Fitrii: Brune, Darussalam

Comments: LOVE!!!!! this stuff, im currently throwing 40lb on my baitcasters (10lb dia) and it casts like a DREAM. It casts as good as 10lb mono. however u have to make adjustments when using braid, no need to set the hook like king kong, or u WILL bend out ur light wire hooks. and when working baits like topwater or jerkbaits allow more a lot more slack in the line, then u would allow with mono in order to get ur full action out of the bait. over a 4.5 out of 5 stars, casts GREAT, doesnt cut into ur guides, and did i mention it casts GREAT

From: Kevin: SoCal

Comments: to the previous reviewer anyone who has ever used braided line knows to have a fat Sharpie in there boat no matter what the brand of line they all lose color after a while

Comments: I use 50 lb. on my frog and flipping rods. You have to be careful with the tungsten weights cutting it but overall a great line for the money. The only issue is it will lose color fast. It goes from black to lime green to white in no time. I'll try something else after this spool is gone. I'm tired of respooling braid for the color. Too bad because I like the line.

From: John: Columbus, GA

Comments: For the price this is the braid you want. But it loses its color fast and frays fast. But if you charge your line alot this is the line for you

From: Sonny: East Wareham, MA

Comments: The 20lb line was the worst line I have ever bought. It broke during the cast at the reel soooo many times!!! not even at the knot. I hate this line so much, and you would understand after you cast of 2 lucky crafts and several buzzbaits. But the weirdest part is the 65lb pound test is amazing, never broke off a single time. I like this stuff in higher pound test (50+) but anything under I'll go with sufix.

From: Trevor: FL

Comments: This line is the best braid on the market. I have tried many other brands and this is the best. I got 20# on my spinning rod for skipping under docks and 50# on my flipping stick. Excellent knot strength and durability for both.

From: Joseph: IL

Comments: best braid ever i like using it with frogs and i like 15 pound test cause it is 4 pound test dia

From: Brayden: IN

Comments: 30 pound braid got caught on a dead lim and didnt even fray

From: Jake: OH

Comments: For the price this the best deal going. I prefer the 20lb. for spinning equipment, the 30lb. for casting spinner baits and rattle trap style lures, and 65lb. for the heavy stuff flipping and frogging. I've read some of the other complaints and have only had problems with this line when it looks like the package has been tampered with, however it was quickly exchanged when I showed this to the sales person.
Really the best stuff ever.

From: LJ: Sac, CA

Comments: If you want to truly test this line try lifting a 35lb weifght slowly off the ground using 50lbt test Por line. It will snap very quickly. I could lift the weight with a 30lb trilene mono line with out breaking. it snaps and break when casting on a spinning outfit. I went from 15lb to 50lb with the same poor results. I lost several lures just casting. I see others complaing about the same problem onvarious braided line. I wonder if Master would be any better?

From: Skyway Fisherman

Comments: I agree this braid used to hold up I have also had problems breaking fish off with 50 and 65 lb test. After I broke 3 fish off I decided it was the line so I moved up to 65 and it still happened. Broke off some frogs and some tungsten weights due to this line. I have switched to Sunline FX2 and haven't had a problem with it yet exept it is expensive.

From: Taylor: GA

Comments: i love this line especially 15lbs as due to its strength n abrasive resistance when cast at rocky outcrops. the price is reasonable too

From: Siid: Brunei Darussalam

Comments: This braid use to hold up. Now i cant stop breaking it. Cost me a check in the last tournament. First cast, new 65 lb braid, broke off a sweet beaver. I have already broken off fish atleast 10 times this year. Something is definatly wrong with this line. I have changed it multiple times. Done trying switching to suffix.

From: G Man: Gonzales, LA

Comments: MY first braided line. Using 15 lbs. test on my main rod which I fish mostly wacky or texas rigged plastics. I've caught two 4 lb. bass this season and line held fine.

From: Austin: St. Paul, MN

Comments: i used this line for cuda and for tuna man dose this stuff hold up to some powerful fish can't wait to test this line pn a mako yeah thats right i said it mako

From: Kris: San Diego, CA

Comments: IVE TRIED ALOT OF DIFFERENT BRANDS I PERSONALY LIKE THIS LINE THE BEST. YOU RARELY GET WIND KNOTS,NO LINE TWISTS.BUT DONT GET HUNG UP ,THE ROD WILL BREAK BEFORE THE LINE DOES.ONLY ONE SLIGHT DRAW BACK---IT MAKES SOMEWHAT OF A NOISE WHEN REELING IT IN.I LIKE IT BECAUSE IT HANDLES LIKE MONO.VERY GOOD PRODUCT!!!!

From: Kevin: Miami, FL

Comments: Great line! I use it for my costom 6'6" Quatum Engry PT rod and a Shimano Curado for worms and spinnerbaits I used yellow 30 Lbs. test line great stuff it is rough but my costom rod was made for braid so bring it on!

From: Matt: Lima, OH

Comments: Power Pro Briad is the best braid out there ive fished them all before an theres no comparison ill keep usen the 40# on my casting rods an 20# for spiners an shacky heads way to go power pro

From: Bruce: Winnfield, LA

Comments: The best braid ever. I have tried to switch many, many times, but always end up coming back. I have been using power braid for 8+ years now and I know a good braid.

From: Minnesota

Comments: Fantastic Braid! Manages easily on spinning gear with no manageability problems. I've used this line for 4 years now in the green for river migrating stripers. It has never let me down on spinning or casting gear. Have not had any issues with dye running off on tackle but it will fade a bit after use. My reels have it on them for 4 years now. I just reversed the line on one reel spool. No abrasion problems. If you want a reasonably priced braid with exceptional durability and quality, you can't go wrong with Power Pro.

From: Ray: Carmel, NY

Comments: Power Pro is a good beginner braid. I've fished it for about 2 years now and it leaves a nasty residue on all my frog rods and reels. I'll be moving to the suffix 832 line.

From: Wes: Ft Worth, TX

Comments: Power pro is garbage compared to masterbraid, 832 and tufline. Powerpro is much more stiff and has more tendency to loop and backlash. It's better than spiderwire but still garbage compared to other lines.

From: Ed: Graylake, IL

Comments: This stuff is the deal, I have caught 7 lb bass in heavy grass and 30 lb cats on rocks and this stuff just keep soing. Love it, the best out there.

From: Big Jon and the twins: Texas

Comments: the smoothest casting braid out there.

Comments: I will never use another braided line!!! Power Pro for LIFE!!!

Comments: simply the best braid on the market. i have tried darn near every braid on the market and power pro has always pulled me back. i have fished this stuff all over the gulf, marsh, and the nastiest freshwater habitat louisiana has to offer and it has never disappointed me. i don't care if it loses a little color after a while or make noise in the guides. bottom line is it cast further than others, holds a better knot, is more abrasive resistant, slides over and through grass better, and has a small diameter for its pound test rating as compared to others.

From: bassNredfish: Louisiana
Comments: The heavier lines that i use for frogging, and punching are amazing! although the lighter lines i have had trouble with knots holding and breaking it off.

Comments: Snapped off an $8 KVD 1/2oz Spinner Bait on the first cast with the 15lb braid, so this stuff actually cost me $21.00. Should have bought something better and I'd still have my lure. Live and Learn.

From: Bassket Kase: Denver, CO
Comments: I love this line it can not even compare to the spider wire ez braid. its amazing and anytime i want to go frog fishing i will always use power pro 65 lb. braid

From: Jared: Kentucky, USA
Comments: my favorite line on the market.....ive used spider wire,suffix,p-line,etc. and this is a lot better and half the price. I fish this with frogs,jigs,soft plastics and everything. Very versatile. Highly recommend this.

From: Jake: Virginia, USA
Comments: i like the spider wire braids better. power pro simply give's me more problems. i suppose it's just a matter of choice, but i'll stick with what work's the best for me--

From: Wes: Salinas, CA
Comments: Tough Line Period! When I set the hook I know this stuff will hold up to the power I put behind my hooksets. This stuff has held up to two seasons of brutality by me. Some people say you get more use out of it some people less. Depends on how much you fish. It will lose some of the color due to sunbleaching. If this is a concern get the Vicious Braid pen and recolor it. It still works.
Comments:Power Pro is completely average braid. I've tried 'em all, spend the extra money for Sufix.
From:Big J: Houston, TX
Comments:Probably the best braid I have ever used. Bought the 65lb to throw in extremely heavy grass for frog fishing and was amazed at how tough this line was and how well it held up. Three trips out all day fishing and not one issue. Would highly recommend it to anyone looking for an exceptional braid that casts and feels like mono or floro.
From:Fishnfool: Guntersville, AL
***Note: If you have questions about this product or need assistance with an order please email your questions to info@tacklewarehouse.com
View Large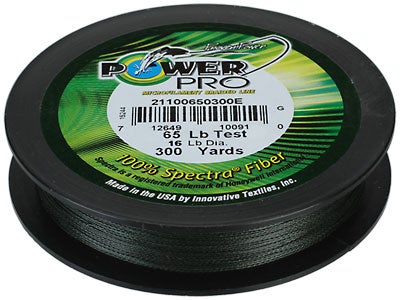 Place Your Order
More Power Pro Spectra Fishing Line