Seaguar Smackdown Braided Line Green - $29.99
Unlike other braided lines that are rated at a certain poundage and marked another, the Seaguar Smackdown Green Braided Line is true to its stated line strength. This makes Seaguar Smackdown Green Braided Line the thinnest solid core braid in its class and allows anglers to pack more line onto their reels.
In addition, the Seaguar Smackdown Green Braided Line is made from a blend of eight individual fibers, which gives it a perfectly round profile and allows it to spool easily onto both baitcasting and spinning reels. The eight fibers construction is made with a high-density weave pattern that increases tensile strength and abrasion resistance for fishing around rocks, timber and other sharp debris. The Seaguar Smackdown Green Braided Line also has as clear coat, which increases castability and keeps it from digging into the spool when your drag gets put to the test. Manufactured with an unwavering Japanese precision, the Seaguar Smackdown Green Braided Line gives you a true line rating that works well for a wide range of applications, including flipping, frogging, drop shotting, and even inshore saltwater fishing.
| | | | | | | | |
| --- | --- | --- | --- | --- | --- | --- | --- |
| Line Diameters | 10lb | 15lb | 20lb | 30lb | 40lb | 50lb | 65lb |
| Inches | .005 | .006 | .007 | .009 | .011 | .015 | .016 |
| Millimeters | .128 | .165 | .185 | .235 | .285 | .370 | .405 |
| Equiv. Mono Diameter | 2lb | 4lb | 6lb | 8lb | 12lb | 20lb | 25lb |
View Large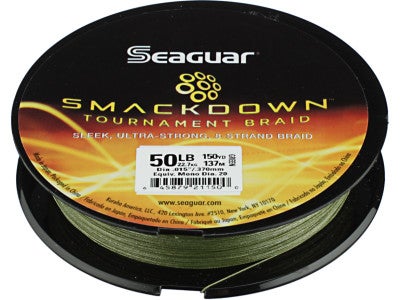 More Seaguar Fishing Line
Comments: I use 20lb for my dropshot main line and 65lb for frogging and flipping/pitching. The line is much more manageable than PowerPro and is much quieter as a result. Very strong but smooth. Highly recommended for both of these applications.
From: Dan: Spokane, WA 5/5/15

Comments: purchased 10 # test to use with 8 # fluorocarbon leader. Line is extremely thin. I first had trouble with double uni knot. Twice when I tightened the knot the braid broke and not at the knot. I broke 10 # braid with 8 # fluorocarbon. Decided to try fishing it anyway. The braid broke with my first hook set. I won't be buying more of this line.
From: Rod: Clovis, CA 12/4/14

Comments: 65# is thin and very quiet compared to Powerpro or even FX2. It is manageable and very sensitive. Some color stained my finger when spooling but that is expected and it wasn't half as bad as the powdering I got from fx2. A few more trips will determine strength of line but so far I'm very happy with my purchase.
From: Montanaro: Touchdown City, WV 8/1/14

Comments: Excellent braid! Super thin and smooth. Casts like a bullet and holds up very well. Been fishing it hard for a few weeks and it shows no signs of damage.

From: Tyler: Spokane, WA

***Note: If you have questions about this product or need assistance with an order please email your questions to info@tacklewarehouse.com