Strike King KVD HC Flat Side Crankbait - $5.79

Designed by 4-time Bassmaster Classic Champion, Kevin VanDam, the Strike King KVD HC Flat Side Crankbait is built with a slender profile and flat sides that produce an erratic thumping action. Its flat-sided design is very similar to the tournament-proven Strike King KVD HC Square Bill, and is perfect for grabbing the attention of slightly deeper fish. In addition, the Strike King KVD HC Flat Side Crankbait also features realistic 3D eyes, and a beautiful chip-resistant finish that will last for many fish to come. Offered in a range of detailed colors, the highly effective Strike King KVD NC Flat Side Crankbit delivers tournament-caliber performance with the priceless input from one of the best to ever do it – Mr. Kevin VanDam.
| | | | |
| --- | --- | --- | --- |
| Strike King | Length | Weight | Depth |
| KVD HC Flat Side | 2-1/4" | 3/8oz | 8-10ft |
Comments: Bought two of these to try out and I was horribly disappointed. The first one I tied on was out of tune and that's normal for new cranks. Took me a few casts to get it to run true. After about five casts it was out of tune again. For about 15 minutes I tried getting it to stay in tune but it would always wander back off after a few casts or after being bumped in to a rock or stump. Same deal with the other one. Not sure if I just got a couple of lemons or what. It may just be this style that does it because I've never had any other problems like this with SK lures.
From: Brian: AL 5/6/14
Comments: This bait will catch them in tough conditions no doubt especially in colder spring water.I am still surprised though they have not released a Craw pattern in this bait or a slightly larger/heavier one.Would love to see those two options be added to the line.
From: Unknown: USA
Comments: I Love the design and looks of these but SK please make a shallow square bill version of this please!!

From: WI
Comments: I live in Wisconsin. These crankbaits are absolute killers on smallmouth and largemouth alike in these northern clear lakes! natural colors like bluegill work well in clear water.

From: Cole: Rhinelander, WI

Comments: Great Crankbait! SK:PLEASE MAKE A SQUAREBILL VERSION!!!!

From: Rusty: Texas, where else?

Comments: The true workhorse of cranks. KVD proved that the fanciest paint jobs are not what catch fish. Tip: The eyes tend to come off. I take them off when new and use a dab of superglue to make sure they stay put. Hooks are decent but I always go with KVD Triple Grips with these. Great crank, great price!

From: Steve: NJ

Comments: has a nice swimming action that to me is different than my other flat side baits.My only real gripe is the cast-ability of the lure.Like Gman mentioned below they seem to not cast very well at all for me either.It cast Decent don't get me wrong but any wind and it goes Flying unpredictably .Love to see a slightly heavier size .Need to offer a 1/2 oz size that goes a little deeper 10+ft. I throw it on a 7 ft veritas Winch cranking rod and 12 pound Pline Cx preimium has been my best setup for casting it

Comments: Tried these out over the past week and caught a few fish (despite being in midst of late summer patterns). Decent thump/action (similar to a series 5) but less than Bagley and some of the Japanese flat square bills. Large bill for the size of bait. Very bouyant/rises fast, max depth was 6' using 10lb FC, larger front hook upgrade helped some. Packaging states 3/8 oz, but seemed a bit difficult to throw in the wind (body shape/wt placement?).

From: G Man: Tarheel Country

***Note: If you have questions about this product or need assistance with an order please email your questions to info@tacklewarehouse.com
View Large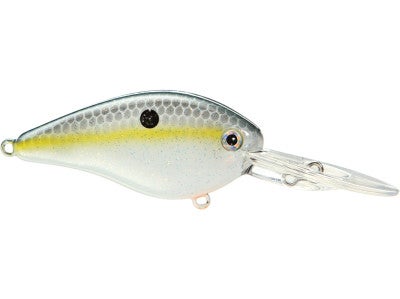 12 Available Colors
More Strike King Hardbaits