Strike King KVD HC Square Bill Silent Crankbait - $5.59
Please Note: Actual colors may vary slightly from images shown.

Kevin VanDam used the Strike King KVD HC Crankbait in Black Back Chartruese en route to winning the 2011 Bassmaster Classic on the Louisiana Delta. It was KVD's fourth Classic title, tying him with legendary professional angler Rick Clunn for the most ever Classic titles. He used both the 1.5 and the 2.5, but it was the Strike King KVD HC Crankbait 1.5 in Black Back Chartruese that was the deal, and the bait he credits with catching the majority of his big fish.
Legendary professional bass angler, Kevin VanDam, spent a considerable amount of time designing and fine tuning the Strike King KVD HC Square Bill Silent Crankbait. He wanted to ensure that it had the right erratic action with the wandering and searching motions that he needed to entice those shallow bass. The square bill design also helps it generate lively deflections off cover and reach its desired depth quickly. Available in several proven colors, the Strike King KVD HC Square Bill Silent Crankbait delivers proven performance, and is also silent (no rattles) for those times when the fish are heavily pressured or just plain spooky.
KVD recently used the Strike King KVD HC Square Bill Silent Crankbait en route to claiming his 3rd consecutive Angler of the Year title (7th overall) by winning the 2nd leg of the 2010 Bassmaster Elite Series Postseason at the Alabama River. He ended up catching the majority of his fish throughout the two-day event on the Strike King KVD HC Square Bill Silent Crankbait in the Sexy Shad pattern.
| | | | |
| --- | --- | --- | --- |
| Strike King | Length | Weight | Depth |
| KVD HC 1.5 | 2-1/4" | 3/8oz | 3-6ft |
| KVD HC 2.5 | 2-3/4" | 5/8oz | 3-6ft |
Comments: Cheap, fairly durable, and does catch fish. But every bait can catch fish. These baits are pretty much need tuning out of the box. No biggie, but this bait isnt exactly worth time retuning every couple fish or throwing into the wind without a weight system. Fish a BDS or a Fat John, and you will notice just how much you have been missing in this squarebill.

Comments: Good bait with great action but the lips break very easily.

Comments: Not so great. Their claim of "every lure runs true out of the box" is so false. I actually was very excited about this lure but my very first time using this, it was way off. Did not run true one bit. Quite disappointed and frustrating on the water.

From: MN
Comments: This crankbait stood up to a 45" bluecat yesterday. One of the hooks was slightly bent but nothing major. This is one tough bait in my opinion.

Comments: caught 2 nice smallmouths today in cold water. in a river/creek running the sexy sunfish off rocks. My favorite bait next to the yum tube.

Comments: Come on people this is a great SB crank but you guys act like its yer first squarebill they been out for forever...I do love this bait though for the money and the effectivness.You gotta get the summer sexy shad its my new favorite color and thats saying something considering i own about every lure every produced my dad worked for pure fishing.The regular bluegill color kills river smallies for some reason to.

From: Tyler: Susquehanna River,PA,USA

Comments: I have black back chartreuse in 1.5 and 2.5 and both sizes catch me lots of fish. I can see why this color won the classic for KVD.

From: Ben: Port Charlotte, FL

Comments: for the money as good as the 15 dollar lucky craft the norman fat boy is just as good for a dollar less try both and you will never have to buy any other crankbaits.

From: Jim: Lake Tomahawk: WI

Comments: This is a good all around square bill I don't crank much but when I do I hang em hit em on the bank and all sorts of junk this crankbait will last I lost one and found it 2 weeks later all I did was put new mustads on it and it worked great with out eyes

From: Connor: Crafton

Comments: worst crankbait i have ever used... no one buy these. that way i can buy them all =D

From: Tyler: Compton

Comments: This is one of the best square bills on the market if you ask me...espicially for the price...I have caught loads of bass this winter off of the black back chart....whenever the water is even the least bit stained throw this and you will pull them in all day! The bluegill color is also awesome!

Comments: These square bills are very good and cheap. They last forever, are very realistic, have a great action, and they are cheap! Get one.

From: William: TX

Comments: without a doubt the best square bill on the market. Way to go strike king!

From: Brad: PA

Comments: This really is a solid bait. I caught well over 100 bass on one bait, and it lasted til I chucked it at a rock and cracked it. A must-have squarebill in my opinion. Seems more productive than my RC's.

From: JDub: NV

Comments: I use the 1.0 in the river and catch the crap out of smallmouth, big ones too. You generally catch more on the 1.0 but catch bigger ones on the 1.5. The are very durable and I am very pleased with them.

From: Adam: Bristol, TN

Comments: Amazing cheap,durable, and catches fish!

From: Jordan: Lakeland, FL

Comments: I got 2 of each color for Christmas and won 5 tournaments off these things ....thanks Kevin van dam for have a great lure

From: Patrick: USA

Comments: The best squarebill in my opinion gets out of tune quickly put once you get it right it is perfect. Won a tournament on it right after buying one of their colors!

From: Austin: TX

Comments: One of the best lures I've ever fished. Perfect for the fall and spring. Tennessee Shad is my most productive color in KY. Load the tackle box with the KVD's.

From: Adam: Bowling Green, KY

Comments: VERY IMPRESSED!! for some reason mine didn't run true out of the box tweaked it a little and started catching fish ! Strike king hit a HOMERUN with this crank bait!!!!

From: Dale: AL

Comments: The new colors are sick !! As in Sicktastic

From: Eric: Thurman, Ohio

Comments: Very nice lures! great wobble and action when they are reeled in, also works great for start and stop retrieve.

From: Brian: IA

Comments: This bait fishes fair unless you make contact with structure. If your hitting it off rocks,stumps,weeds. Then you got money!!!! remember change your retrieve. slow,fast,pause,slow slow, rip. Slam! You got it!! Black back chart. in murkier water. bluegill is dynamite!

From: John: Kalispell, MT

Comments: got hits from freshwater snook and tarpon caught many bass over 5 on this bait i have ONE 1.5 sexy sunfish i fish that thing in the rockest spots never gets stuck plus sharp hooks

Comments: got the gizzard shad 1.5. let me tell you something the detail on this crankbait is great. it looks real. going to fish it with new powell disel upcoming sat

From: Matthew: WI

Comments: These crankbaits are not some kind of secret, every one and there brother uses them around here yet the load the boat..........that's the mark of a great bait. I have never had a QC issue with any, but I do change the stock hooks to the Mustad KVD 2x triple grips (what can I say, if KVD told me to jump off a cliff I would) Since they have been out the 1.5 has produced, and this year I started using the 2.5 when I needed a "big" bite....and it has not dissapointed.

From: Basswipe: Meatwads Pond

Comments: Good action and decent colors. Paint chips easily, and the bills are weak. Had the bill on a 1.5 break off in light weeds, with 10lb test. Good bait for locating fish in practice, but when its tourney time a Spro Little John or LC BDS 4 are the baits of choice.

Comments: I can't say enough about this bait. Great action and doesn't track to one side or the other out of the package (it will wander, but not truly track). Deflects off of just about anything you throw it against, including some sparse grass, and is a fish-catcher. I always have one tied on if I'm fishing shallow. Fished a tournament this year where the bite was tough all day for me and my partner. Mainly pitching a shakey head to docks, had one each in the boat. "Haven't thrown the KVD in a while" I said to myself. First throw banged it off a stump and a 3 lber inhaled it, when nothing else could produce. Bumped me 12 spots up the leaderboard. Put on a show with these during another tournament fishing the back of a creek. Got third that day when guys around me were throwing lucky crafts, bandits, h20s, bombers, you name it

Comments: i dont know what KVD did to this crankbait but for some reason this lure singles out bass better then any crankbait i have. I have crankbaits that are 20$ plus and they do catch fish but during tournaments i want to catch BASS and this bait does just that good job strike king!!

From: Tom: NY

Comments: Love these lures. Just got a few more. My favorite for bass and stripers is the Sexy Shad. The only problem I had were the hooks. Had a big striper and one of the hooks on the treble snapped off and I lost the fish. will be changing hooks from now on cause these things really work.

From: Blake: CA Delta

Comments: love the size and the action to the 1.5

From: Lyle: TX

Comments: I have caught multiple four and five pound fish with this lure. I don't want to brag on them too much bc my local tackle shops keep selling out hahah......great bait, can't be beat is shallow water

From: Josh: IL

Comments: have this in red sexy shad for pike and gizzard shad for bass, this is without a dbout the best hard bait you can have in your arsenall

Comments: this is the best square billed crank on themarket. i pulled this thind throug weeds thatwere supper thick, and one the second cast i hauled in a five pound bass

From: Riley: Parker, AZ

Comments: My favorite crank right now. Fish have stayed buttoned for me, and the bill does a great job deflecting cover and allows me to rip thru grass because hooks ride high above bill.

From: Tampa, FL

Comments: I've had great luck on the black back chartreuse(which tackle warehouse unfortunately doesn't carry) but anyways my first outing with this bait i caught two 3 pound bass on a hot day and a full moon goes to show you this bait does catch fish. I even caught a fish while my line was hung up in a tree pretty awesome i will be buying many more

From: Joe
Comments: One of the best cranks ive ever owned! Fished the chartruse sexy shad twice and have been pleased both times seems to be really killer on the sunny days. Great action!

From: Tyler: Allendale, MI

Comments: BEST SQUARE BILL ON THE MARKET IN MY OPINION catch loads of better than average bass on kentucky and lake barkley if you have never fished kentucky lake you need to plan on doing so kentucky lake is a great fishery check out some of my youtube videos fishing kentucky lake

From: fishinkentucky24: KY
Comments: Bluegill 1.5 killer pattern, No wonder why it's always out of stock. This pattern has been my top producing
square bill. after waiting for a whole month to get this in, It's literally bang up from catching so many fish.

From: Bvang: Fresno, CA

Comments: Caught about 40 bass and 20 were keepers on Black back chartreuse 1.0 before a pike swallowed it and snapped the line. One of the best little baits ever made.

From: Nolan: MI

Comments: This is a great shallow diving crank. And I live in Iowa...did u read that...IOWA. Bass fishing is tough sometimes and sometimes really good,but this is one of the most beast cranks out there.One day at around 2 o'clock i was throwing the sexy shad color and had six solid bass in half an hour, one was 4 and a half pounds.I also had some success on the 1.5 chili craw casting by trees.Overall a great crank.

From: Noah: IA

Comments: Just got my Series 1.5 today in Sexy Sunfish color. I have a feeling that this bait will be catching alot of big bass for me this year!

From: Nathan: NC

Comments: Just got back from the lake and caught a 5+ on the bluegill color as well as several 2 and 3 pounders great bait would recomend it for all ages.

From: David: Spokane, WA

Comments: I have fished the same one for a year straight and mines fine. Just switch the hooks

From: Jesse: Phx, AZ

Comments: i dont know why all you guys are saying the bill breaks because frankly...it doesnt..i smashed this bait of a dock 3 or 4 times yesterday and i was bumpin stumps,logs, rocks, etc. so i have no clue on how you guys manage to break the bills off

From: Shane: Hinsdale, MA

Comments: If you are new to the squarebill world (and why the heck are you, you've been missing out) scoop up a few of these miggy friggies and get to crankin. Brush? Throw it. Timber? Throw it. Docks? Toss it. Stupid jet skier getting too close? Hurl it. Stock hooks are great, too. Price is super nice.

From: The Lure Reviewer, Nunyatown

Comments: These are some pretty nice cranks. Between me and my brothers, we probably have all of the colors. These catch bass of all sizes. Seen small as one year old bass to seven pounders caught on this crank. Awesome crank.

From: FireTiger: California Delta

Comments: Great bait the only problem I had was the hooks are weak. I lost a 8lb plus bass the other day when the hook straigtened out on me.

From: Brett: FL

Comments: these bait rocks for the price. Lost my sexy shad last weekend to a hog, Error on my side and a weak knot. two more came in today, thanks TW, sadly sloppy job on gluing the bill, u can see china man finger prints all over the bill, hope these prints enhance water movement.. Lol.. Still going to catch fish.

From: B: Fresno, CA

Comments: LAFFFFFFF @ Jim. This is crank bait at 5 bucks is a great deal. This crank won KVD some serious money and your going to call it junk. Even Square bills are going to get hung up on rocks and trees, every crankbait does even if its a square bill. Im just saying, for 5 bucks this lure is a steal.

Comments: I dont know why people say this bait is junk i went to a local lake and caught over 30 fish with all the stock hooks no problems i lost in a tree but that happens if u dont know how to work it threw cover

From: Jeremy: Atascadero, CA

Comments: Jim, Square Bill Cranks do get hungup occasionally. It doesn't matter how well they are designed. This is a great crankbait.

From: Luke: AL

Comments: I have fished this bait in many ponds and rivers aroiund my house and havent been anywhere this bait wont produce, my favorite is the 1.5 because you have a nice balance not to big not to small but if you want a big bight go with the 2.5 and if the bite is tough the 1.0 will catch em year round.

From: Tristan: Hoover, AL

Comments: copy of other square bill especially lucky craft cheap china made product bill always breaks !!!!!!!!! when working bait in wood or rocks cheap hooks rarely runs true and almost impossible to tune the bait. enough said waste of money if you want a cheap very well made square bill look at the norman lures made in america built to take punishment plus they catch lots of fish.

From: Jim: Lake Tomahawk, WI

Comments: I caught a 3 pounder then an hour later it got hung up on a stump, this thing is junk it's suppost to deflect off cover but it does not. Wil not buy again!!!!

From: Jim
Comments: Top notch. I ALWAYS catch something on these baits.

From: Tim: TX

Comments: I caught 70+ bass in march with the 1.0 in Tennessee shad. Has a great hunting action and runs true straight out of the box.

Comments: There is a reason why these have been the top seller on TW for over a year...they work. I picked up a few 1.0 in chart shad and chrome sexy shad and hit the lake in my kayak. Ice out was about a week and a half ago so that water was cccooold, i found some stumps and ran this bait over them and into them and i grabbed three 3 lbrs and few 2s and two 4lbrs. Slilent small crank was key to be subtle and match the early baitfish size....

From: Bassmaster

Comments: This bait is GREAT! I have the Black back chartruese, chartruese sexy shad. and Ive caight tons of bass already! I just bought the bluegill and orange belly craw in 1.0 GET SOME NOW!!!

From: Lance: Pecker

Comments: Have used these for a while and have caught smallmouth, walleye, and pike on this squarebill. The paint jobs on these lures is very durable. The action of these is AMAZING!!!

From: Kyle: MI

Comments: Have had a few of these now for about 6 months and couldn't be happier. I have found that they work great in 8 to 12 feet of water with some taller brush. Only trouble I've had is the front hook sometimes getting hooked on the bill, but other than that they have great action and very durable. I've even caught a few pike on this and it's held up. I've used mainly 1.5s but plan to use a few 1s in the spring. Just ordered 5 more

From: Josh: Madison, WI

Comments: I tried this bait for the first time during a tournament the other day. I was able to catch a key 5th fish using the blue gill color 2.5 in 52 degree water. The bait bounced off wood great and the action on it was awesome. I really like the bait so far. It's a great bait, especially for the price. I didn't replace the stock hooks, like I usually do, but they still performed well. I will be buying some more of the crankbaits!

From: Tom: North Charleston, SC

Comments: Mike, from Ohio: When you buy over 25 Gold Sexy and Chrome Sexy baits and 20 out of 25 chip, don't come cryin' to me.....Maybe I got some bad stock..Who knows... Try throwing them somewhere else than open water:Rip-Rap, Stump feilds, Heavy cover and SEE what happens...Still a great bait though...Those chipped paint baits still work great..AND NO, I DID NOT Make bad casts and chip them on bridges, docks, and what-not...

From: Rusty: Texas, where else?

Comments: Im new to these lures but they work well. 1.5 and 2.5 in Sexy Shad. People complain about the hooks but I can count the fish I have lost with 2 fingers. Great lures, I need to try some other colors next. Awesome wobble, it drives the fish nuts.

From: Trey: Jupiter, FL

Comments: just fishing with these crankbaits and they performed great. the only bad thing is that when i checked the crankbait after i used it the bill was really dented and scuffed in just one use!

Comments: one of the best crankbaits I have ever used bass love them there paint is great doesn't chip

From: Mike: Akron, Ohio

Comments: These are great baits, no doubt...It's just why put such a carppy paint job on them? The colors are great, don't get me wrong, it's just the quality- Especially the Crome/Gold jobs...Red-Eye Shads are the same way....Not going to stop buying them though due to the fish catching ability...Th 1.0 is gonna be a WINTER KILLER!

From: Rusty: Texas, where else?

Comments: This is by far the best crankbait I have ever used. I got the 1.5 inch in bluegill and chart shad when they came out. sadly I threw both of them off due to crappy snap and goes when I went to buy another bluegill 1.5 it was the new crappy color that looks nothing like a bluegill. the 2.5 inch is the good color so if you want bluegill get 2.5 inch. overall igive this product 5 stars

From: Ethan: Noblesville, IN

Comments: SUPER popular bait. Everyone has em and throws em. But ya know what? They catch fish. I hate using what everyone else does but damn it...they catch fish. Have I mentioned that they catch...you get it. If you have no faith in cranks, or are just starting out...here you go.

From: Meatwad: Not out west

Comments: love mine ive never really had any luc with crankbaits until i used this the other day me and my buddy caught 17 bass one weighing 8 and a couble 5&6 pounds in 1 hour great bait love sexy shad

From: Ben
Comments: Great squarebill. I have caught many fish on them but i have one problem...if i throw it with a little velosity and it hits a dock or some wood the plastic chamber that holds the weight breaks and then the crankbait is extremely off balance and doesnt run right. Still a great crank and will buy more

From: Cody: Florida

Comments: Not sure if it is the size, but size 1 does not run true more specifically it it is horrible. I am using a 5:2:1 gear ratio with a slow retrieve and its on top of the water!!! Pretty much a waste of money, 2.5 has been great for me, has not produced any fish yet but they run true and have a nice wobble to them.

From: Brett: Rochester, NY

Comments: Love this bait so far in cold water conditions i think it produces the best. i perfer the 1.5 size the best because you can still catch average size fish and still get the bigger bite also. bluegill color is one of my favorites and went out fishing the other day and caught over 40 bass witch is the most iv ever caught in one day it was crazy. will be getting more of these soon in the new size as well and in some diffrent colors.

From: Matt: IL

Comments: definitely my favorite crankbait. in my opinion, the 1.5 in green gizzard shad is one of the best baits for highly pressure lakes and reservoirs. a slow and steady retrieve usually gets the job done.

From: Kurt, NJ

Comments: THESE CRANKSBAITS ARE JUNK ,i brought six of this 1.5 one week after i recived the lures they started clacking rightdown the top seem,I lost four of my baits to this problem

Comments: PUT the KVD hooks on and you have a real fish_catching,fun lure to use anytime bass are in shallow water.

From: Banks: Kimberly, AL

Comments: Just an amazing crankbait, I just started fishing with it and everytime, even in tought conditions, it payed off. I outfished in size and in quality people using Lucky Craft... I don't thinks I'll buy any lucky craft anymore, Strike King is the deals, KVD 1.5 and 2.5... set the hook.

From: Alexis: Canada

Comments: These baits are great for the budget minded fisherman. They have great action and are easy to work. The only problem I've found is they hang up easy working them through wooded areas. If you want the best squarelip crankbait for all situations, you can't beat the Lucky Craft Rick Clunn series crankbait that these obviously are a knockoff of. You can buy almost 3 of these though to one of those.

From: Bryan: Austin, TX

Comments: Caught a 2 lb White Bass first cast with the Cht/Blk Back. Very nice action, I replaced the front hook with a #4 RED Lazer Sharp treble. 1.5 is perfect size! 9/10

From: Bill: WV

Comments: used the bluegill pattern in texas and caught a good bit in some shallow grass but i also lost some i would recommend changing out the trebels if you can but besides that there a good little crank

From: Billy
Comments: These KVD 1.5 Cranks have plain out caught me fish when other cranks wouldnt. That silent bait is a GREAT change up. THX SK & KVD

From: Sonny: East Wareham, MA

Comments: This is really a great bait, it retrieves nice and floats high over any structure in its way on a pause, doesnt hang up easy, and the finish is pretty good, PLUS its really cheap and u can afford to loose it if u have to. only one thing that would make this bait better would be the hooks, they are decently sharp and everything, but they can use a little down size, the front hook tends to catch the bill and ur line sometimes and possibly a log or other piece of structure, if this bait downsized the hooks it would be a 5out of 5 till then its a 4.

From: Kevin: SoCal

Comments: i absoultely love this square bill.this is probally by far my favorite crankbait...so far....i have caught spotted bass,largemouth,and evennn a dang crappy.i love this thing.the swimming action hunts in the water like no other.the silent feature really works to when bass shut down,and that is when i caught all my fish,in the hot summer of july.i bought the tennessee shad and the chartreuse sexy shad.all the fish came off the tennessee shad.only issue is the first treble hook.downsize it!!!!!!i have had some major issues having that get caught on the line,but other than that.i love this one.by it!!!!!!

From: Nathan: GA

Comments: things are so great. i was fishin greenwood lake in NJ, it was gettin slow, middle of the day with bright sunshine and i thought to myself "when the bite gets tough, go silent" - KVD. so i threw on the KVD silent 1.5 in green gizzard shad and started cranking it along a 6 foot flat. bass were killing it, in the middle of the day. this crankbait is a must.

From: Kurt: NJ

Comments: These are good cranks but strike king needs to get better hooks. I lost 2 good fish on these yesterday. Replace hooks and it should be good to go.

From: Leng: Siloam Springs, AR

Comments: Awesome bait cheap price great action just all around good for all those out there breaking them and all that learn how to fish throw bait in water not at docks or rocks or trees as far as hook all hooks need replaceing or sharpening sooner or later but for the price well think they are great i own probably 20 or so and fish them hard and haven't really had any problems all run true and do the job and don't cost $20.00 but for all you guys who would rather throw those high dollar one please do and when you loose them i will be there to find and put in my box

From: Daniel: Nashville, TN

Comments: Personally I love these baits and I've had no issues keeping fish on with the stock hooks. Maybe for you guys that have, try switching to a rod with a slower action. I've been throwing them almost exclusively for the past 3 weeks and have only lost two fish and one of them barely had the back hooks in it's mouth. I throw the 1.5's on a Allstar ASR 6'10" jerkbait rod and the 2.5's on the 7'2" cranking stick and also on my 7ft G Loomis Deeplfex. I'm able to cast these baits a mile and they have a enough weight to them that I can make accurate casts in windy conditions. They have been awesome for me at mid day when it's 107 out. They really are a great reaction bait! Also, I haven't broken a single bill, maybe try aiming for the water and not the rocks :)

From: Alec: San Angelo, TX

Comments: I love these cranks. I've had a squarebill obsession for a few years now. I've got everything from BDS, LC RC's, Bagley, Bandits, Rapala and Strike King 4S. Every one has things I like about them, but these new 1.5s and 2.5s just have more I like about them. Starting with price. Can't beat the price point. And second being durability. I've read reviews of bills breaking and things like that. I haven't had one bill break. I've run this thing through rocks, brush piles and bodock trees. Bodocks are harder than rocks and these things have held up. The paint is tough as nails too. Caught catfish to prove that Only thing I do is trade hooks for Mustad KVD triple grips or Owner Stinger hooks. I'll keep BDS an he LC Clunn baits around but until thes stop working no need to spend that much on the others new.

From: Gus: Brandon, MS

Comments: as a follow up of my last review i got a few more colors and all work well but the black back/chart had a shad dot and a red gill which kinda turned me off on the color it still catches fish though over all a great bait p.s. change the hooks

From: Jonathon: Nashville, TN

Comments: All time favorite crankbait, catches lil' dinks to 8 1/2 pound lunkers for me fishing private ponds rippin' through grass. Great bait by strike king.

From: Geoffrey: Spring Hill, FL

Comments: Great product for the money have caught alot of fish with the only problem being the hooks.

From: Chris: Central Valley, CA

Comments: Caught a ton of bass on this bait. The hooks broke after 4 fish. Just switch the hooks and you have yourself a fish catching machine.

From: Terry: Roscommon, MI

Comments: This is a pretty decent bait for the money, I have broken the bills off of about 6 or 7 of these baits but have also broken bills off of 15dollar Lucky Craft RC crankbaits so maybe i am just a little rough on crankbaits. I would say the quality overall is as good as the RC baits for about 1/3rd the price. Good Job Strike king, I wish they could make a bait the size of a 1.5 but in a 1/2oz model .

From: Jeremy: Punxsutawney, PA

Comments: junk bill broke cranking it through rock piles after 5 casts. rather have quality than the name kvd on it

From: Ryan: PA

Comments: This is an outstanding product from Strike King. Great action, good hooks, awesome patterns. Works great around wood and rocks. Green gizzard and blue gill were getting pounded by Smallies and Rock Bass all day in a reservoir near me. Will be getting some more of the 1.5 and maybe a 2.5.

From: Joseph: Liverpool, NY

Comments: these are awesome i caught some nice bass off the bluegill color this is awesome i switched the hooks now im gonna buy another 1.5 and 2.5 and see how the hooks work love these crankbaits

From: Chavez: NM

Comments: I have a couple of these in the 1.5 and then specifically the 2.5 in the bluegill and sexy sunfish. The bluegill had been my go-to lure of choice at a local favorite spot for staging bass. Landed a number of 4 lbers with no probs. I know KVD said he had swapped out the factory hooks for the bassmaster classic, but i found the hooks to be just fine. Overall, good affordable shallow-diving crank.

From: SVM: Lax, WI

Comments: this bait is amazing i got the sexy sunfish and sexy shad. on the first day i got to fish for about 2 hours and caught over 20 fish and a 5 pound kicker. the hooks are good but changed mine out with spin techs kept the others if i ever need extras. good paint and bill holds up great. i will soon buy more. Also the 1.5 will catch a lot more fish and big fish, but if you need a kicker the 2.5 will do it for you.

From: Jonathon: Nashville, TN

Comments: this crankbait is so awesome it will catch a bunch of fish it caught me one trout and some bass awesome bait

From: Richard, Dulce, NM

Comments: Caught several pike on it and a couple nice bass as well. i was absolutely hammering this thing into chunk rock and it held up perfectly. one pike actually threw it when it was going ballistic but it belly hooked itself and i still landed it. in other words i won't be bothering with switching out the hooks.

From: Seth: Spokane, WA

Comments: Just know that the Bill will break on you. Maybe I had a sour grape in the batch but mine broke after 15-20 casts. Lure provides great action and it does catch big bass. Green Gizzard & Ghost seems to work best for me.

From: CVang: MPLS, MN

Comments: I love this bait. The ones I bought had perfect hooks. They've stayed nice and sharp too. It being silent has really allowed me to catch fish under conditions in which I wouldn't even originally consider throwing a crankbait. The paint on them is really good as well. All around good bait. Only complaint is local dealers cant keep the dang things in stock!

From: Dylan: GA

Comments: Strange thing, this complaint regarding "crap" hooks. I've caught at least a dozen bass off my Chartreuse Sexy 1.5 over 6 lbs. so far this spring, and I've lost NONE. I haven't even changed the hooks and this is after fishing over rock and shells. Some of you folks might want to examine your rod, reel and line combination rather than criticize Strike King.

From: Robert: Calhoun, GA

Comments: Responding to the droning on about the hooks: The only difference between a "cheap" hook and premium hook is that the premium hook is sharp out of the package. All hooks dull out quickly regardless of the cover you are throwing in. Some of the hook points hit the bait constantly during the retrieve. The dulling process is accelerated in cover, especially rock. If you don't own a diamond sharpener you should be replacing your hooks at least two to three times a day. However, a quality sharpener saves significantly on hooks, allows you to put a razor sharp edge on your points (even the "cheap" hooks!) and helps you land more fish. It is alot more work than complaining about the quality of the hooks though. If your hooks are dull that's your fault not Strike King or anyone else.

From: Michael: Nashville, TN

Comments: These baits have truly turned me on to crankbait fishing. The action is perfect, they catch bass...gar..snakehead ,bluegill even a monster topwater hit from a 40 pound carp! and landed!or whatever sees this bait...the hooks seem fine to me.The other comments make no sense there sticky as hell. and so does the bill..seems solid...ive ripped it back plenty of times and hit the boat dock or boat with em and nothing broke and still runs true..the paint colors are what i think helps this bait rock the most...be aware of the trebles scratchin up the finish...kevin really did create a classic lure that will stay in my box of tricks for ever.. it doesnt feel like a 20 dollar bait but it sure does work like one

From: Lee: Cooper City, FL

Comments: Havent had any problems with any breaking.. comes through cover great. Great search bait.

From: Joe: CA

Comments: I just want to update my feedback on this crankbait now that the "honey moon" period is over. It still out fishes most square bills in my box, but like most products over time, their quality starts to show. The hooks on SK crankbaits are crap. That is obvious and well known. I will admit the paint job is pretty durable and that hasn't been an issue. The bill breaking has. There has been an influx of square bills coming to the market over the past year, and better values regarding quality are starting to emerge. No doubt this thing catches fish, but consider what you'd spend upgrading the hooks/replacing the bills to what you would spend on a different brand with better quality components stock. Just a thought.

From: Sam: Chicago, IL

Comments: The only thing I can say about this thing, is it's okay. It's very cheaply made. The paintjob is good, but that's about it. When you buy one, replace the hooks on it. I did lose 3 fish on this bait that could've won me the tournament I fished today...but I blame that on the angler, not the bait. Another thing is, the bill breaks and scratches wayyyyy too easily. I had the bill break on mine just by it brushing the side of a dock. So no thanks Strike King...I'll stick with the RC 1.5's.

From: Alan: Talbott, TN

Comments: They catch fish, but everything about them is FRAGILE broke three in one weekend, two bills, one set of hooks.

From: Corey: NH

Comments: Like some have already stated here these baits catch fish! Have to say i am a little disappointed in Strike King for there cheap selection of hooks! The 1.5 is a great bait and bass on the Tennessee River ( kentucky Lake ) love it....but the only problem it getting them to stay on the hook? Lost more fish on this bait than I ever have on a similar size bait in the past. Lost several over a two hour period, hung the bait up in a rock pile and broke off , picked up another rod with another brand square bill and never lost another fish....didnt get bit as much but non the less caught more fish? So come on Strike King fix the glitch in the armor and you will have a top of the line bait...again : )

From: Jeff: Westport, TN

Comments: This is the best crankbait iv ever used runs great out of the package finally got to use it in a tournment and caught a few large mouth and smallmouth of the Black/Black Chart

From: Mike: Channahon, IL

Comments: Tried one out for the first time today. Ran bad out of the box.

From: Eric: Seattle, WA

Comments: These cranks are as good as advertised. I will never buy any other square bills again. No longer will you have to spend high dollar to get a quality square bill. I caught a 4 pounder and a 3.5 pounder on back to back casts with the 2.5 blue gill. My partner caught 4 bass that were 3 pounds plus in the same trip with the Sexy Sunfish 2.5 as well. Great baits. Strike King matched and passed the competition.

From: Ben: Three Rivers, MI

Comments: I have fished several different square bill cranks in the past and up till now, I have always defauted to the RC 1.5 Lucky Craft lure. NO MORE! This lil Strike King lure is truley awesome. It has such a different action, that the fish can't help but eat it. I fished it last week on pre-spawn bass and scored pretty well in clear water using the Sexy Shad pattern. As far as all the talk about the hooks being bad.....I didn't have a single fish come unbuttoned. I know that KVD changes them out for his Mustad KVD Trebles but in my opinion this is an unnecessary expense.

From: Lightning Rod: Jefferson, IA

Comments: I rather bombers personally. They work better and the hooks dont fall off like Strike King. The KVD series is an ok lure but doesnt hold the monsters like the jitter bug and other top notch luers. The Xr 75 caliber rattle trap is a great lure.

From: Kyle: Milford, IN

Comments: Top of the line bait, caught multiple 3 and 4 pound bass this weekend on Pickwick. Like KVD says "MONEY IN THE BANK BABY!" Just placed another order for 10 more of them.

From: Larry: Millington, TN

Comments: This is a solid bait for the money, But i dont believe this a is a tournament caliber crankbait. Go with the Xcalibur XCS series or the a Lucky Craft for game day.

From: Chattanooga, TN

Comments: KVD and Strike King have done something right with this crankbait. Out fishes every other square bill in my box 2:1. The hooks are crap after a few fish though, like most Strike King baits, I'd change 'em out. Never thought I'd use a square bill other than my Rick Clunn's. Never will I need to spend $15 on a crankbait again! YAY!

From: Bob: Suburbs, IL

Comments: Love this cramkbait! used it for the first time the other day and got drilled on the 2nd cast! i love the search style of its action. and with being silent, they have only a split second to see if they want to eat it wich is sweet cause it sneaks up on em and they usually do eat it!!! love it and i recommend it to anyone who likes to crank and have a good time.

From: Bass Nightmare: OH

Comments: Great bait, really gets fish to react even when a slower presentation won't produce.

From: Garrett: MI

Comments: Awesome bait, this lure fishes well on any rod and reel set-up, and comes over flooded trees and any other cover that you can imagine better than any other square-bill that i have ever used. strike king has covered the color spectrum from one end to the other, no matter if you fish in a mudhole or a crystal clear mountain lake, the 1.5 and 2.5 has got you covered. that being said, i would like to see a rattling version.

From: Cade: Kentucky

Comments: Best square bill on the market hands down, The hunting action these baits have is incredible, Kvd 1.5 and 2.5 "Money in the bank Baby"

From: Vaslim: Greene, VA
Comments: These are really good square billed cranks and I especially love the colors. Like ALL strikeking crankbaits and rattletraps, you must switch out the hooks. I highly recommend the mustad KVD hooks!

From: Tom: North Charleston, SC
Comments: Have to agree the hooks r crap havent even used it yet and hooks broke off in the carpet

From: Len: Scxranton, PA
Comments: Nice squarebill crankbait. Has excellent hunting action as advertised. Great deflection qualities off wood and rock! One big problem is the hooks are crap!!! Swap out hooks and you have a great tool. Crawdad kills them!!!

From: Dougie: Ventura, CA
Comments: this not your typical strike king bait! the quality of this bait is far better than other strike king crankbaits and still sells for less than other brands. this will be serious competition for a LC RC2.5.

From: Craig: Belle Rive, IL
Comments: Love Love LOVE THIS CRANKBAIT!!!!! beats lucky craft and spro by far and cheaper.

From:
Comments: Great bait tried the 1.5 good action caught fish but after one trip it's needs a new paint job clear coat sux

From: Mike: USA
Comments: This bait has changed my fishing, never have I had more confidence around rock and wood. If you deflect it you will catch something if it is there. The hooks are some of the best- strongest sharpest I have used (haven't missed a fish yet). The finish is harder than any other on the market, and the colors are awesome even though I stick with one that really seems to work on my home lake (sexy shad). I don't even bother with the smaller version as I catch tons of big fish on the 2.5. Nice job KVD and Strike King! From two and three pound spots to kicker largemouth this bait is awesome!

From: Scott: Clemson, SC
Comments: Just bought the 2.5 today for the first time and landed a 8 pounder...and is now my go to lure

From: Mike: Milwaukee, WI
Comments: These baits are nothing less than perfect for searching shallow water at any time of the year. They have a great erotic movement in the water and the construction is great. Great paint finish. Size wise they compare to a Manns C4 but have better action and better colors. Buying more this spring.

From: Ken: Wyoming, MI
Comments: I bought these baits this past week and they work great. They have that "hunting & seraching" action just like KVD said in the ICAST videos. I scared them up on Lake Wateree this past weekend. I will have some more. Thanks Strike King for a great price on these baits.

From: Chris: Conway, SC
***Note: If you have questions about this product or need assistance with an order please email your questions to info@tacklewarehouse.com
View Large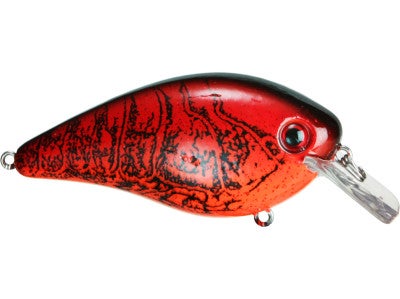 24 Available Colors
More Strike King Hardbaits