T-H Marine G-Force Eliminator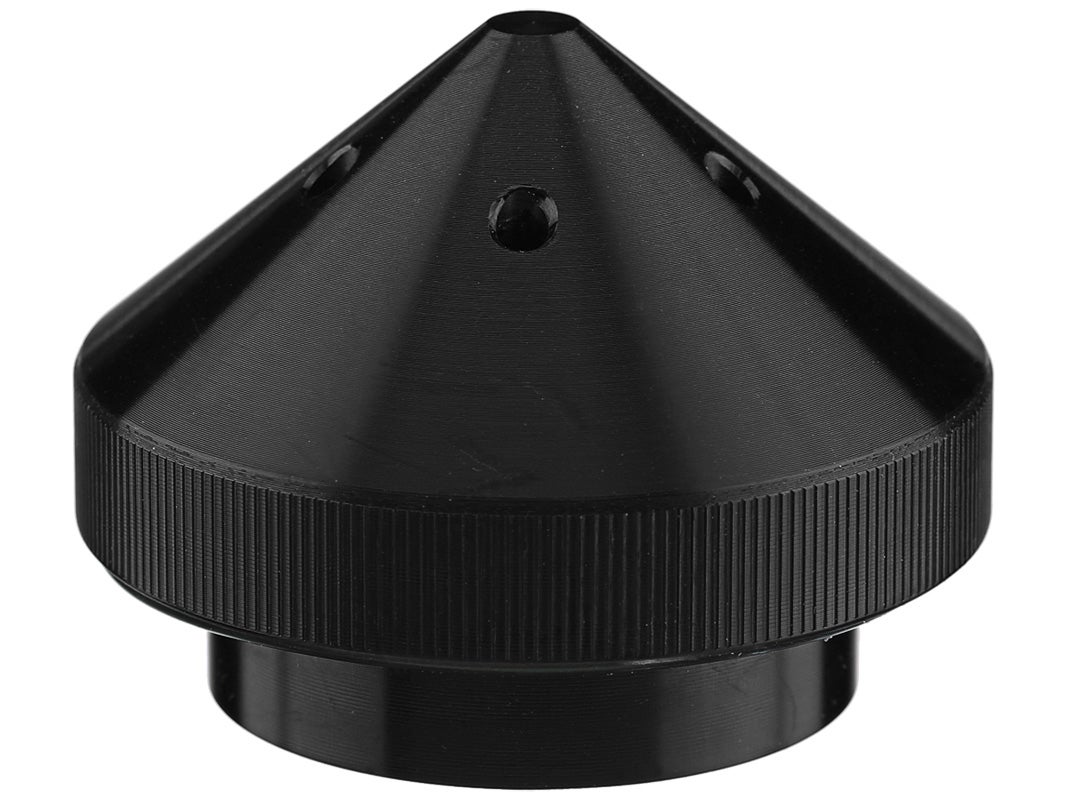 From the makers of the Equalizer Trolling Motor Assist System comes the T-H Marine G-Force "The Eliminator" Prop Nut. Offering several advantages over stock propeller nuts, the T-H Marine G-Force "The Eliminator" Prop Nut is built to make your trolling motor perform better, longer, and quieter.
Designed to lessen prop noise and vibration, the T-H Marine G-Force "The Eliminator" Prop Nut stabilizes the prop by providing a larger contact point. In addition, the T-H Marine G-Force "The Eliminator" Prop Nut also acts as a heat sink and has built-in cooling ports that reduce the operating temperature for longer battery and trolling motor life.

Made to fit most Minn Kota and Motorguide trolling motors, the T-H Marine G-Force "The Eliminator" Prop Nut comes in an assortment of colors to provide a sleek, matching aesthetic. Make sure that you're getting the most out of your trolling motor with the T-H Marine G-Force "The Eliminator" Prop Nut.
Please Note:

-Will not work with Kipawa and Hydrilla Hacker Props.
-Designed for Minn Kota models that are 80lb thrust and above. (Will not fit 75lb thrust motors and lower)

Key Eliminator Benefits:
-Machined from 6061 Billet Aluminum
-Specific Durometer O-ring dampens noise/vibration and secures nut
-Wider contact area for a more stable prop
-Cooling ports aid in heat dissipation
-Anodized protected
-No tools needed
-Available in popular colors
-Visually appealing
-Patent pending
-Designed and made in the U.S.A.
Actual finishes may vary due to anodizing process.
4 Colors
More From T-H Marine Accessories
Customer Reviews
Comments: I have owned two of these (one for a 55 lb and the latest for a Minn Kota 80 lb Terror). This product makes a big difference in the amount of vibration and it really does dampen the noise. It just runs smoother with this product added. On an aesthetic note, it looks great as an accent to the red on my boat seats and motor.
From: Rodney: Gainesville, GA 12/31/16
Comments: Put it on my minn kota fortex 112 it took almost all vibration out of the motor it's running smoother than it did when I first bought it last year this is absolutely a must have will not run a trolling motor workout out one now that I've had one! This thing is amazing a must have!
4/16/16

Comments: It is compatible with the weedless wedge 2 on a minn kota 80lb-very fast shipment!
From: Scott: Melbourne, FL 1/29/16

Comments: I did not notice anything on my minnkota maxxum as far as any vibration or noise reduction, it is not worth the money at all in my opinion, unless you are buying it for the looks. I use a GoPro camera on my windshield and it picks up sound very, very well. In listening/watching my videos after installing this, it sounds exactly the same throughout the hull up to the camera. In theory this should work given the design, but it just didn't change anything for me at all.
From: Jeremy: MN 10/13/15

Comments: The eliminator does reduce vibration and sound. Although the improvement was not huge, it was definitely an improvement.
From: Scott: AR 9/15/15

Comments: Usual T-H Marine quality. Not sure about the previous comments but I have a Minn Kota Fortrex with Weedless Wedge 2 & it fits perfectly. Exact fit. I like the weight and balanace it adds to the prop. Awesome product and good value.
From: Stu: Lake Wylie, SC 9/11/15

Comments: Awesome product was kind of skeptical at first but took a chance and glad that I did my trolling motor has never been so quiet.
From: Joey: Ringgold, VA 8/1/15

Comments: Not compatabile with Weedless Wedge 2 FYI, had to use a dremel tool to sand down the inner portion of my trolling motor prop i/o for it to fit.
From: Chris: Savannah, GA 6/29/15

Comments: The Eliminator Prop Nut does EXACTLY what the manufacturer says it will. It makes your trolling motor whisper quiet! Well worth the money.
From: Mike: Dinwiddie, VA 1/14/15