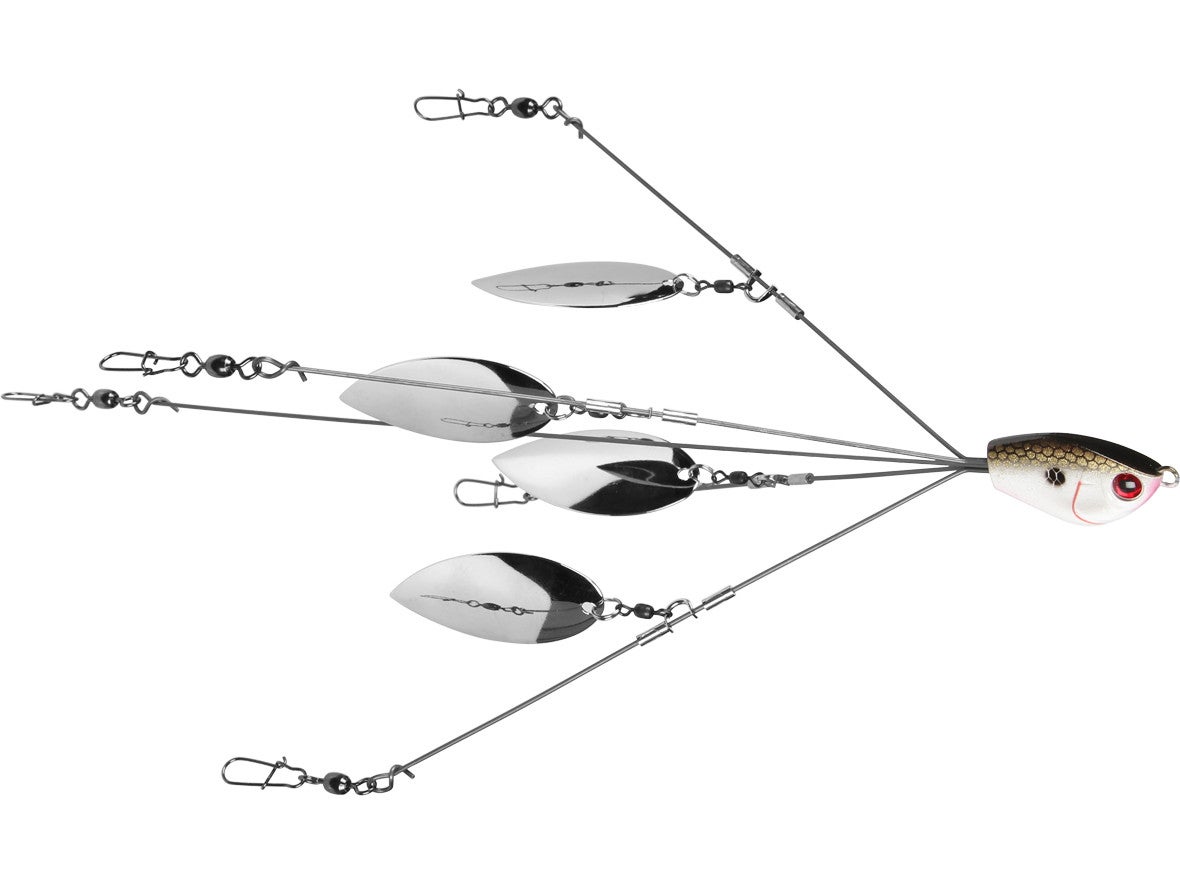 Please Note: Baits and Jigheads not included.
The Yumbrella Flash Mob features four willow leaf blades extending from the outer wire arms for additional flash and fish attraction. All five stainless steel Super Wire arms provide unmatched strength and memory to handle everything big fish can dish out, and the snaps and swivels are also top-quality to ensure flawless performance. One of the hottest crazes in bass fishing, umbrella rigs have accounted for some huge bags and major tournament wins across the Country. A great way to target suspend bass, stripers and other gamefish, the Yumbrella Flash Mob delivers extra flash to attract fish when other umbrella rigs can't cut it.
**Don't forget to check your State's fish and game rules and regulations - a fully rigged Yumbrella Flash Mob is illegal in some States.
Don't forget to check out the Plano Alabama Rig Stowaway Box.
| | | |
| --- | --- | --- |
| Yum | Middle Wire Length | outer Wire Length |
| Yumbrella Flash Mob | 5.5" | 7.75" |
Place Your Order
More From Yum Umbrella Rigs
Customer Reviews
Comments: I have fished this rig for years on the Tennessee River with great success from largemouth, smallmouth and a 24lb striper last week. I have changed my style now and have done the following - added a big swivel to my line and second a macdonalds straw cut about 2 inches long over the swivel and nose of the bait, this reduces the line looping the lure. The wires break easily and you need to check snaps often, but for a strike you will never forget - try it.
From: Greg: Huntsville, AL 2/8/15

Comments: I fish this rig a lot. It is by far my favorite rig. I fish on the tenn. River (Pickwick and wilson) excellent lakes for the rig. I won 8000.00 dollars last year using this rig last year just fishing local tournaments. BUT! The wire breaks at the head after about 2 days of good fishing. I have broke over 30. Yes u wonder why I still buy them but I have tremendous confidence in this lure. They need stainless wire the wire sucks.
From: Matt: Muscle Shoals, AL 3/27/14
Comments: The swivels are very weak & the snaps pop open very easily,i tested it out bay fishing & caught my first fish on it & almost lost the fish because the swivel broke in half & the snap popped open.

From: Marco: Los Angeles, CA

Comments: Its like trying to reel in a barge.

From: Jacob: Hot Springs, AR

Comments: The blades are to big and the bait wants to rise up. They need to put stronger snaps on the bait.

From: Ryan: Russellville, AR