Z Man Hula StickZ 6pk - $3.99
The right bait can be the difference between a big day and coming up empty, and the new Z Man Hula StickZ is the perfect choice when finesse tactics are in order. Try it paired with a light jig head, or Texas-rigged, and watch this buoyant bait stand up off the bottom with its tentacles waving seductively. Better still, it's salt-impregnated ElaZtech construction ensures it'll last. And last. And last. Available in a variety of proven colors, the Z Man Hula StickZ have arrived.
What separates Elaztech plastics from other soft plastics is their life-like action, natural buoyancy and unmatched durability. Elaztech baits not only look great, they are also up to 10X tougher than other plastics. They resist nicks, cuts and tears, and that means you're likely to catch a lot more fish on Elaztech before having to replace them.
Do not mix Elaztech baits with standard plastic baits.
Comments: Went out with the kids and decided to mess around with this new bait, and I knocked the snot off of them lil' green and brown bass. First, I cut the tenticles off it, put it on a weighted wacky hook, and caught some smallies off of docks. Caught at least seven fish up to two pounds without tearing the bait. Then I decided I would put it on an owner bullet head, and it fished just like a tube and managed to catch another three brown bass. I finally found some beds, and drop shotted the lil' critter, and caught two largemouth. This is one versatile bait. Plan to replace all of my tubes and 3-4" senkos/ yum dingers with these.

From: Papa: Hayden, USA

***Note: If you have questions about this product or need assistance with an order please email your questions to info@tacklewarehouse.com
Color:
Green Pumpkin
View Large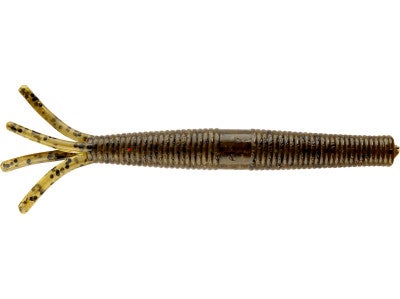 8 Available Colors