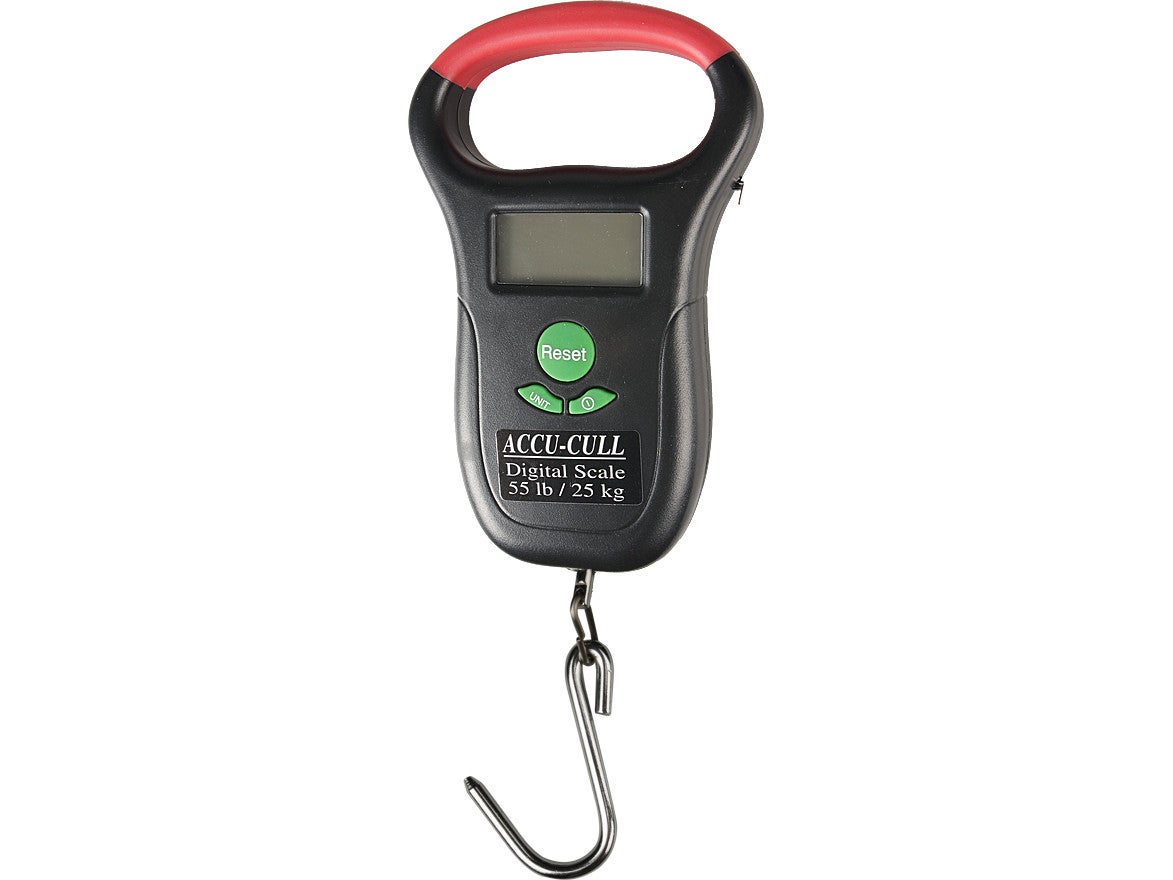 Offering a compact and convenient way to weigh and measure your next big fish, the Accu Cull Digital Scale weighs to 100th of a pound for unprecedented accuracy, and it also features a Hold Function that keeps the weight locked in even after you remove the fish from the scale. A big LCD Screen with Blue Backlight makes it easy to read day or night, and the Accu Cull Digital Scale is also equipped with a built-in 38" Tape Measurer. An Over-sized Weigh Hook helps you weigh even your biggest fish (up to 55-lbs), and when the Weigh Hook is not in use - a magnet conveniently holds it to the back of unit - keeping the sensors safe from unnecessary damage during storage. Get the fastest and most precise weights with the water-resistant Accu Cull Digital Scale.
Features:
–55lb/25kg Digital Scale
–Unit Measure in kg / lb / oz
–Weighs in 100ths of a pound with Hold Function
–38" Tape Measurer / 1 Meter
–Air Temperature Gauge in F / C
–Big LCD Screen with Blue Blacklight
–Over-sized Weigh Hook (magnet holds to back when not in use)
–Auto Shutoff after 50-seconds
–Requires 2 AAA Batteries (not included)
–Water Resistant
Accu Cull E-Con Tags Culling System
More From Accu Cull Culling Accessories
Customer Reviews
Comments: Terrific scale, especially considering the cost. Very quick to turn on and zero out and weighs fish very accurately. Although I have not required service from AccuCull, the great reviews of their service make this product a must have for anyone wanting the best product on the market that is affordably priced.
From: Unknown 2/20/17
Comments: Good scale!. I weighed several items around the house and compared to a boga grip and a food scale. This thing is dead on! Lots of nice features too (a measuring tape, hold feature).
From: Spotzilla: Lanier, GA 1/27/17
Comments: I purchased this scale a few month ago and I have to say that it is not accurate at all. I have weighed fish multiple times and got different results each time. I have even weighed an 8 pound weight and it only got close a few times. My recommendation is to find a better quality sale.
From: Carroll: Arlington, TN 12/17/16
Comments: Great Scale! Simple to use and easy to read. I weighed multiple items in my garage to check the scale's accuracy & it was spot on.
From: Tim: MT 10/3/16
Comments: 100% agree about the customer service, they're great! This scale is easy to use & accurate.
From: Alex: FL 9/21/16
Comments: Let me start by saying that Accu Cull customer service is the best! I had a small problem with the screen, I contacted them and bang! A brand new scale was at my door within days. The scale is very accurate and easy to use. Also you can't beat the quality at a great price! You can't go wrong.
From: Joe: PA 5/28/16

Comments: My scale stopped working due to moisture damage. I wrote AccuCull and they sent me a new one. I now keep it in a marine dry box with no problems. Great company.
From: Brian: Los Gatos, CA 5/8/16

Comments: Had mine a year now and it's great. Checked it's accuracy against an OHAUS beam scale & found the ACCU CULL scale to be within .01 lbs using a 4 lb weight. Called their customer service & asked them if the accuracy was affected by different ambient temperatures (summer, winter etc) & they assured me that the weight feature is not affected. They were very informative, courteous and eager to help. Definitely would recommend this scale.
4/4/16

Comments: Best scale I have used to date. Very easy to work, has automatic shutoff to save the battery. Locks in the weight for you so there is no question or need to "call" the weight. Built in measuring tape is a great added bonus.
From: David: Birmingham, AL 2/20/16

Comments: I've had this scale for more than a year now & decided to right a review. First of all, it is still on the original battery, not like many other brands whose batteries never last. Second, I have a Boga Grip also & both scales are spot on when I weigh fish. This is a great scale.
From: Dennis: PA 1/30/16

Comments: Great customer service from Accu Cull, had some issues with old one due to rain & they sent me a new one. I will continue to support Accu Cull.
From: Josh: Milwaukee, WI 6/9/15

Comments: I bought this scale with a few gift cards I had and I'll tell you one thing, I am very disappointed. I only had mine for about a week and then it just shut down. I tried new battery's and I never dropped it in the water when I had it. Wouldn't reccomend this to anybody.
From: Landon: Akron, OH 1/7/15

Comments: Sick scale, light weight and compact, easy to use, read and see. Super accurate to. I highly recommend it. Price is spot on. Way better than a Rapala scale. Get one, it wont disappoint.
From: JT: FL 12/3/14

Comments: This scale is awesome its is very consistent you can weigh the same fish as many times as you want the scale will give the same weight every time even if the fish is flopping around the wind, waves, whatever. If you need a good scale to cull with this it it. I have the whole system scale clips and board to enter the weights on A+
From: Mike: UT 3/27/14
Comments: awesome scale it works fantastically. works good and has good battery life.
From: Adam: WI 3/24/14
Comments: I had to send back to Manufacture the first one I had. The fellow was very nice and sent me a new one right out. Well that one has never worked properly either. I can only read the top half of the digital screen.
From: Chris: LA
Comments: Best scale I have ever owned. Very accurate right out of the box. It also has a measuring tape on the side and tells the outside temperature.

From: Dylan: Del Rio, TX

Comments: great scale, no problems yet.
From: Jacob: IL

Comments: it does not float...
From: SLO, CA