Edge Hot Sauce Fish Attractant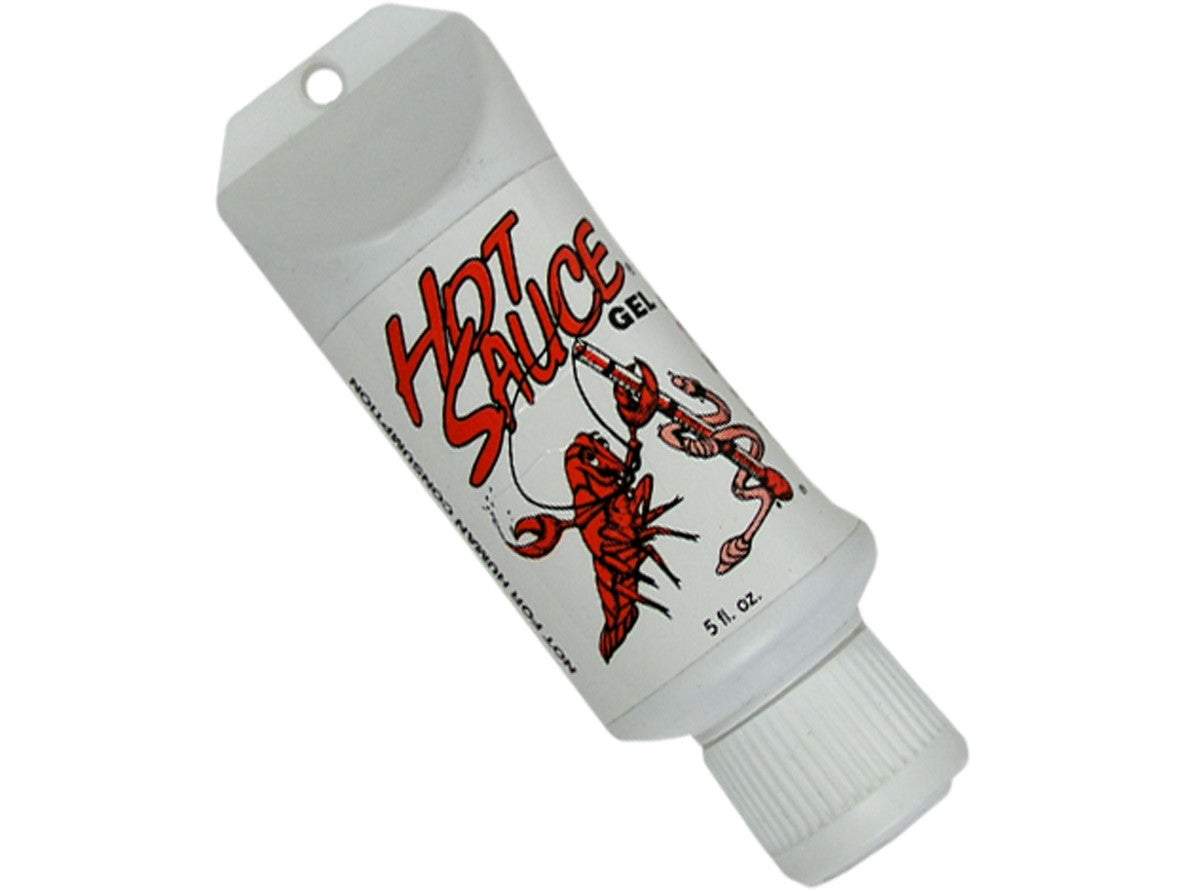 Hot Sauce fish attractant has really become an established staple item in many anglers tackle and there are some bass fishermen that won't leave the dock without it! Hot Sauce features the real essence of crawdads suspended in a thick, waxy base that will stick to your bait and stay where you want it. The generous 5 ounce bottle features a flip top cap so you can squeeze out just the amount you want and put it right where you need it. If you've used Hot Sauce you know how effective it can be and if you haven't, you'll be in for a pleasant surprise!
Contains 5fl. oz
Byron Velvick used the Extra Edge Hot Sauce on his Jerry Rago BV 3D to win the trophy at the Bassmasters Elite Series Golden State Shootout on Clear Lake.
"I put that on my bait every few casts. It created a chum trail that brought the fish to the bait, plus it acted as a lube to make the bait more slippery which helped get a better hook set."
-Byron Velvick
Customer Reviews
Comments: (if throwing big baits) it's not about the smell, it's the slime coat this stuff puts on your bait= better hookup. smell is just a plus

From: NOnothing
Comments: Don't fool yourself. This stuff don't make you catch fish. You abilities catches fish. If you are still stuck on it save money and buy Powerbait fish attractant. Smells the same

Comments: torn on this review..... i have fished this stuff for years... and it works sooo good... just kinda wanna keep it a secret! If your reading this... buy it nad keep it a secret pleeaassee!!!

From: LastKast: Durango. CO

Comments: Been fooling the monsters of the West for YEARS. Do you live out East? Dirty South? Bet your fish aint smelled this before. Dont be suprised when your goon fish catches go up, too. You're welcome. DONT tell a friend.

From: meatwad: stanksville

Comments: I used Hot Sauce a while back to take Angler of the year,Big Fish of the Year, won 4 outta 10 lakes of the season,and was also Non Boater of the Year,Hot Sauce made the difference from the back of the boat!!

From: Mike: Upland, CA

Comments: I have used 2 bottles over the last 3 years, and I think it is an excellent product. I have caught many, big smallmouth and largemouth bass during this time and I know it made a difference!

From: Mike: Allentown, PA

Comments: Been fishing this stuff for calico and sand bass for years. I honestly think its the best on the market. However if it is cold you will have a hard time squezing it out of the bottle. I put it in a small container and brush it on all my baits.

From: TadyMan: SoCal
Comments: Old school, been around forever, and most def catches fish.

Comments:This stuff is the best, can't wait to try it on my swimbait!
From:Tom: Sacramento, CA
Comments:This scent is awesome.. good addition to TW
From:Randy: Costa Mesa, CA