Duo Realis Jerkbait 120SP - $13.49
Made in Japan with high quality components and advanced engineering, the Duo Realis Jerkabit 120SP means business. Built with a bold, flat-sided body, the Realis Jerkabit 120SP produces an intense flash that will be sure to gain any fish's attention. The sound performance of the Realis Jerkbait 120SP is also second-to-none. Included in each bait are four rattling weights, two tungsten for a low pitch tone, and two steel for a high pitch. Together they produce a unique sound bass can't resist. Molded into the bait's anterior is also a fixed weight, which ensures optimal balance and long casting capabilities. To bring the Duo Realis 120SP Jerkbait to life, simply snap or quickly twitch the rod tip for a sharp darting and flashing action. Available in a variety of realistic colors, the Duo Realis 120SP Jerkbait is premium bait that you will be fishing for years to come!
| | | | | |
| --- | --- | --- | --- | --- |
| Duo Realis | Length | Weight | Diving Depth | Type |
| 120SP | 4.75" | 5/8oz | 5 - 6 ft | Suspending |
Comments: These things look awesome. They are indeed high quality and cast a mile. However, I tried fishing these in the fall on St. Clair. I was not able to get the same success I had with the old trusty Rogue, or a Jack-It products jerkbait. The baits are high quality, and the finishes look great, I just couldn't get them to produce the smallmouth on St. Clair like other baits. I am not giving up, because they look like they SHOULD be strong, just have not figured out the best way to fish it yet I guess.
From: Jesse: Detroit, MI
Comments: I was a pointer guy until i discovered these. I wish the 100 size had a weight transfer system. Hint hint. Need all bait color in 120 size.

From: Ben: MN

Comments: duo has some amazing colors I am very impressed with with their lures: please expand color selection so I don't have to buy off ebay.

From: Brett: NY

Comments: best casting 120mm bait! this thing looks back after every jerk. don't buy it, save it for me instead

From: Striper Team: CA

Comments: Great ripbait. This is the "flagship" lure in the Realis line-up. It has a great side to side darting action and comes with very strong Kishida hooks standard. Look out for the 100SP as well.

From: KBullington24: Ca

Comments: It's hard to explain other then this jerkbait flat out catches them. It's unique sound and action really drives the smallmouth crazy from Minnesota to the New York Finger Lakes. If your talking largemouth then this bait just as good, I was catching cold water largemouth on Lake Minnetonka in 39 degree water. Great bait in all conditions.

From: Jason: Tonka Bay

Comments: great lure. But tw needs the "all bait" pattern. I'll pick that one up for sure if Yal carry it

From: striper team: flezzno

Comments: megawho? Lucky what? Duo realis is the new king of hardbaits.

From: Charles: United States

Comments: duo realis, anything less is uncivilized.

From: Dustin: Sugar Land, TX

***Note: If you have questions about this product or need assistance with an order please email your questions to info@tacklewarehouse.com
View Large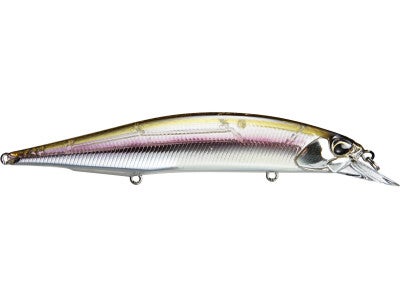 14 Available Colors
More Duo Realis Hardbaits