Gamakatsu Swivel Shot G-Finesse Hook 3pk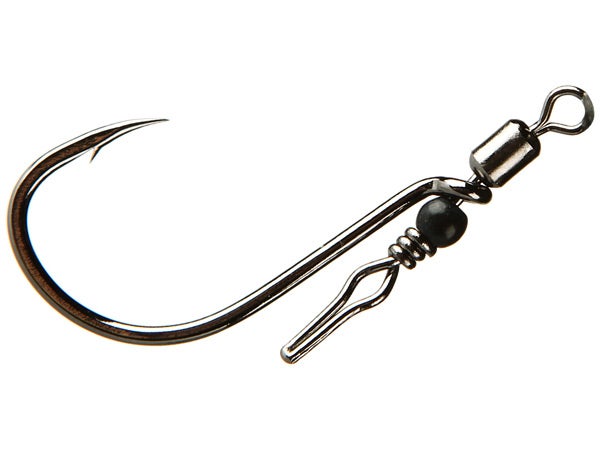 The highly anticipated Gamakatsu Swivel Shot G-Finesse Hooks have finally arrived. Designed and tested with the help of FLW Tour pro, Shinichi Fukae, the Swivel Shot Hooks eliminate line twist commonly associated with drop shotting and also vastly improve rigging efficiency. Gamakatsu's revolutionary new "Twist-Free" design features a premium swivel above the hook to counteract the tendency of a drop shot hook to twist up, especially when fighting fish, and the hook, a super-sharp Gamakatsu offset point Octopus hook, is strong enough to winch big bass out of the slop.
The "Easy-Change" weight system below the hook also greatly improves rigging efficiency, allowing you to easily adjust leader length and change out tangled leaders without retying your rig. Without a doubt the Gamakatsu Swivel Shot G-Finesse Hook is an enormous leap forward in drop shot fishing. Maximize your efficiency on the water, spend less time tying and re-tying, and land more fish with the Gamakatsu Swivel Shot G-Finesse Hook.
Place Your Order
More From Gamakatsu Drop Shot Hooks
Customer Reviews
Comments: These are expensive hooks but I have found them to last longer than others so a better value. The secret for me has been to follow my normal routine of 10 lbs. braid main line to an 8 lbs. fluorocarbon leader, but to use a lighter line from the cinch clip below the hook down to the cinch clip on a drop shot weight. When I hang up, it is almost always at the sinker, so using a light line, say 6 lbs. test, means the sinker will break off a bit easier and I preserve the hook. It takes just seconds to clip on another tag end line for a new sinker.
From: Brad: Fort Worth, TX 10/13/15

Comments: Compared to the VMC, these have two pros and a con. First the pros: you're saved tying a knot and the offset nature of the hook and swivel means that the swivel doesn't cover the hook gap and increases the chance of getting the hook point into the fish. You can rig the bait so that it stands straight out by burying the hook point in the bait. Now the con: the hook uses a heavier wire that needed and with light line that can mean that the hook doesn't penetrate well. Fishing with 6# line, I managed to land one good fish before the hook just fell out & I lost another right at the boat trying to land it. This swivel and hook configuration with a lighter wire hook would be the ideal setup.
From: Rich: Las Vegas, NV 9/12/15

Comments: Native Champlain guy here - These do work great. I land so many GIANT smallmouth with them. Never had a problem. My one complaint though would be the bottom swivel bending as someone mentioned after a bigger fish. Its easy to straighten, but still kind of a pain. EXCELLENT product that said.
From: Robert: Burlington, VT 7/21/15

Comments: great hooks, used while drop shotting bridges and caught lots of spots. Hook set is really good and hooks are hard to get out. Great product even though a little pricey.
From: Will: GA 12/6/14

Comments: I just went out today and purchased these and I will say they are GREAT! I was so pleased with them! My first fish was a 4.5lb largemouth! And to top it off this was my first time drop shotting period! Idk where these guys are getting "it's too bulky" from. It's a hook and swivel.. I mean really guys? I think the design is great! I got snagged a few times but was able to hop it over or just yank it and only lose my weight.. no biggie.

From: Michael: AL

Comments: If you DS, you must try this system. I get no more line twist and love the sharpest hooks made. You have a winner here.

From: vidsoutmike: LA
Comments: I hope they do this with different hooks, such as EWG, split/drop, and offset shank worm hook. If you prefer the hook hanging straighter, I was thinking pushing up the bead and adding a drop of superglue under it so it might hang better. Anyways good luck fishing, God bless.

From: Elijah: Mystic, CT

Comments:
PROS: The idea is good. 3hooks per pack is plenty. No line twist on the main line. No hook lost when the weight is snagged. You can pretty much fish with one hook all day with out losing a single hook.

CONS: Pricey for 3 hooks. There is a lost in sensitivity. The hook should be standing straight out, not hanging on the swivel. The weighted line tends to wrap around the hook.

From: Hanford, CA

Comments: Great hook but pricey. i guess it's a personal decision....do you want to pay more and not have to tie two knots. if you want to save money the VMCs are just as good. the hookup ratio on these was great...no lost fish yesterday and i caught multiple fish over 3 lbs.

From: Miles: AZ

Comments: I happen to fish alot of smallies on heavily fished bodies of water and was out just this last week with them and did great , i like these just about the same would be better but price came into account too and dropped this one a bit. overall 7/10

From: Louis: Green Bay, WI

Comments: Nice hook, easy setup, but overall just to bulky and the bottom swivel bends to easy. I prefer the VMC spinshots.

From: Russ: Paso Robles, CA

Comments: AWESOME PRODUCT!! In response to Alec....Ever watch Shin Fukae SMOKE the smallmouth in tough CLEAR water such as Champlain??? I rest my case!

From: Alexander: McDonough, GA

Comments: this item is a bit bulky and I don't think the highly pressured smallmouth will eat this over a regular hook

From: Alec
Comments: like these a lot over the vmc spinshots, just a bit more pricey but worth the extra buck in my opinion

From: Nick: Canada