Gamakatsu Wide Gap Finesse Hook Weedless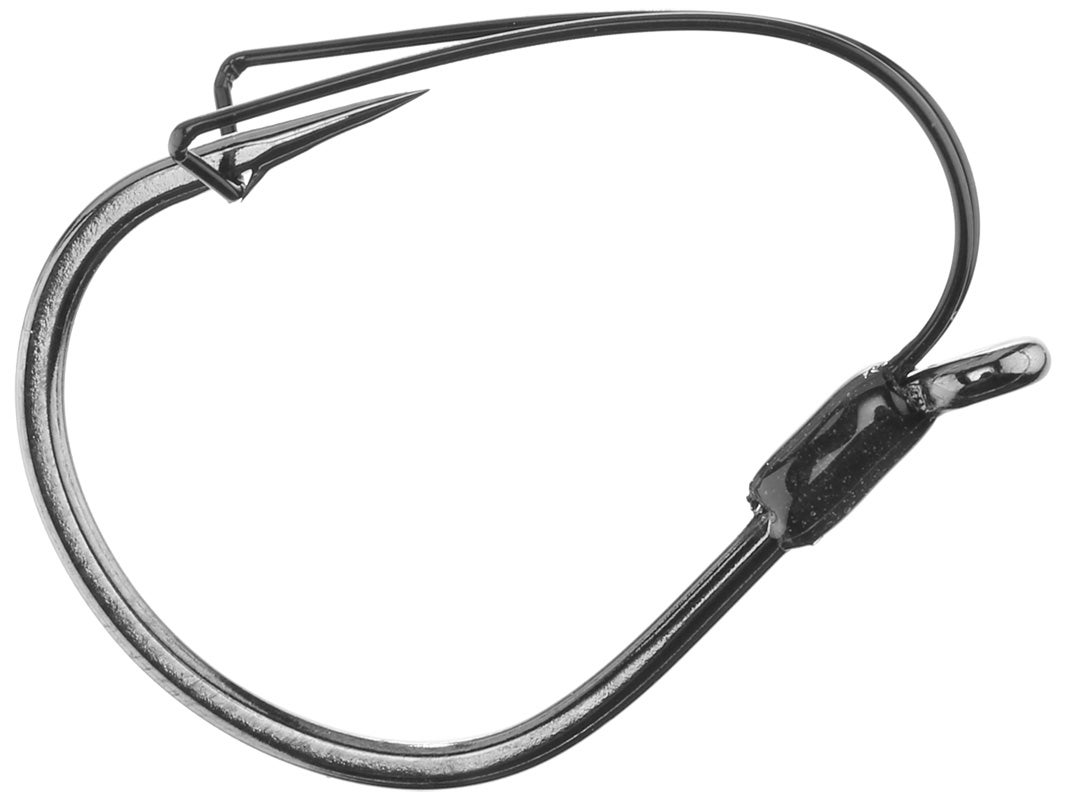 The Gamakatsu Wide Gap Weedless Finesse Hook was designed for situations where you need a big hook but a long shank worm hook would be too much. One of the best uses for the Gamakatsu Wide Gap Weedless Finesse Hook is wacky rigging Senkos, floating worms and other soft plastic baits. This hook has plenty of bite for hooking big bass but the short shank design is not too obvious and does not distract from your presentation. The best part of these hooks is that they are weedless! Now, you can throw your wacky rigged Senkos around brush and wood without worrying about hooking into every stick and log in the lake. These sneaky little hooks give you the legendary Gamakatsu sharpness in a short shank package and will give you new possibilities when wacky rigging soft plastic baits.
Place Your Order
More From Gamakatsu Drop Shot Hooks
Customer Reviews
Comments: In my experience, the only way to hook up with these is to gut hook em, at least with sizes 1 & 2. Seems like the point isn't at the right angle to permit penetration. I guess they're right about the larger sizes on this one. The weedguards are nicely done, though & don't seem to be what's interfering with my hookups.
From: Tony: Yukon 5/10/16

Comments: The best wacky hook I've used to dated. The weed guard is very strong without getting in the way of the hookset.
From: Adam: 1/7/15

Comments: great wacky hook but definatley carry bigger sizes 3 and 4

From: Adam: Hayward

Comments: Carry the bigger sizes! 4/0 for BIG stickbaits!

From: Ace: NorCal

Comments: I will not wacky rig with any other hook. I use these hooks exclusively year round. The weed guard will pop off the barb nothing a quick squeeze and bend can't fix. I feel confident fishing these hooks around brush. Like posted below. Get you're orings and some senkos and get to catching fish!

From: Keith: East Coast

Comments: These hooks are great! Ive had the same one tied onto my line for a week in a row and have yet to lose it in a snag. 20+ fish and the point is still extremely sharp. Its products like these that remind me not to cheap out on hooks

From: Josh: Germantown, Maryland

Comments: I love this hook. I fish it waky.You just have to fish it gently and feel every bump and lift it over so you don't get snagged. It is for the most, weedless. If you think it is useless you are not gentle enough. I have a good hook up ratio unless i hook the worm instead of the basses mouth when the fish bites. I almost don't want to share my secret but you would be stupid not to have this in your arsenal.

From: John: Riverside, CA

Comments: Great application for wacky rig skipping. The flap needs a good set under the barb rather than behind the point. The elbow hides point exposure. Pick youself up a pair of orings, a bag of 6 inch yamamoto senkos, and hit the banks for docks and heavy brush cover. Dont forget the o-ring applicator

From: For The Birds: Chicago, IL

Comments: The weedless flap is useless.I try to hook it with the barb like u are supposed to but it slides right off like it had bent in the package so I get some scissors and cut that useless thing off.The flab keeps sliding of either to the right or left when trying to hook it up.

From: Kris: Leesburg, GA

Comments: I like these hooks. they work well for wacky rigs. almost as good as the falcon wacky hooks. i just wish they made bigger ones. I have also used this hood to drop shot. works fine at that too.

From: Bassnredfish
Comments: his is a good hook. The problem is that the weedless flap is almost useless. In addition, after most most bites, you will notice that the the flap gets turned inside out and often must be clipped off and retied. Overall my hook setting is good but it is overly annoying to have to retie every time.

From: Scott: Fresno, CA

Comments: great hook for wacky fishing. this years models have had small barbs and can cause problems i would definitly look the hooks over before you purchase them.

From: MI
Comments: This hook will cost you fish if you use it much. The weed guard will slide down and often times not release preventing a good hookup. I lost three good fish in a BFL with these hooks and will never use another one.

From: Jabe: Cameron, NC

Comments: Great hook. As time goes you will notice the weedless rig sometime gets twisted and wrapped up inside out.

From: C.V.: Mpls, MN