Owner Wide Gap Plus Black Chrome Hooks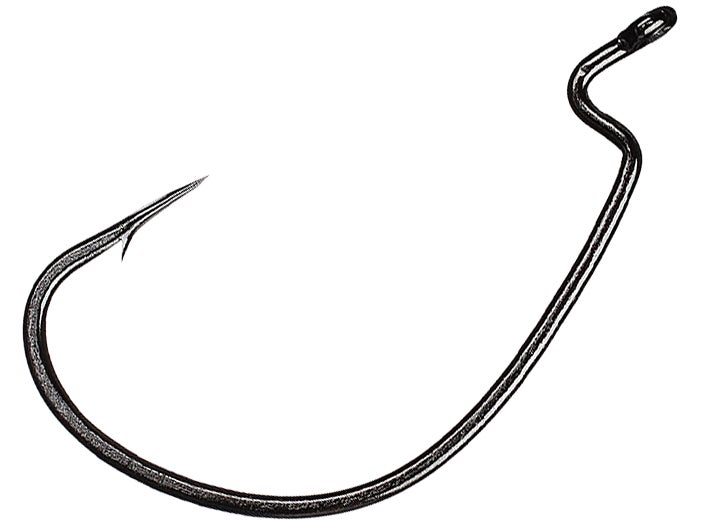 The Extra Wide Gap Plus hooks, from Owner America, are uniquely different than other wide gap hooks. Start with the exclusive Owner Cutting Point; it actually decreases resistance as the hook penetrates because the sharp edges of the point cut rather than act like a wedge that increases resistance as it goes in deeper. These hooks have the beautiful black chrome finish that will virtually eliminate corrosion and heavy wire that will not straighten out under load. The offset is very deep, sharper than 90 degrees, and called the Z-Bend by Owner, which helps the plastic bait stay in place when you drag it through rough cover. Another key difference is the fact that the point is on the same plane as the eye, which means 100% of the force you put into the hookset goes into the point for maximum penetration. Owner does this without sacrificing the deep bend for a true extra wide gap hook.
Place Your Order
More From Owner Worm Hooks
Customer Reviews
Comments: This hook is with out a doubt the best hook I have ever used. It is super sharp and is super strong. Owner really makes quality strong hooks there is nothing better out there!
From: Bandit: Omaha, NE 5/7/14
Comments: My favorite hooks by far! Very sharp and strong!It's really incredible how sharp they are. And because they're stronger you can put more pressure on a big fish when needed, without having the hook to bend, even with the smaller hooks.
From: Marco: Portugal
Comments: Super Strong, Sharp Reliable Hook. Have used this hook exclusively for the last 2 seasons and love it. It has a little different "wide gap" bend than most hooks and has a excellent hook-up ratio. Very different point, almost like it's shaped like a diamond, try the 4/0 most common with the PowerTeam Lures 3.5" TRJ it's a perfect match, swung many many fish in the boat never bent one out. Give them a try

From: Mike: ONT, Canada

Comments: Been using Gamakatsu hooks for the longest time for plastics. I use Owner trebles for my swimbaits and love them. So I decided to try these out because I know how stick sharp they are. Caught a little dink of a bass and decided to throw him in as bait because I saw a bigger one chasing it when reeling in. I watched the line moving around and knew the chase was on. Felt a huge thump and set the hook. 2 fish on one hook. Awesome!!

From: Trip: Simpsonville, SC

Comments: Used Gamas forever, loved them! Then started missing fish when flipping cover. Friend told me to give Owners a try. WOW! Awesome, awesome, awesome, awesome.........haven't missed a fish since changing. Getting all my hooks changed over as quickly as possibly!

From: Mike: Waverly, IA

Comments: I keep VMC` and Gamas in the boat for fun fishing but tie on nothing but Owners for tournaments. Tried them all, nothing better than Owner.

From: Gino: Putnam, CT

Comments: tried these out one time and from now on I no longer use gamakatsus... These have a thicker diameter and hold up tough. Have not had any bending or tip rolling. Couple words from the wise try these out you won't regret it

From: Joe: Glencoe, MN

Comments: Owner hooks have had to earn their place in my tackle box. They are my favorite hook brand hands down. I used to use those cheap Gamas, but they had a habit of tearing up my soft plastics 'cause they were so thin. I tried a pack of Owner 4/0 Wide Gap Plus hooks and I was a convert from there on out. I gave all of my cheap Gamas to my friends and switched completely over to Owner. Guess who is the only one never missing a strike in our weeked pot tournament. Ha. Owner will never let you down!

From: Mark: Harlingen, TX

Comments: best soft plastic jerkbait and tube hook on the planet! that extra gap gets through meaty baits with room to spare. they hold up to braided line and a locked down drag very well also. the point holds up too.

From: bassNredfish: Louisiana, USA
Comments: These hooks are great. They hold a point very well and the diameter seems to be perfect. These hooks don't bend when you have to use pliers or a palm strike to get the hook out of a fish. I use these for light and heavy line and they work exceptionally for both. Take up the slack and lean back and you got em. The PLUS is another feature that is ideal in my opinion. They have a open bite that seems to stick fish in the upper jaw or far in the back of the mouth. I am telling you they have improved my catch rate big time. I have used about every hook and have always found these to be twice as good.

From: Tom: St Joe, MI