Owner Down Shot Offset Worm Hooks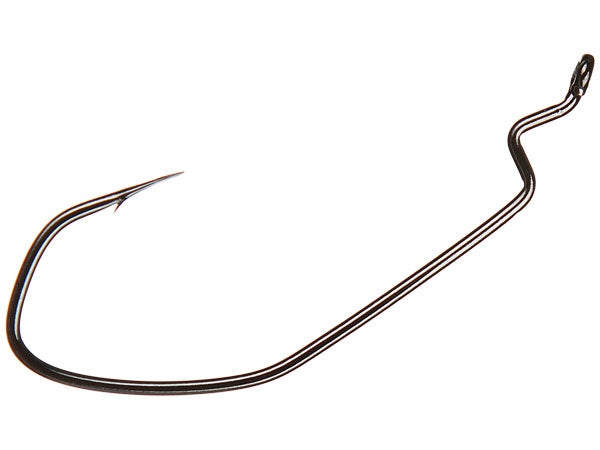 A lot of engineering went into producing these hooks made especially for
dropshotting
. The turned up eye allows the hook and worm to come off the line at just about a 90 degree angle with the point up so any twitch of the rod will drive the ultra-sharp point home when you get bit. The shank features an offset so the bait can be presented weedless, or if you prefer, the bend of the hook has a sharp angle that will hold the worm in the right position if you nose-hook it. Taken together, these hooks will do everything for you when you dropshot, except find the fish.
Place Your Order
More From Owner Drop Shot Hooks
Customer Reviews
Comments: The only time these hooks have EVER straightened on me is pulling them out of mouths, the barb stays stuck almost too well. I have used the #1 & 1/0 for 4 & 6" roboworms respectively. They have many other uses but excel in drop shot rigging.
From: Weston: Batesville, AR 2/10/16

Comments: really good drop shot hooks! i haven't lost a fish with these hooks and can hold big bass. Can drop shot brush and trees without the worry of getting hung up. I will not use open gap hooks anymore because i have lost multiple fish on those. Get this hook i promise you won't be disappointed.
From: Jarret: SC 12/8/14

Comments: Incredible dropshot hooks. Hook up ratio has to be very close to 100% for me. I rarely fish open gap hooks for dropshot anymore unless it is a wide bodied bait because this is all you need otherwise! The only time I've had issues bending out hooks is by trying to get them out of fishes mouths.

From: Justin: Huntington Beach, CA

Comments: Love them, only drop shot hook i use, VERY sharp, love to wacky rig a 6inch worm with them, sometime texas. hooks have straightend on me but i haven't lost a fish yet, best hook up ratio on any bait i have ever used great on shasta.

From: Miles: Oregon, USA
Comments: Sharpest hook, only problem is with lake erie smallies they tend to get straightened out.

From: Andy: Lockport, NY