Sunline SX1 Braided Line Deep Green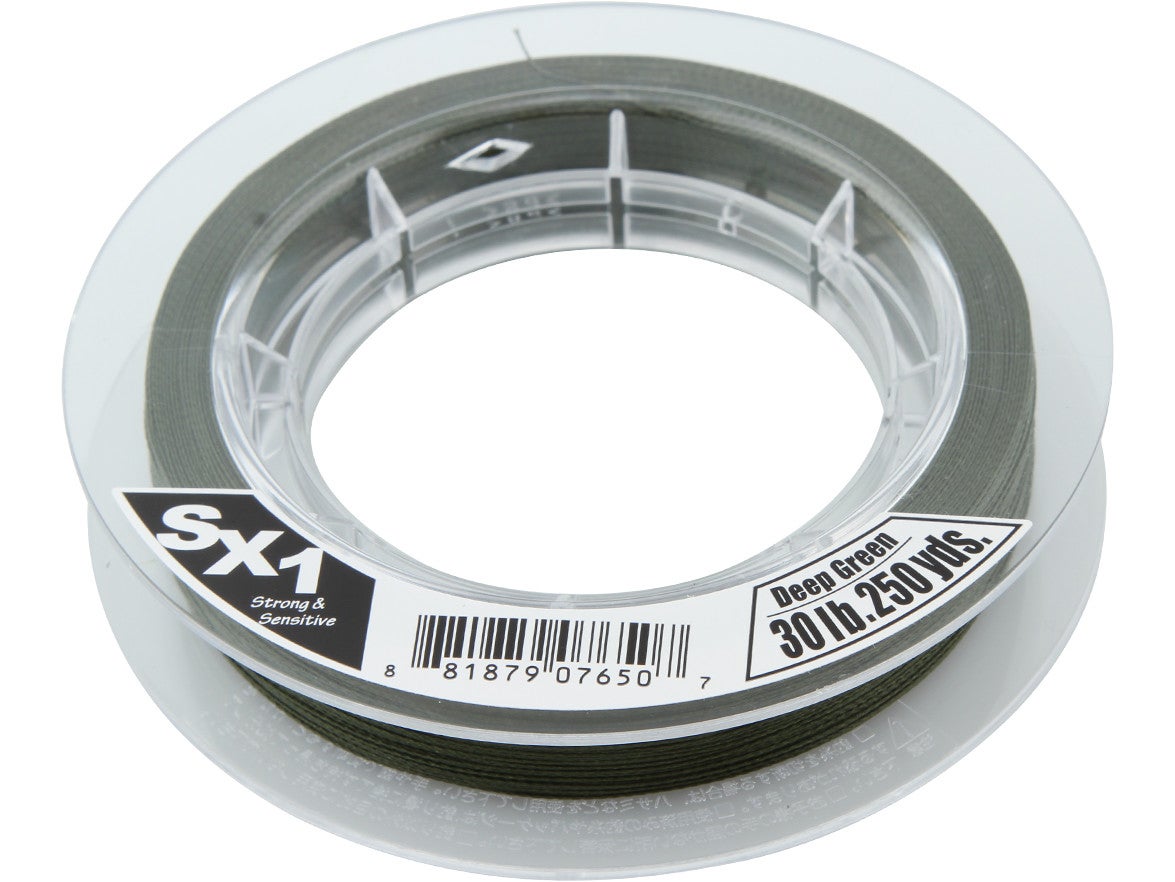 Sunline pros, Aaron Martens and Brent Erhler provided significant input in the testing of Sunline SX1 Braid, working through numerous prototypes before SX1 was finally developed. Perfect for a variety of bass fishing applications on spinning or baitcasting setups, SX1 is some of the strongest braid ever made.
Offering greatly improved abrasion resistance over PE braided lines thanks to its new ULT-PE construction, Sunlne SX1 Braid still retains the suppleness of PE line. The enhanced abrasion resistance isn't from applying a thick coating to bolster the material either. Instead, Sunline actually improved the raw fiber. This new design allows SX1 to maintain incredible manageability for excellent line control in any situation, and the slick line surface of the uncoated fiber brings out the longest casting distances while allowing good, tight knots to be formed. Sunline SX1 - Strong, Sensitive & Abrasion Resistant.
-Ultra high strength ULT-PE polyethylene line
-Excellent abrasion resistance
-Reduced surface fuzzing
-No exterior coating that will wear off
-Unique surface processing for a sleek finish, reducing guide friction and giving you long casting distance
-Dark green color for excellent camoflage
-Ultra low stretch, ultra high sensitivity
"SX1 has completely changed my finesse game. The 12 pound braid teamed with an 8 pound Super FC Sniper leader is my go-to combination for all spinning reel applications. Everything is better - strength, zero stretch, castability, and feel, there is no trade off when using SX1" - Brent Ehrler, FLW Tour pro.
"For years, Sunline braid was only available in Japan and to the pro fishing team. Now US anglers can find out how great it is." - Aaron Martens, Elite Series pro.
Place Your Order
More From Sunline Fishing Line
Customer Reviews
Comments: I have been using this braid for about 18 months. The first spools I bought were fantastic. Recently, I have been having issues with the amount of green coating that is on the line. The original spools did not seem like they had so much coating. I have been experiencing a lot of small loops & knots from 12 lb. on spinning reels. Sometimes it might occur really soon on a freshly spooled reel. After wiping off the green stuff, the line seems a lot limper. In fact, when it starts fading, it works much better.
From: Tony: NV 5/10/16

Comments: I used the SX1 braid in 10lb on my shakeyhead rod for most of this season. I absolutely love this braid and would recommend it to anyone.
From: Reece: Salem, OR 8/15/15

Comments: Switched solely to this line for this past season and was very happy with it! The color bleeding is extreme the first few trips, but nothing a baby wipe can't handle. After that had no issues with it. The line is extremely soft, has the smallest diameter I've ever seen. Used the 12 and 16lb on all my set ups and had very few issues with line breakage or tangling. Will be using again next year!
From: Cobi: Galdwin, MI 11/7/14

Comments: Tried the 10lb on a couple of my spin rods and I'm not impressed. I don't like the way it casts. I don't like the way it handles. PowerPro in 10lb or 15lb is the best braid for spinning gear.
From: Stan: PA 7/2/14

Comments: I use this line in 10 pound test for crappie fishing here on Lake Guntersville, i use sx1 with an FC sniper leader in 6 pound test. This has to be the best braided line on the market. Ive been using the same line for 4 months and its still green. this line is super sensitive and super strong, ive caught 6 pound largemouth and 20 pound drum on sx1 in 10lb. what surprised me the most is how soft and how far you can cast this line! I give this line a 10 out of 10. Sunline is all i use for all my bass and crappie gear.

From: Lake Guntersville
Comments: I spooled up with sx1 and 1 hour after using it looked at my hand and it was covered in green dye. 1 hour and the line was turning white. Sx2 is the way to go it stays a blue green color after a lot of use if it aint broke don't fix it! This new sx1 is more expensive and im sure its good line far as strength and flexibility but if I wanted white braid id buy white braid. My hand was a mess after 1 hour. Too expensive for what it is.

From: Jon: SC

Comments: this shiz is STILL going strong, dawg. Sppoled up in Oct 2012, now its the end of Aug, 2013. Same shiz, same reel, and over 100 fish strong. Great line to spool on your wife or kid's reel, too. Ya dig?

From: meAtwad: al's garage
Comments: I like this line a lot. I use a 40lb braid for all around angling and it gets the job done. Softer than every other braid brand new. The color is really nice and has a pretty dark faded color, at least compared to power pro. Very similar to Daiwa Samurai. 5/5

From: Anthony: Toronto, ON, Canada

Comments: buyer beware, second spool of20 was bad, it snapped several times while casting and cost me a DT20. On inspection I found a weak spot that broke well below 20. This is a shame as the line is amazing, but I can't play Russian roulette when fishing, especially at $20 a pop.

From: Peter: USA

Comments: Bought the 10lb for my spinning rod and absolutely love this line. Sensitive and strong!

From: Jason: So Cali

Comments: This line is pretty descent except for the extreme bleeding of the color. I use 30# on my Chronarch E50 and the reel turned very green on the front in most areas. It is quite a bit smoother than the FX2 though. Pitches and casts great!

From: Josh: MI

Comments: By far, the best braid on the market. Super supple, casts like a dream and tough considering how thin it is. Please hurry up with the hi-vis version!!!!

From: Dave: Upperco, MD USA

Comments: one of the best lines I have ever fished! It's super soft and slick but backlashes easily if you have loops in your line. Overall, 5/5 stars

From: Ike: minnetonka

Comments: SICK. Like, "ate a grip of raw chicken" sick. Great on a spinning reel. Watch for nicks in your line, its thin, but holds up well. I dont even use a floro leader. Its been on my reel for six months now and still as green and soft as ever.

From: Meatwad: East of Joe's

Comments: Can't go wrong with this braid!! Smooth casting,you can feel every pepple, rock ,tree and FISH!!! Spend the extra and you wont be dissapointed.

From: Chester: Glendale, AZ

Comments: Best finesse braid ive used.. Very smooth, quite and keeps color well.

From: Tyler: Ala